Tough-luck Giants seeking momentum change
Several hard line drives hit right at Cubs in another one-run loss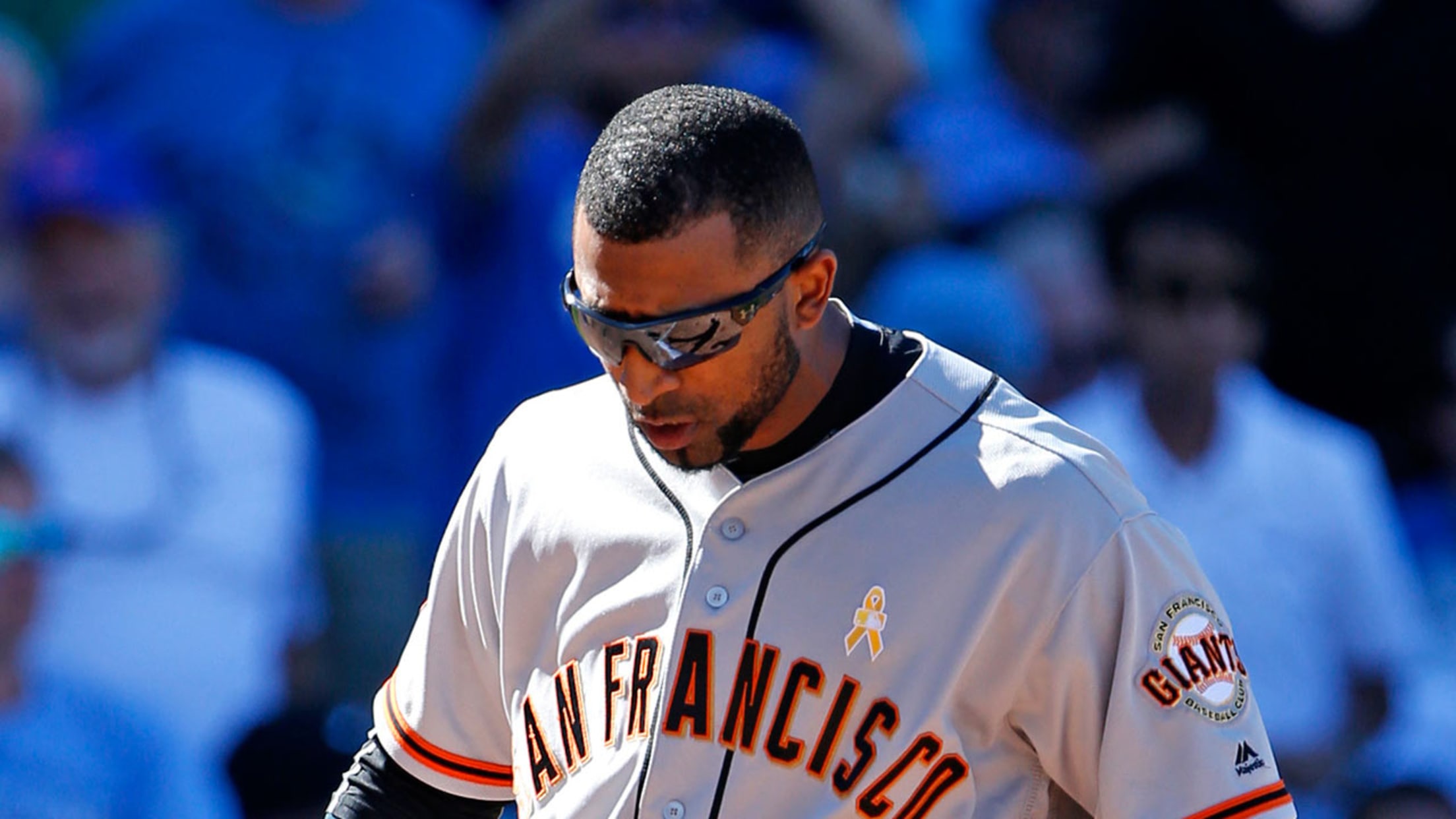 Eduardo Nunez walks off the field after lining out to third to end the seventh. (Nam Y. Huh/AP) (Nam Y. Huh/AP)
CHICAGO -- All you needed to know Friday about the state of the Giants occurred during their half of the seventh inning during their 2-1 loss to the Cubs at Wrigley Field.Cubs starter Jon Lester lost his no-hitter and his shutout when Hunter Pence lofted a two-out homer into the
CHICAGO -- All you needed to know Friday about the state of the Giants occurred during their half of the seventh inning during their 2-1 loss to the Cubs at Wrigley Field.
Cubs starter Jon Lester lost his no-hitter and his shutout when Hunter Pence lofted a two-out homer into the left-field stands. Brandon Crawford followed by stretching a single to a double.
"There was definitely a momentum switch with that whole scenario," Pence said.
Then, suddenly, nothing. Eduardo Núñez smashed a line drive that traveled almost directly to Cubs third baseman Kris Bryant for the inning- and rally-ending out. Trevor Brown doubled in the eighth and Pence drew a two-out walk in the ninth, but that was far from enough to avoid another one-run defeat -- San Francisco's 12th in 16 such games since the All-Star break.
Thus, the Giants' hopes were dashed almost as quickly as they rose. That's becoming the theme of their season, along with a punchless offense. San Francisco has collected three hits in each of the first two games of this series in Chicago. Again, Pence used the "M" word as he groped for optimism.
"The momentum switches," Pence said. "It just takes one little break, here or there. Tomorrow could be the day."
Friday certainly wasn't. Crawford and Nunez established the team's theme of the afternoon by lining out in the second inning. Brown mashed a solid -- but luckless -- drive to left field in the third. Crawford christened the fifth inning with a low liner that Bryant dove for and snared when it appeared the ball was past him.
One inning later, pinch-hitter Kelby Tomlinson hit a sinking liner that appeared destined to drop for a hit. Except Cubs center fielder Dexter Fowler rushed in and caught the ball at about knee level before plunging to the grass. The divot that Fowler left provided mute testimony to more Giants frustration.
"You need a little luck in this game," said Giants manager Bruce Bochy, who spoke matter-of-factly, without whining. "You don't look for it, but it's nice to get. Some balls that we hit well, we hit right at them."
Observers might have wondered why the Giants frequently swung at Lester's first pitch.
Pence explained this by saying, "You can't just create a long at-bat. When someone's got good stuff, you can't just take strike one, strike two. You have to, when he throws a strike, make him pay for being aggressive."
That means making contact, which Crawford did proficiently in three of his four plate appearances. He also ran the bases with abandon, stretching his seventh-inning hit when he realized that Fowler would have to run a long way to corral the ball.
"I ended up with a double on probably my least hard-hit ball of the day," Crawford said. "... And then we went back to the lineouts."