Hall inductions, NLCS rematch highlight week
Griffey, Piazza on center stage Sunday; Cubs-Mets series starts Monday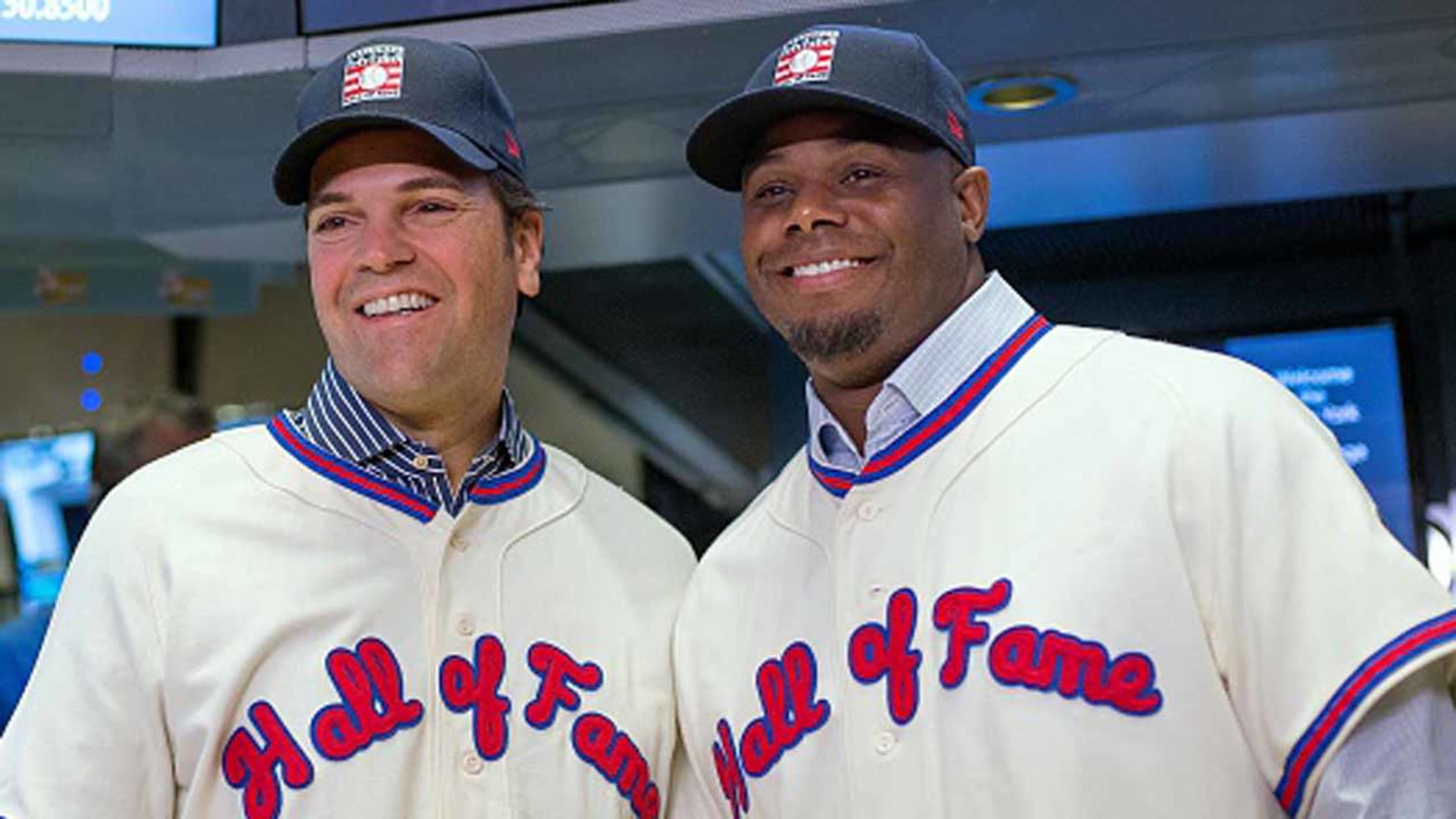 Mike Piazza, left, and Ken Griffey Jr. celebrate their Baseball Hall of Fame Inductions at the New York Stock Exchange on Jan. 8. They'll be inducted in Cooperstown on Sunday. (Photo by Mike Pont/WireImage) (Mike Pont)
On Monday, we kick off another seven days of Major League Baseball as the second half of the season kicks into high gear. The packed slate of games around the American and National leagues provides must-see matchups that will have our appetites for action properly whetted.But the week ahead is
On Monday, we kick off another seven days of Major League Baseball as the second half of the season kicks into high gear. The packed slate of games around the American and National leagues provides must-see matchups that will have our appetites for action properly whetted.
But the week ahead is also about history and hardball immortality. On Sunday, the National Baseball Hall of Fame will welcome its new duo of inductees -- Ken Griffey Jr. and Mike Piazza -- and the sport's stately shrine in Cooperstown, N.Y., will once again take its place as the sterling summer stage.
These two legends entered the big leagues with backgrounds that couldn't have been more different, but look at them now, ready to become immortals together.
Griffey, of course, was the son of the excellent, underappreciated and well-decorated Ken Griffey Sr., who compiled a .296 batting average and 2,143 hits over the course of a 19-year career in which he won World Series titles in 1975 and 1976 as a Cincinnati Red.
Junior had grown up in that stellar big league clubhouse, and everything came naturally to him, particularly that effortless, perfect left-handed swing.
He was the No. 1 overall pick in the 1987 Draft, he made it to the Majors in 1989 at the age of 19, he scored the winning run in Game 5 of the 1995 AL Division Series against the Yankees, and he went on to play 23 seasons and hit 630 home runs while driving in 1,836 runs and playing incredible center field -- 10 Gold Gloves' worth -- for the Mariners, Reds and White Sox.
Piazza followed a different route, being taken by the Dodgers in the 62nd round of the 1988 Draft but forging a Hall of Fame career behind the plate through grit, hard work and a powerful right-handed swing that would produce 427 homers (396 of them as a catcher, the all-time MLB record) and land in 12 All-Star Games while batting .308.
Fittingly, both share immense baseball talent and the humility to make their Hall enshrinement more about the other guy. On a recent conference call previewing their July 24 date with destiny, both men seemed more comfortable discussing their Cooperstown cohort.
"[Piazza] was one of those guys that, when the game was on the line, you didn't want him up," Griffey said. "He was going to battle you offensively and defensively. He studied baseball, he studied people's tendencies, and he was a guy who gave it his all every day. I'm very excited to be inducted with him."
Piazza heaped similar praise on "The Kid."
"I had my first memory of Ken Griffey Jr. when I first signed with the Dodgers," Piazza said. "For me, I knew back then that he was going to be special. He was the first overall pick in the draft, had a famous father who was a great ballplayer -- he was as close to a can't-miss prospect as you can get. It's a tribute to him because even though he was drafted No. 1 and the expectations were high, he never mailed it in. I don't see how any player who played with or against him could not marvel at his talent and his ability to have fun playing his game."
Sunday's festivities will include a group of more than 50 Hall of Famers returning to Cooperstown for what never fails to be a special weekend. And at 1:30 p.m. ET at the Clark Sports Center, Griffey and Piazza will make it official. The ceremonies will be shown live on MLB Network.
Meanwhile, back on the diamonds of the Major Leagues, there will be good matchups to watch and more hot-stove buzz in advance of the Aug. 1 non-waiver Trade Deadline.
The Mariners will get back their ace, Félix Hernández, from a lengthy right calf strain when he pitches for them Wednesday in Seattle.
The Cubs will host a rematch of the 2015 NL Championship series from Monday through Wednesday, with Mets ace Noah Syndergaard facing off against defending Cy Young Award winner Jake Arrieta at Wrigley Field on Tuesday.
Other series with big implications on tap for the week include the Dodgers against the Nationals in Washington (Tuesday-Thursday), the Indians at the Royals (Monday-Wednesday) and the Dodgers at the Cardinals (Friday-Sunday).
And we'll see who plays where.
Trade season is clearly upon us -- just ask Drew Pomeranz, who was acquired by the Red Sox in a trade with the Padres last week -- and plenty of names are flying around the rumor mill.
Starters Rich Hill, Sonny Gray, Julio Teheran, Jake Odorizzi, Matt Moore and Jeremy Hellickson, hitters Carlos González, Ryan Braun, Carlos Beltrán, Matt Kemp, Jay Bruce, Josh Reddick and Jonathan Lucroy, and relievers Aroldis Chapman, Andrew Miller, Arodys Vizcaíno and Ryan Madson are just some of the names being tossed around.
We'll see what happens in one full and memorable week.