Musgrave keeps calm during big audition
Left-hander pitched out of trouble, struck out 4 vs. Rangers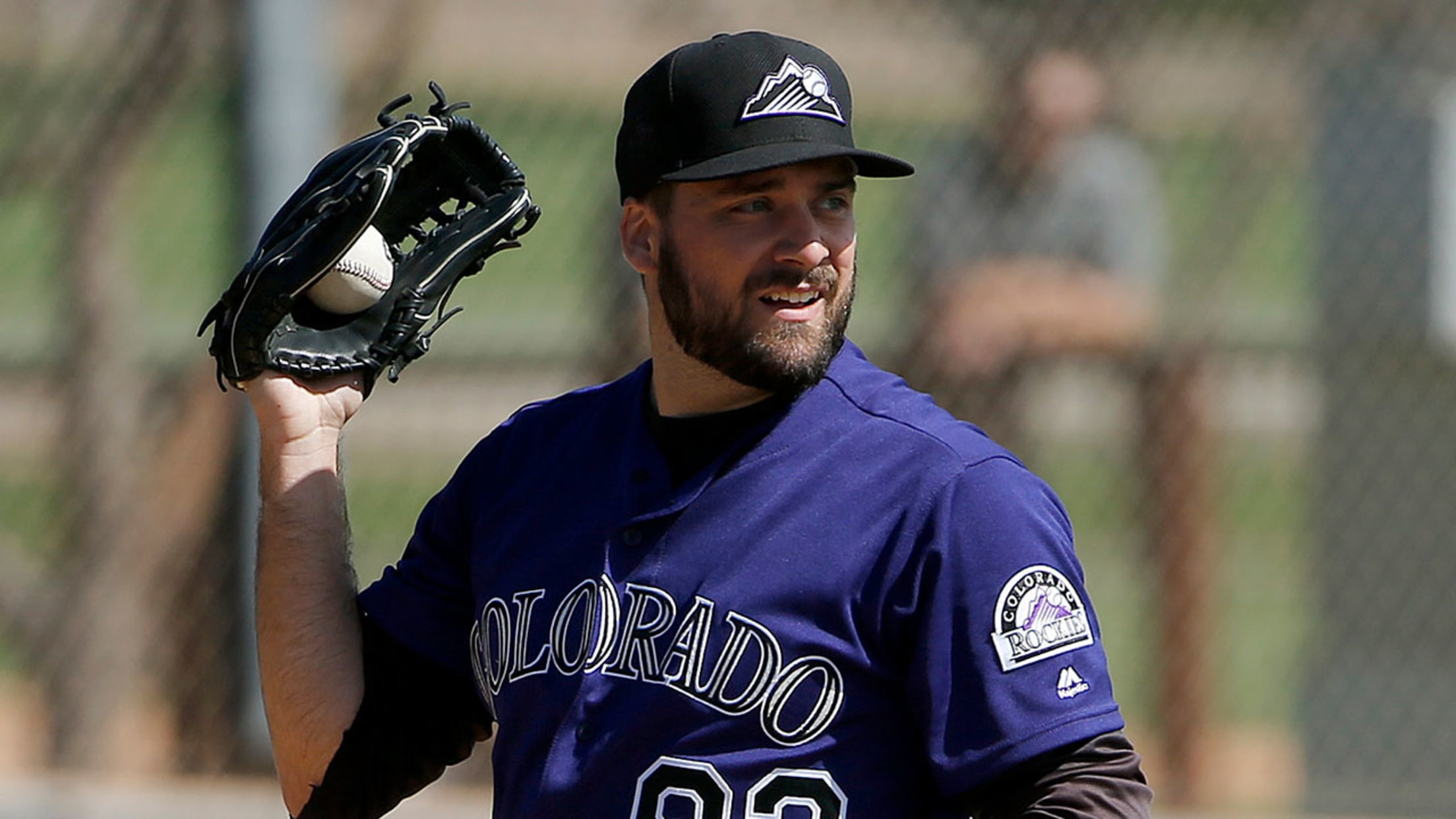 Harrison Musgrave had previously pitched in relief only twice before Monday's game vs. Texas. (AP)
SURPRISE, Ariz. -- If Rockies left-hander Harrison Musgrave weren't so even-keeled, he might have been stressed Monday.Musgrave had previously made just two professional relief appearances, in 2014 at Rookie-level Grand Junction, where starters often enter during games. He started all 39 appearances at West Virginia University in 2012-14.So with a
SURPRISE, Ariz. -- If Rockies left-hander Harrison Musgrave weren't so even-keeled, he might have been stressed Monday.
Musgrave had previously made just two professional relief appearances, in 2014 at Rookie-level Grand Junction, where starters often enter during games. He started all 39 appearances at West Virginia University in 2012-14.
So with a chance to make his first Major League roster staring at him, the Rockies called upon him Monday with two out and two on in the fifth inning of the team's eventual 6-5 loss to the Rangers. Musgrave smiled, then struck out Rougned Odor to begin 2 1/3 eventful but scoreless innings.
"[Manager] Bud [Black] and [catcher Tony] Wolters told me exactly what to do," said Musgrave, who is rated the No. 27 prospect in the Rockies' system, according to MLBPipeline.com. "Fastball inside, did that, then throw all sliders. I got him out. They set out a game plan and I executed it pretty well.
"I'm pretty calm. There are certain things -- like today, being my first actual relief appearance. My adrenaline was going more than usual, but nothing too crazy that I couldn't handle. I like to be laid-back. I don't see the point of going too high."
Indications are that there isn't room in the starting rotation for Musgrave, 25. But manager Bud Black wants to carry a starter-type in the bullpen to start the season, with lefty Chris Rusin hoping to come back soon from an oblique injury. Musgrave's calm demeanor and ability to stay in the strike zone put him in line.
Musgrave gave up four hits, just one of them hard, but struck out four. His sixth inning ended with a throw from second baseman DJ LeMahieu to erase a runner at the plate, and Musgrave made a fielding play and throw to the plate to end the seventh. His walk was just his second this spring, against 14 strikeouts in 16 1/3 innings.
"This guy is getting on the radar for me as far as what he can bring to a 12 or 13-man staff, whether it's either starting or relieving," Black said.
Worth noting
• The Rockies optioned left-handed hitting outfielder Raimel Tapia (their No. 5 prospect according to MLBPipeline.com) to Triple-A Albuquerque, and reassigned infielder Daniel Castro and infielder-outfielder Rafael Ynoa to Minor League camp on Monday.
• Closer Greg Holland, on the first day of his first back-to-back of camp, gave up two runs on three hits. He fanned two, but was victimized by some defensive misplays, including a third-strike slider that Wolters didn't handle to allow a run and let the batter reach first.
• Righty Scott Oberg threw two-thirds of an inning and lefty Mike Dunn threw 1 1/3 innings with a strikeout in a Class A Advanced game at the Rockies' complex. Righty Jairo Diaz, completing a comeback from Tommy John surgery, struck out one in an inning in a Class A game.