Roster shift as Solarte, Hedges return
Green wants to look at infielder during his short rehab at Triple-A El Paso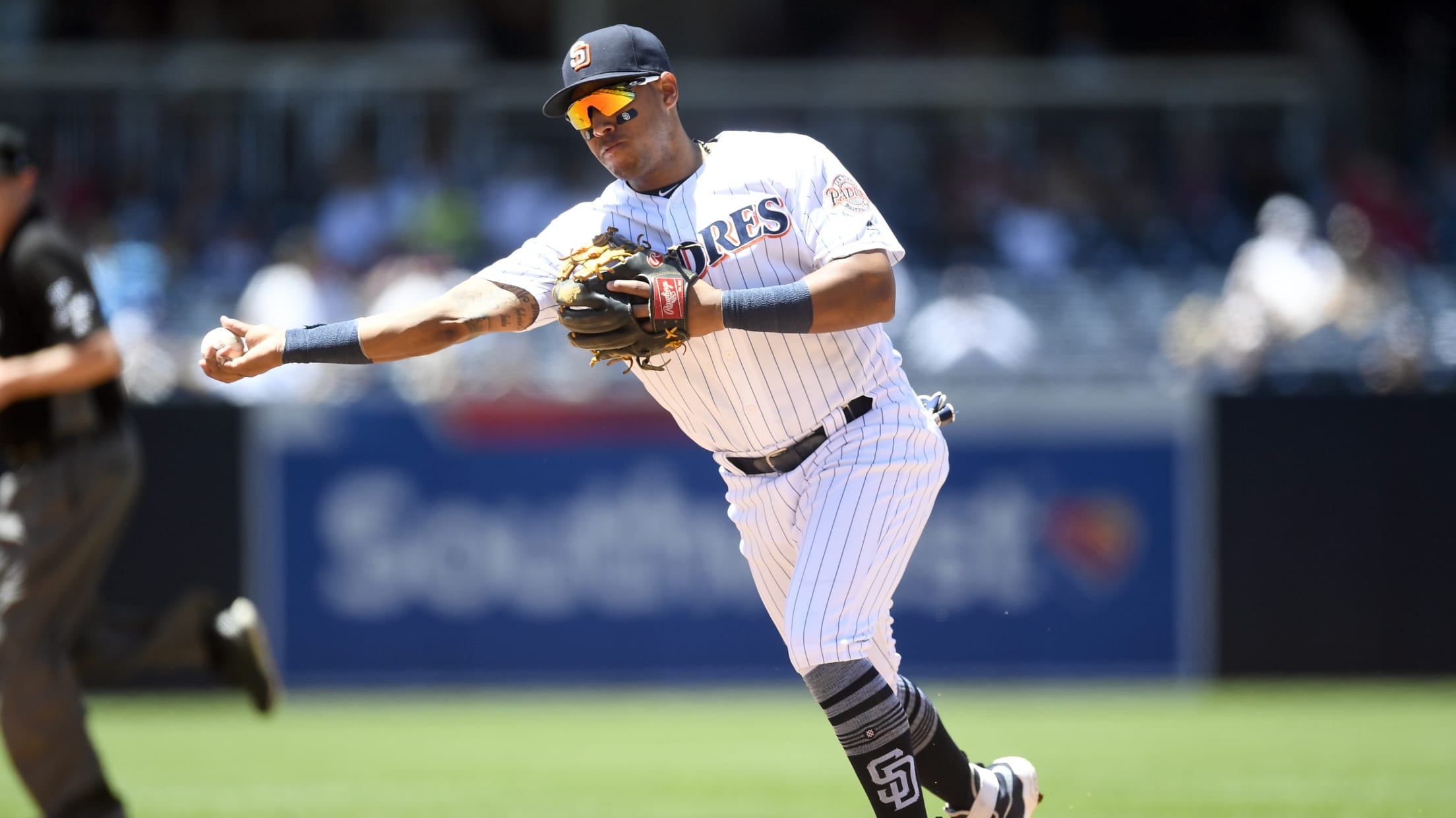 (Scott Wachter)
Bill Center, longtime sportswriter for U-T San Diego, is an employee of the Padres.Jose Pirela, Jabari Blash, Matthew Szczur, Hector Sanchez, Dusty Coleman. All five players have played roles in the Padres' recent resurgence. But two will likely be moved off San Diego's roster within the next week.Catcher Austin Hedges
Bill Center, longtime sportswriter for U-T San Diego, is an employee of the Padres.
Jose Pirela, Jabari Blash, Matthew Szczur, Hector Sanchez, Dusty Coleman. All five players have played roles in the Padres' recent resurgence. But two will likely be moved off San Diego's roster within the next week.
Catcher Austin Hedges and infielder Yangervis Solarte will soon be healthy enough to be activated from the disabled list.
When that happens, the Padres will have to move two players off the 25-man roster.
It seems pretty certain that Rule 5 Draft choices Allen Córdoba and Luis Torrens won't be going anywhere.
Manager Andy Green said Thursday the team will likely stay with an eight-man bullpen for the most of the remainder of the season -- although two days off next week might allow them to use one fewer reliever in the short term.
That means San Diego will likely go with a four-man bench and eliminate two position players.
Will they retain three catchers? If not, Hector Sanchez might be moved ... although the switch-hitter is the most potent power bat on the bench and can also play first.
Green said the Padres will take a look at Solarte at short during his expected short rehab at Triple-A El Paso. Will Solarte be the backup shortstop to Córdoba? If so, where does that leave Coleman?
Or will San Diego reduce its list of outfielders from five to four? If so, who goes ... Pirela, Blash or Szczur?
And will the Trade Deadline impact those moves?
It promises to be an interesting week.
Noteworthy
Center fielder Manuel Margot
Margot's game-opening home run Thursday night was his fourth of the season, which is one shy of the Padres record of five set by Will Venable in 2011. Margot had a career-high three RBIs Thursday and tied his career high of three hits while falling a triple shy of a cycle. Margot has hit safely in all five games he's played since returning from paternity leave, going 11-for-21 with a triple, two home runs, five RBIs and four runs scored.
Left-hander Brad Hand
Hand now has five saves. Four have come against the Mets, the first two in New York on May 24-25 and the second two the past two nights at Petco Park. Hand has now made 18 straight scoreless appearances since June 14 covering 18 1/3 innings. During the run, Hand has allowed 12 hits and two walks with 23 strikeouts. He has lowered his ERA from 3.12 to 2.04 during the run.
Right-hander Luis Perdomo
Perdomo recorded his fourth victory in his past six starts Thursday night to even his record at 5-5. The Padres are 8-10 in Perdomo's 18 starts. Only two Mets had scored when Perdomo departed the game with two out in the seventh, but he was charged with two more runs when Jose Torres balked home a run then gave up a two-run homer to Jay Bruce.
Rookie right-hander Phil Maton
Maton struck out the side in the eighth Thursday night after getting the final out in the seventh. Over his past seven outings, Maton has allowed two runs (one earned) on four hits and a walk with eight strikeouts in eight innings -- lowering his ERA from 4.50 to 3.15.