Astros host Pitch, Hit and Run regionals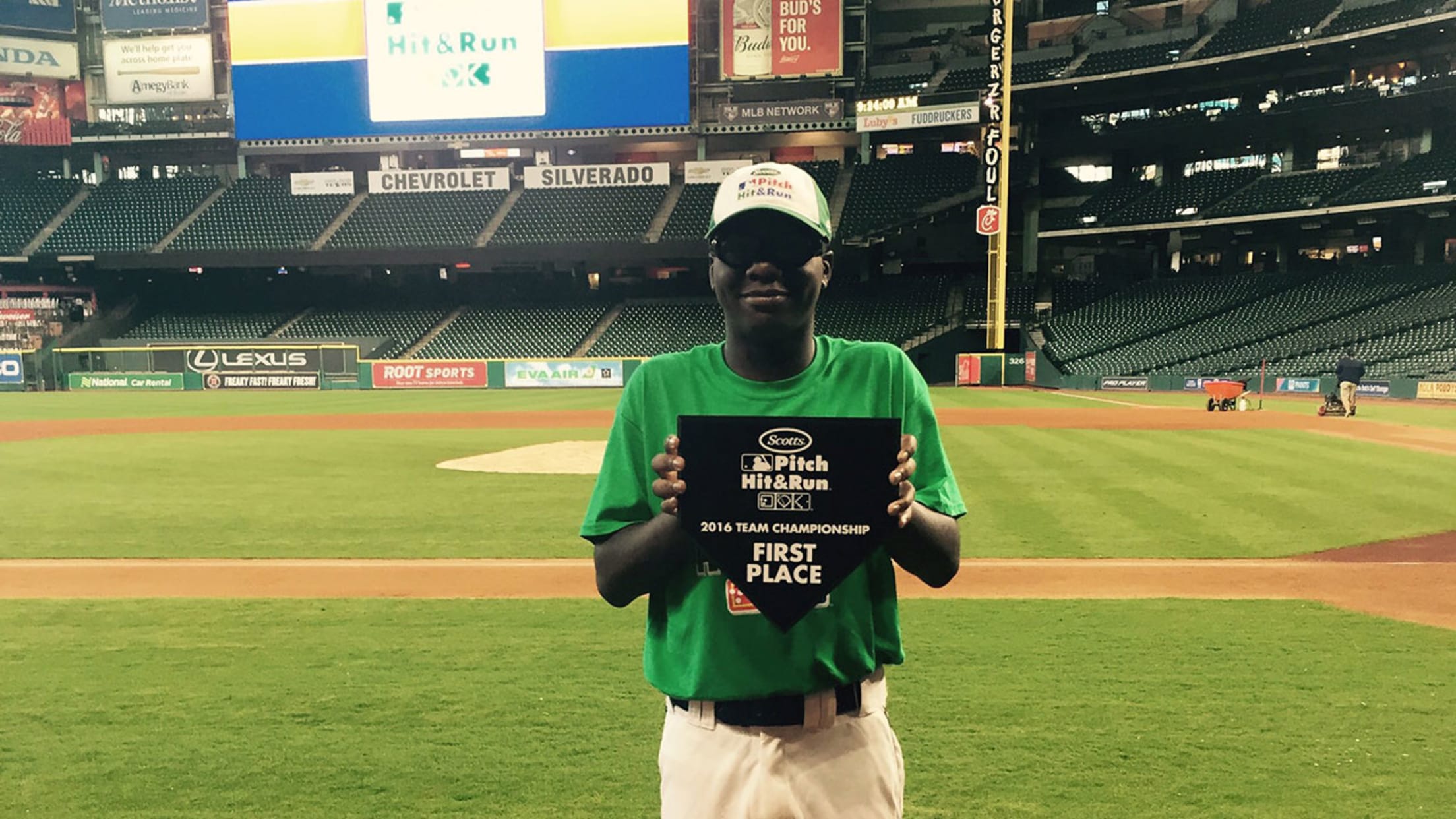 Paul Smith Jr. of the Astros Urban Youth Academy won his age group Sunday at Minute Maid Park. (Astros)
HOUSTON -- Like many kids his age, 12-year-old Paul Smith Jr. is discovering what baseball has to offer.On Sunday at Minute Maid Park, Smith and 23 other baseball and softball sectional winners competed in the Scott Pitch, Hit & Run competition. The eight winners have an opportunity to qualify for the national
HOUSTON -- Like many kids his age, 12-year-old Paul Smith Jr. is discovering what baseball has to offer.
On Sunday at Minute Maid Park, Smith and 23 other baseball and softball sectional winners competed in the Scott Pitch, Hit & Run competition. The eight winners have an opportunity to qualify for the national finals that will be held the week of the All-Star Game in San Diego.
"I wanted to play football the first year I started to play sports, but my dad advised baseball," Smith said. "So I tried baseball and I really got into it. I've been playing baseball ever since."
For the past three years, Smith has been playing baseball at the Astros Urban Youth Academy in Houston, under the direction of Daryl Wade.
On Sunday, Smith won the baseball age 11-12 division that included all three portions: pitch, hit and run.
"It was amazing," said Smith, who excelled in his hometown. "I had a really good time. I was just happy to be here.
"I was nervous, but I prevailed. I just tried my hardest, that's all my dad said you had to do."
Before the game, we hosted an @MLB Pitch, Hit & Run competition! Paul Smith from the #Astros UYA won his age group! pic.twitter.com/hVt5nQ1XrA

— Houston Astros (@astros) June 5, 2016
At the Astros Urban Youth Academy, Smith usually plays outfield, first base or shortstop.
Smith and the other seven winning participants of the Astros team championship were honored during an on-field presentation prior to Sunday's game between the A's and Astros.
Hopie Mitchell of Orange Grove won the softball age 13-14 division.
"It was really amazing to actually get the chance to come here, and to win it is even better," said the 14-year-old Mitchell, who pitches on her softball team. "In pitching, I got all six [attempts]."
Over the next four weeks there will be a PHR team championship at every Major League ballpark. The first-place winners at each venue will be ranked from 1-30 in scoring, with the top three in each division age group advancing for the national finals in San Diego, the day before the July 12 All-Star Game at Petco Park.
For those who qualify to nationals, they will shag balls and be recognized at the Home Run Derby, with their families attending the popular event.
The three participants in each group on Sunday were from either Texas, Louisiana or Mississippi -- the areas that constitute the Astros' market.
Softball participants threw from 35 feet, and the baseball participants threw from 45 feet at a strike zone target. They had six attempts, and each strike was worth 75 points. In the running competition, competitors started at second base, rounded third and finished at home plate. Points are based on a conversion table with all three events weighed equally.
"No matter what place they got, they should be super proud," said PHR representative Kelly Peterson.
The age group winners on Sunday at Minute Maid Park: 7-8 softball: Kayden Whotte, DeQuincy, La.; 9-10 softball: Alissa Sneed, Conroe, Texas; 11-12 softball: Andreya Castaneda, Leander, Texas; 13-14 softball: Hopie Mitchell, Orange Grove, Texas; 7-8 baseball: Mathew Manis, Houston; 9-10 baseball: Marek Fleming, Tomball, Texas; 11-12 baseball: Paul Smith Jr. Houston; 13-14 baseball: Caelen Ball, Dripping Springs, Texas.
Richard Dean is a contributor to MLB.com based in Houston.