Inbox: What future role will Ichiro play?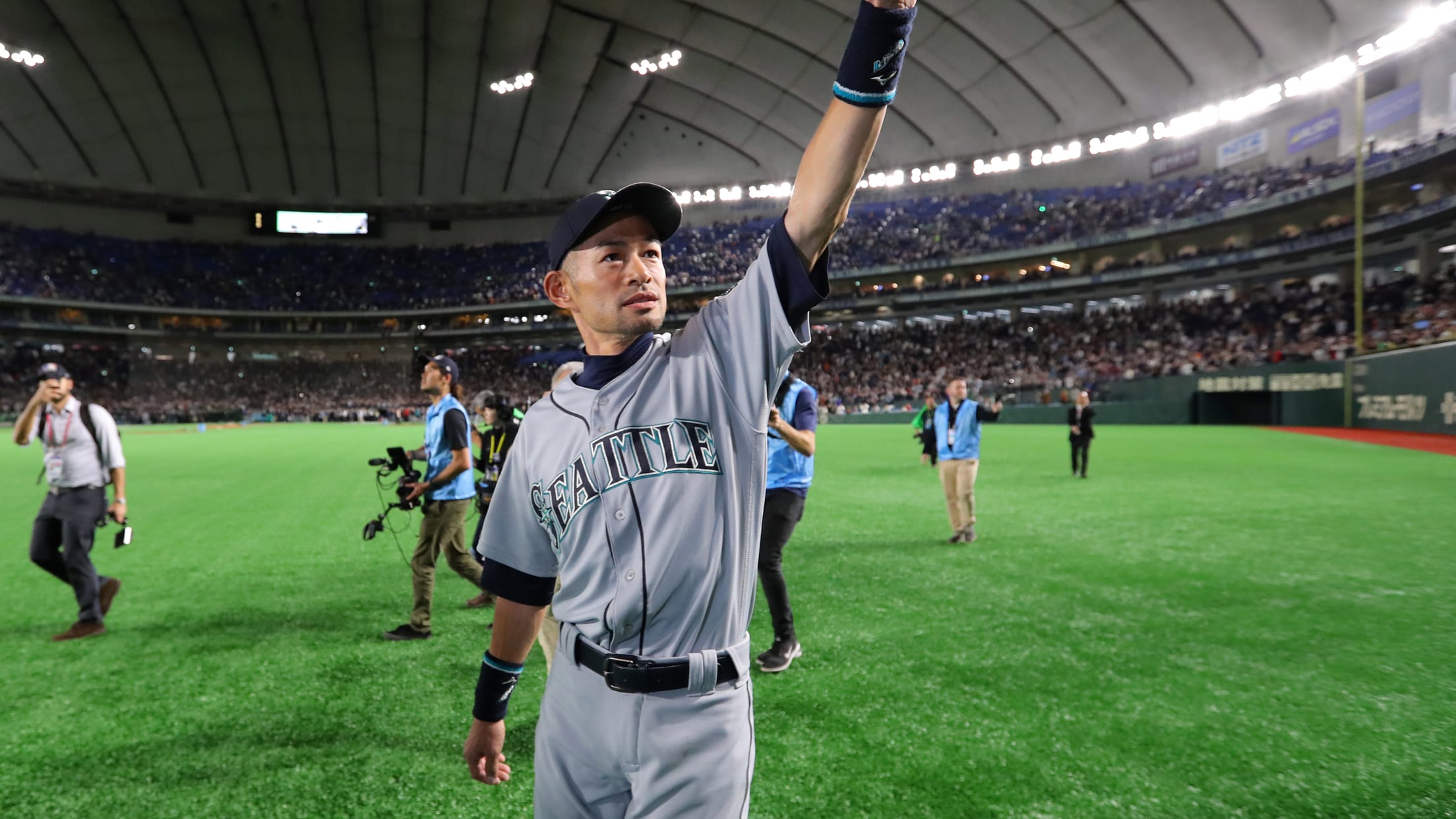 With Opening Day upon us, it's a perfect time to open the Inbox for a few questions. We'll keep doing these during the regular season, so keep those questions coming! With all the hoopla over Ichiro Suzuki's retirement, we haven't heard what he'll be doing next. Any idea? -- Frank
With Opening Day upon us, it's a perfect time to open the Inbox for a few questions. We'll keep doing these during the regular season, so keep those questions coming!
With all the hoopla over Ichiro Suzuki's retirement, we haven't heard what he'll be doing next. Any idea?
-- Frank R., Eugene, Ore.
Ichiro is back in Seattle, but so far all the Mariners have said is that he'll remain connected with the club in some fashion, but they're still talking with him on exactly what role he'd like to fill. It's definitely not going to be like last year where he suits up and works out with the team every day.
I'd expect something more like what Ken Griffey Jr. does in a part-time advisory role with both the front office and with young players, while also using his connections in Japan to help the Mariners maintain that pipeline. But we should get clarification soon.
Will Ichiro's number be retired this season?
-- Ryan H., Bellevue, Wash.
Nope, too soon. The Mariners' guideline for retiring numbers requires a player to be out of the game for six years, and they must be voted on for the National Baseball Hall of Fame at least once before they're eligible. Similarly, a player must be out of baseball for at least two seasons before being eligible for induction into the Mariners Hall of Fame.
How did the Mariners prepare for the time change going to Japan and then returning to the States? Do you think it affected any players?
-- Ryan B., Galveston, Texas
There are no magic tricks for dealing with the extreme time difference, but the club worked out or played games every day since returning last Thursday night in an effort to keep players active and help their body clocks reacclimate.
Most players acknowledge their sleep patterns are still adjusting and I can attest to that, having made the trip myself. But the Red Sox aren't going to feel sorry for the Mariners, who'll need to be ready for ace Chris Sale and the defending World Series champs by 4:10 p.m. PT Thursday.
What does the organization plan to do with the old Safeco Field signage now that it's been converted to T-Mobile Park?
-- Peter D., Phoenix, Ariz.
Most of the old signs are being recycled, though the Mariners are keeping one of the giant letters -- which aren't easy to store as they're close to 40 feet tall -- and Seattle's Museum of History and Industry is also taking a look at what it might salvage as a tribute to the stadium's history.
Final record prediction please?
-- Russell R., Bossier City, La.
I've been projecting 76-86, but honestly we're all just shooting in the dark because what this Mariners team looks like in August and September could have little resemblance to the group that trots out Thursday against Boston. Every team undergoes changes during a season, but general manager Jerry Dipoto figures to be even more heavy with his trade trigger finger this year as he continues to look to exchange veterans in their final contract seasons for long-term prospects.
The irony is that the better the club does early -- if veterans like Jay Bruce, Edwin Encarnacion, Hunter Strickland, Dee Gordon, Tim Beckham, Mike Leake, Wade LeBlanc and others perform well -- the more likely it'll be that Dipoto moves them for decent returns midseason. I think this club has the talent to push the .500 mark in the first half, but all bets are off if the Mariners clear the decks and go heavy with youth in the final months.
Going into 2019 without expectations of being contenders, when we look back in November, what would be considered a successful season for the Mariners?
-- Zuke A., Snohomish, Wash.
This year will be largely about development of the new nucleus. If 27-year-olds Marco Gonzales and Yusei Kikuchi establish themselves as core rotation pieces for the future, and rookies Justus Sheffield and Erik Swanson come up and live up to their advance billing, that would be huge.
The other key will be how young position players like Domingo Santana, Mallex Smith, Omar Narvaez and eventually J.P. Crawford progress, and if Mitch Haniger maintains the elite level of play he established last year.
Those guys are the future foundation as the club awaits the arrival of top prospects like Kyle Lewis, Evan White, Shed Long, Jake Fraley and eventually Jarred Kelenic and Julio Rodriguez. Which means much of this year's progress will be judged by how those youngsters develop in the Minor Leagues and how close they are to contributing in the next year or two.
Do the Mariners have an ace pitcher any more?
-- Kevin Z., Seattle
The aging of Felix Hernandez and trading of James Paxton puts Gonzales and Kikuchi in the top two spots of the rotation. Are they aces? No. But Mariners fans have been spoiled by the long-time presence of Hernandez atop their rotation. There are only a handful of true "aces" in MLB and literally none in the American League West outside of Houston, where Justin Verlander (16-9, 2.52 ERA in 2018) and Gerrit Cole (15-5, 2.88) are AL Cy Young Award contenders.
Against the rest of the division, Seattle certainly can hold its own. Gonzales was 14-10 with a 4.00 ERA last year, while Kikuchi has been a standout in Japan. The Mariners have already beaten the A's top two pitchers -- Mike Fiers (12-8, 3.56 ERA last year) and Marco Estrada (7-14, 5.64). The Rangers will go with Mike Minor (12-8, 4.18) and Lance Lynn (10-10, 4.77) at the top of their rotation. The Angels' first two starters are Trevor Cahill (7-4, 3.76) and Matt Harvey (7-9, 4.94).