Inbox: How will Eovaldi be used in playoffs?
Beat reporter Ian Browne answers questions from Red Sox fans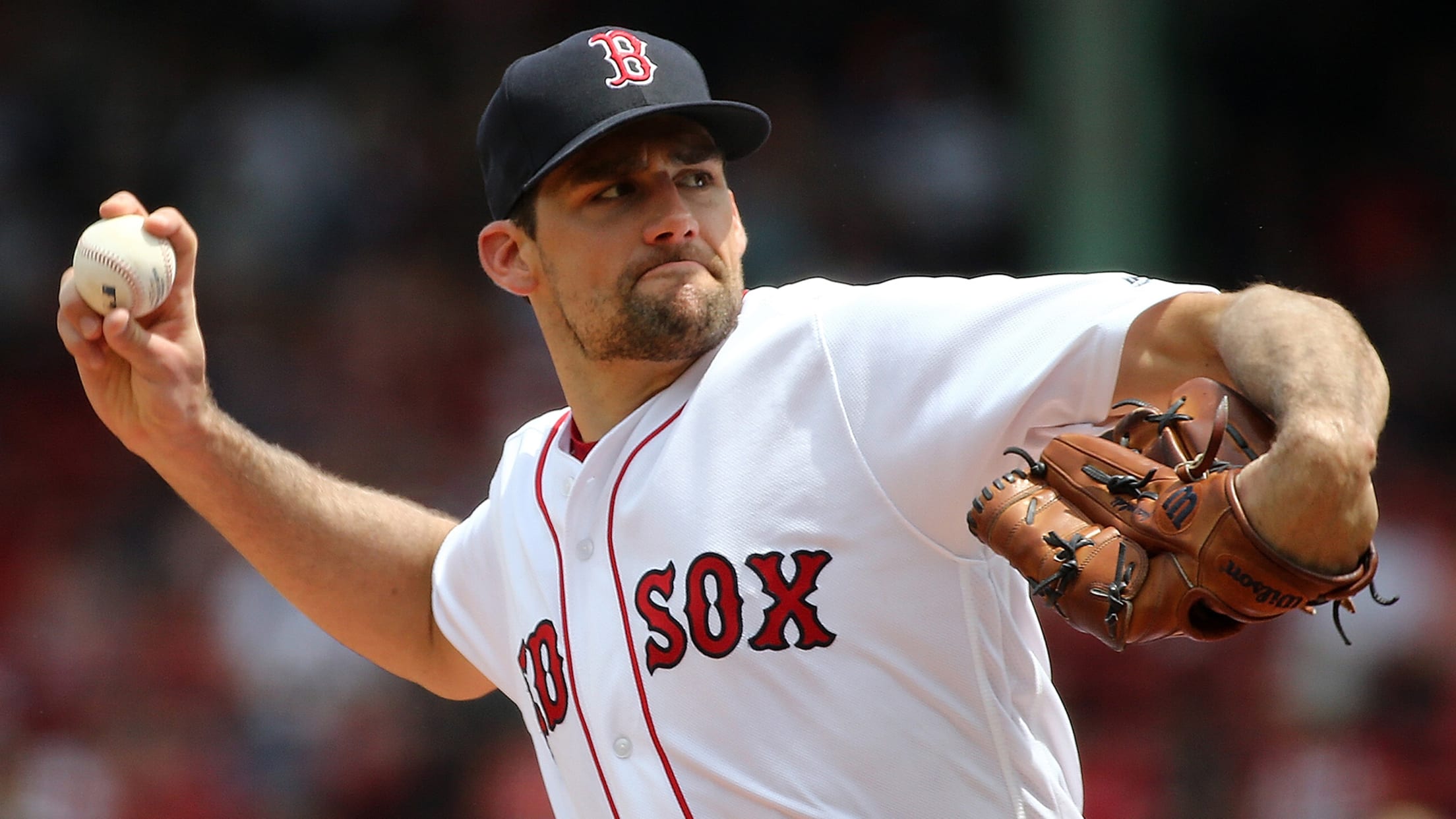 Who do you think would be more valuable to the Sox out of the bullpen in October -- Nathan Eovaldi or Eduardo Rodriguez? -- @SamDruschEovaldi has explosive power stuff, so I think he is a great fit for the bullpen once the playoffs start. I like E-Rod as a starter,
Who do you think would be more valuable to the Sox out of the bullpen in October -- Nathan Eovaldi or Eduardo Rodriguez?
-- @SamDrusch
Eovaldi has explosive power stuff, so I think he is a great fit for the bullpen once the playoffs start. I like E-Rod as a starter, especially if he pitches like he did before going on the disabled list.
What is the postseason rotation for the Sox?
-- @abromson
I think the best setup for the postseason is Chris Sale, David Price, Rick Porcello and Rodriguez, with Eovaldi giving you a serious multi-inning weapon out of the 'pen. Obviously, if they play the Yankees in the American League Division Series, you want Price to pitch at Fenway instead of Yankee Stadium, where he has had a lot of trouble.
:: Submit a question to the Red Sox Inbox ::
How do the Red Sox justify keeping Thomas Pomeranz in rotation, while potentially putting Eovaldi in the bullpen? Eovaldi has been more effective and I would think would be a more reliable option down the stretch.
-- @GHarkins1979
No decision has been made on that. Both Pomeranz and Eovaldi are starting for now. Pomeranz is going to have to start improving his performance if he wants to remain in the rotation. I don't see Eovaldi going to the bullpen much before the postseason. He has been dominant in his first two starts, so there's no reason to move him out of a starting role at this point.
How do the Sox handle Sale to keep him fresh for the rest of the year/postseason and change the narrative of, "He's a great first-half pitcher"?
-- @boblesiw
The first thing they've got to do with Sale is get him healthy, as he has some left shoulder inflammation that forced him to miss his last start. All year, manager Alex Cora has done everything in his power to have Sale fresh when it counts most. There have been numerous times he's held his ace right around the 100-pitch mark, or even a little below. Also, every time the team has had an off-day, Cora has kept five pitchers in the rotation, which has enabled Sale to often get five days of rest instead of four. If Sale can knock out his inflammation, I think he's set up for a strong finish.
Is there concern that Sale is missing a second start, or is this just a byproduct of a 9 1/2-game lead and the rest is a luxury?
-- @ Acummings40
I do think the way the Red Sox opened up the lead in the standings this week has at least a little to do with Sale not pitching in Toronto. Why rush him? You need this guy healthy for the games that count the most. It looks like Sale will pitch at some point this weekend in Baltimore, which is a sign he's feeling better.
Will the season mean a thing if the Red Sox somehow exit in the ALDS?
-- @MikeB_923
In a vacuum, this season deserves to be remembered. The Red Sox are going to shatter their previous record for wins in a season. However, the fact that the team has lost in the ALDS the past two years would make this a very bitter ending if they again went out that early. At a minimum, the Sox need to make the AL Championship Series this season. It would be tough to stomach three straight division titles and no postseason series victories.
What is your projected playoff infield? How do Ian Kinsler, Eduardo Nunez, Rafael Devers and Brock Holt all get playing time when healthy?
-- @steve_blundell
The "A" infield is Mitch Moreland at first, Kinsler at second, Xander Bogaerts at short and Devers at third. Look for Steve Pearce and Nunez to play first and third against most lefties. Holt will get some starts against tough righties to give either Kinsler or Bogaerts a day off. I think they have a nice complement of players and a chance to keep all of them fresh.
Blake Swihart was swinging a pretty hot bat when went on the DL. But how does he fare defensively and especially managing pitchers? Do pitchers like working with him? Considering this, what role can we expect of him when he returns and when will that be?
-- @losmediasrojas
Swihart has made big improvements this year on defense, and I think Jason Varitek has made a very positive impact him with his instruction. As far as managing pitchers, I think Swihart does an adequate job. The problem in that regard is that Sandy Leon sets the bar so high that I think it's hard for even Christian Vazquez to live up to that, let alone Swihart. When Swihart returns, he should go back to the role of backup catcher while filling in at other positions in the case of emergency. Still no word on when Vazquez will be back, but I doubt it will be much before September.
Who will win the AL MVP Award? I'd say Mookie Betts thanks to superior defense and running, but J.D. Martinez has completely changed this team offensively.
-- @abromson
Mookie and Michael Trout are having nearly identical seasons at the plate. I give Mookie a slight edge because he is a better defender, though Trout has been much improved in center this year. When you have two guys who are basically having the same season, I'd go with the guy who is playing in bigger games, which is Mookie. J.D. has been great, but Mookie simply does more things. If the season ended right now, Betts would get my MVP vote.
I know that it's very unlikely that Dustin Pedroia will return this year, although Cora keeps saying he's not ruling it out. But if he were to be able to recover quick and come back, say late September, do you think it's better to just hold off so he's fully healed for next season?
-- @icarlycrouse
If Pedroia is able to get fully healthy by September, I don't think it would hurt to play him a game or two down the stretch just so he could test the knee before the offseason. That said, I agree that it doesn't make sense to give him any kind of regular role this season. The more time you can give his knee to recover and respond to all the rehab, the better.