Inbox: Will Bucs look to bolster roster?
Beat reporter Adam Berry answers questions from fans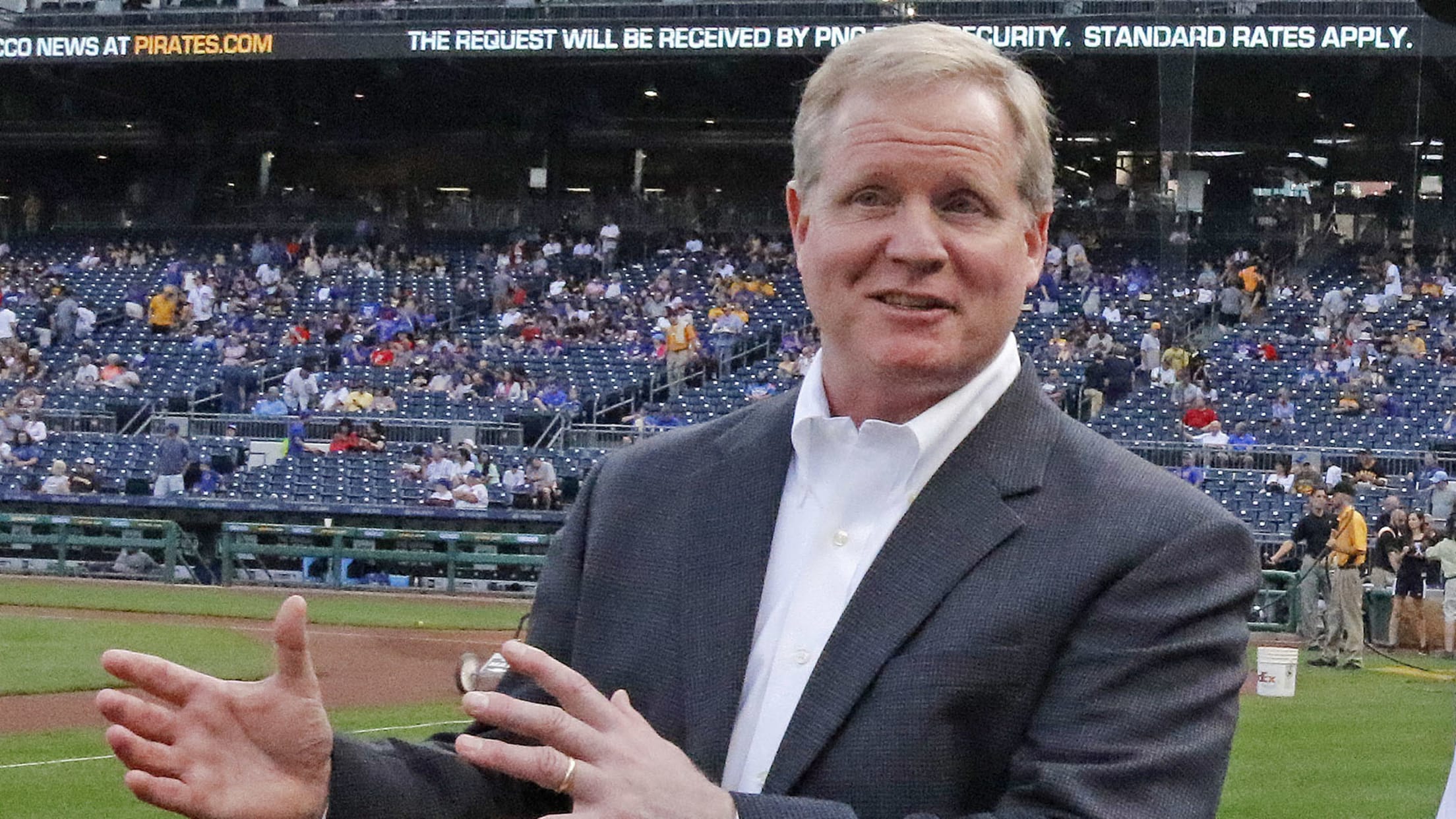 Pittsburgh Pirates general manager Neal Huntington, left, takes first-round draft selection Shane Baz on a tour of the field at PNC Park after announcing that the team has signed the right-handed pitcher before a baseball game against the Chicago Cubs in Pittsburgh, Friday, June 16, 2017. (AP Photo/Gene J. Puskar) (Gene J. Puskar/AP)
Assuming Josh Harrison comes back healthy and slides into the leadoff spot and at second base, where is the area we can reasonably expect Neal Huntington to try to upgrade the team? Or are we probably in for another "shuffling the deck chairs" type of summer? -- Harrison S., PittsburghIt's
Assuming Josh Harrison comes back healthy and slides into the leadoff spot and at second base, where is the area we can reasonably expect Neal Huntington to try to upgrade the team? Or are we probably in for another "shuffling the deck chairs" type of summer?
-- Harrison S., Pittsburgh
It's an interesting question, in part because two months ago, most of these questions were about which players the Pirates might trade come July. There's still a lot of time left, but they've put themselves in a position -- six games over .500, hanging around first place -- where you can start to ponder where they might add instead.
I think it starts with the pitching staff. The bullpen has improved overall, thanks to the emergence of Kyle Crick, Edgar Santana and Richard Rodriguez, but there's room for another late-inning arm in front of Felipe Vazquez to take pressure off of him and let everyone else settle into their role. Even when they had a dominant bullpen in 2015, they gave up a future big leaguer (JaCoby Jones) to get veteran setup man Joakim Soria.
The Bucs have had success bringing in veteran starters like J.A. Happ and Ivan Nova at the non-waiver Trade Deadline, but I think you'll see the rotation improve from within, as Jameson Taillon and Chad Kuhl step forward and Joe Musgrove joins the fray later this month. Nick Kingham has made an interesting argument for himself, too, even if he's likely the odd man out when everyone's healthy.
As for the lineup, the Pirates are in pretty good shape, with more help potentially on the way. Their outfield is set. Both catchers are playing great. Josh Bell is rounding into form this month. Harrison is coming back. Colin Moran has been the hitter they expected, and David Freese is playing well in a reserve role. They like everything Jordy Mercer brings to the table. And what if Jungho Kang returns later this year as anywhere near the player he was in 2015-16?
Slumps and injuries can change everything in an instant, but for now, it's an intriguing group. The Bucs are playing at a 93-win pace for a reason.
How long do the Pirates give Gregory Polanco to come around? Maybe send him to [Triple-A] to get himself right. Your take?
-- John P., Scranton, Pa.
For all the panic about Polanco, his overall numbers are fine. The .226 batting average is off-putting for some people, even though his .242 BABIP suggests he's been dealt some bad luck, but he has also posted a .333 on-base percentage and a .474 slugging percentage. Polanco has a 119 adjusted OPS+ -- 19 percent better than the league-average hitter.
:: Submit a question to the Pirates Inbox ::
Yes, Polanco's hot start gave way to an ice-cold 14-game stretch where he hit just .145. Since then, he's slashed .300/.383/.550 in 11 games. It's going to be a constant battle for the long-limbed outfielder to keep his swing short. The source of nearly every one of Polanco's slumps is either an injury or a long swing. He has put in a ton of pregame work, and he seems to be getting closer to where he should be.
So no, the Pirates won't be sending Polanco anywhere. He's going to be the right fielder on a regular basis, just the same as he is now.
What's a realistic timetable for Harrison, Musgrove and Kang to return?
-- Todd R., Morgantown, W. Va.
Harrison is moving quickly. The Pirates sent him out Monday to begin a Minor League rehab assignment with Double-A Altoona. They're not worried about getting Harronson into "baseball shape," as he's been active since sustaining a left hand fracture, but the veteran infielder will need to get his timing at the plate back after a month on the disabled list.
Then again, Harrison missed a month in 2015 and spent only five games (over the course of one week) in Triple-A before returning to Pittsburgh. He's been tracking pitches during the Bucs starters' bullpen sessions. Harrison is not far off. If all goes well, I think that May 22-24 series in Cincinnati seems reasonable for the Cincy native.
That three-game set against the Reds is also a good estimate for Musgrove's first start. He made his second-to-last rehab start in Triple-A on Saturday, so his next scheduled turn for Indianapolis should be Thursday. Five days after that would be May 22 -- the series opener in Cincinnati, so it could be then or shortly thereafter.
Kang's timetable for a return is anybody's guess. The Pirates have made it pretty clear this is going to be a Spring Training-type progression for Kang, whose most recent Major League action was in October 2016. Spring Training is typically six weeks long. He'll build up from drills to live batting practice (where he is now), from five- and six-inning games to full nine-inning appearances, and finally to the point where he can play consecutive games. Then they'll likely send Kang out on some sort of rehab assignment in the Minors.
Kang has been away from the game so long, there's no guarantee he'll have his timing back by the end of that makeshift Spring Training. If he doesn't, the Bucs could have him spend additional time in the Minors. Considering Kang's workouts began two weeks ago, I'd say he's at least a month away -- maybe more.