With Davis gone, Indians still threat on basepaths
Tribe lost AL steals leader, still plans on being aggressive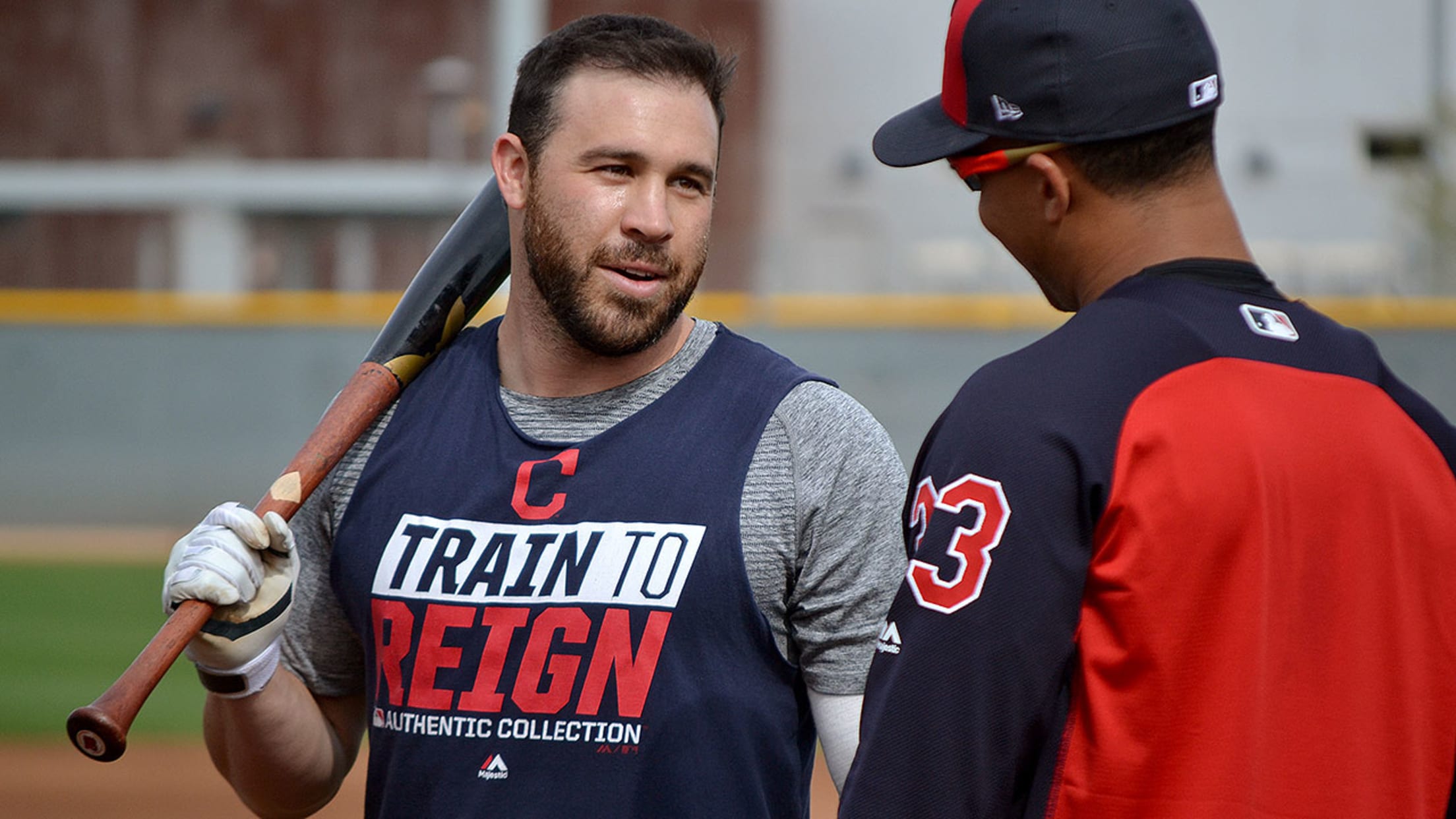 Jason Kipnis wants the Indians to remain aggressive on the basepaths this season. (Jordan Bastian)
GOODYEAR, Ariz. -- There were fist bumps and pats on the back awaiting Brad Zimmer when he jogged back to the dugout at Goodyear Ballpark earlier this week. The Indians' No. 1 prospect, per MLBPipeline.com, had just been thrown out at second base, but he was greeted with praise for
GOODYEAR, Ariz. -- There were fist bumps and pats on the back awaiting Brad Zimmer when he jogged back to the dugout at Goodyear Ballpark earlier this week. The Indians' No. 1 prospect, per MLBPipeline.com, had just been thrown out at second base, but he was greeted with praise for his good read and aggressiveness.
Throughout the spring, Cleveland is emphasizing smart baserunning, because being aggressive on the basepaths will still be a part of the offense this season. The Indians know Rajai Davis took his stolen bases with him when he signed with Oakland in the offseason, but the club also believes it can remain one of the American League's top running teams.
"We're going to preach the same thing we did last year," Indians second baseman Jason Kipnis said. "We want to run often, run early and don't come back with your tail between your legs just because you got thrown out once or twice. We want guys to still be aggressive, and to still kind of push it on the offensive side."
With Davis leading the AL in steals (43) last season, and veteran Mike Napoli (now with Texas) setting a tone with his knack taking extra bases, the Indians had a pair of veteran leaders on the basepaths last year. Cleveland quickly emerged as a force in that area, pacing the AL not in only stolen bases (134), but in bases taken (186) and extra-base taken rate (45 percent).
According to Fangraphs.com's all-encompassing baserunning metric, the Indians ranked first in the AL on the basepaths.
Certainly, Davis should receive a lot of credit for leading the charge. He led the AL in Fangraphs.com's individual baserunning metric, and was proficient in taking extra bases. He also served as a mentor for young Cleveland players such as Jose Ramirez (22 steals in 2016) and Francisco Lindor (19).
"They have the information to get better," Davis said. "I think it's on them to develop that, what they were able to see on a day-to-day basis. Sometimes it takes longer than others. Some guys get it. Some guys pick it up. I think the aggressiveness was there, especially Lindor. Even Ramirez. I kind of had to slow him down sometimes. It's definitely there."
Davis made Cleveland the AL's top basestealing team, but the rest of the offense pulled its weight in other aspects of running.
Carlos Santana led the Indians (and ranked third in the AL) with 29 bases taken (moving up on fly balls, passed balls, wild pitches, balks or defensive indifferences). Lindor was fourth in the AL in reaching on error (nine times). Ramirez led Cleveland in going first-to-third on a single (15), and scoring from first on a double (nine).
"Those are the little things that we talk about," Kipnis said. "It's still who we are as a team and what we want to get done when we're on the basepaths. We want to be aggressive, take the extra bag, force the defense's hand to try to make plays. We know how many runs it led to for us last year."
If anything, Indians manager Terry Francona said it is being emphasized more now that Davis is no longer in the picture.
"Raj is gone. We know those stolen bases go with him," Francona said. "We need to be first-to-third. We really emphasize trying to move up on balls in the dirt -- to the point where even we're maybe a little over-aggressive in Spring Training."
That is why, even after some outs, there still might be high-fives in the Tribe dugout.