Ahead of debut, Merritt trying to keep calm
Tribe lefty reliever enjoying first taste of big league life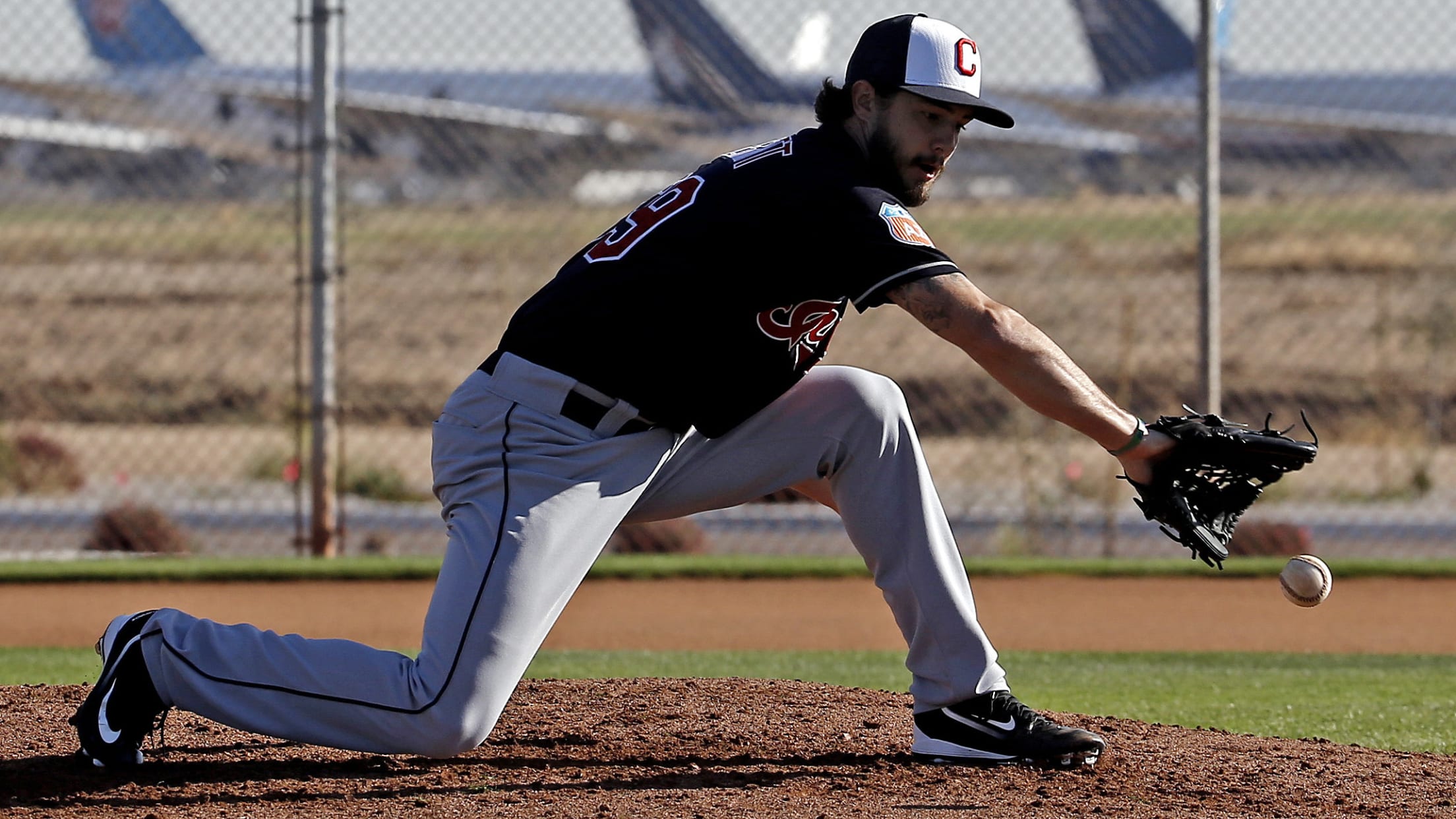 Ryan Merritt's father and brother are in Chicago in anticipation of his debut. (AP) (Morry Gash/AP)
CHICAGO -- Indians left-hander Ryan Merritt has a good idea how he will feel if and when his name gets called to enter a Major League game for the first time."I'm sure I'll be nervous," he said before Tuesday's 6-2 win over the White Sox. "I'll be excited. My heart
CHICAGO -- Indians left-hander Ryan Merritt has a good idea how he will feel if and when his name gets called to enter a Major League game for the first time.
"I'm sure I'll be nervous," he said before Tuesday's 6-2 win over the White Sox. "I'll be excited. My heart will be pounding. But I'm just going to take it one step at a time, try to not be any different."
Merritt, the organization's 2014 Minor League Pitcher of the Year and No. 27 prospect according to MLBPipeline.com, was called up to the Majors on Monday when the Indians sent Joba Chamberlain to the disabled list with a left intercostal strain.
Merritt has been in a starter in the Minors, but the Indians brought him up as a long-relief option. He didn't appear in Monday's doubleheader or Tuesday's game, but he still got a taste of what it's like to be a Major Leaguer.
"Being out there, actually on the field, just the atmosphere, I never knew that feeling, so it's pretty neat to actually get up here and feel that feel of being on a big league field and just the atmosphere that it all brings," Merritt said. "It's a crazy feeling."
Merritt, 24, was 3-4 with a 2.94 ERA in eight starts with Triple-A Columbus. Last season, he went 13-3 with a 2.58 ERA in Class A Carolina.
He was a 16th-round pick in 2011 out of McLennan Community College in Waco, Texas, and has developed a reputation for his top-notch fastball command. He said he has improved his curveball to make it sharper and generate more swings and misses.
But Merritt said he is trying to keep a low profile in the clubhouse. He said reliever Austin Adams has been showing him the ropes.
For the soft-spoken Merritt, that means keeping his head down and going about his business.
"I think just showing all the guys the respect they deserve," he said. "Not being real cocky or showing up late to the field or anything. Just being respectful."
When he received the news he was heading to the Majors, Merritt said his dad was his first call. Merritt's father and brother made the trip from the Dallas area, so if Merritt gets the call in this series, they will be here to see how he handles the whirlwind of emotions.
"It's kind of normal right now," Merritt said, "but I'm sure as time goes on, once I actually get on the mound, it will kind of hit me that this is real life."
Cody Stavenhagen is a reporter for MLB.com based in Chicago.