Encarnacion doesn't regret forgoing WBC '17
Indians first baseman was part of 2013 Dominican squad that won tournament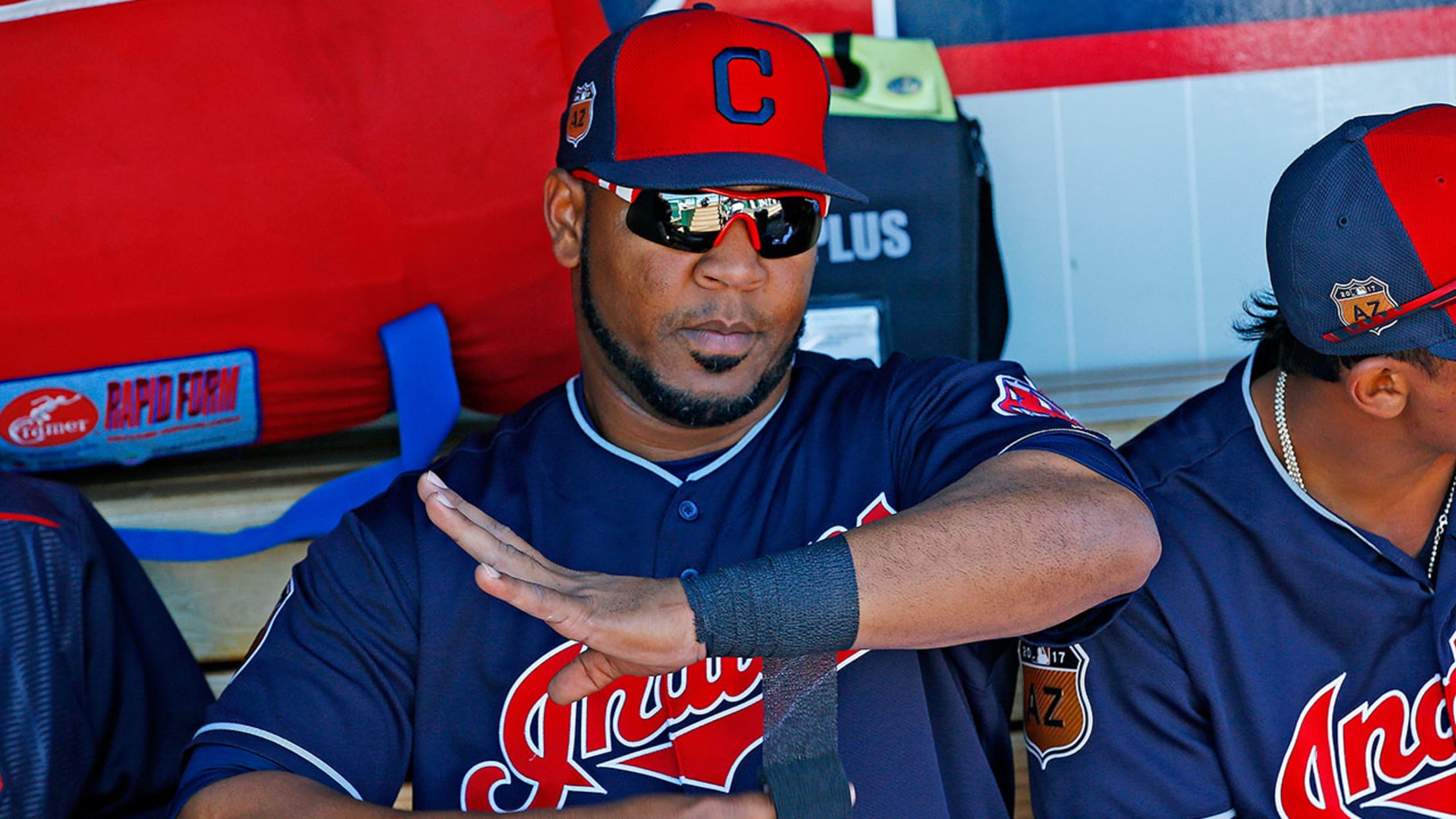 Indians first baseman Edwin Encarnacion is in his first spring camp after signing with the club in January. (AP)
PEORIA, Ariz. -- The Indians had ample reason to feast their eyes on the clubhouse television sets Saturday, as their teammates competed in the World Baseball Classic with Team USA taking on the reigning WBC Champion Dominican Republic. But there was more than just the mixed allegiances that created the
PEORIA, Ariz. -- The Indians had ample reason to feast their eyes on the clubhouse television sets Saturday, as their teammates competed in the World Baseball Classic with Team USA taking on the reigning WBC Champion Dominican Republic. But there was more than just the mixed allegiances that created the mixed emotions.
"I felt like I was there, and I really enjoyed watching the game," said first baseman Edwin Encarnacion, a veteran of the 2013 WBC who passed up a return trip so he could go through a full Spring Training with the Indians after signing with them in early January. "It was an incredible experience. I'll never forget having the opportunity to represent my country. To go through that with them was a beautiful experience, and I really enjoyed it."
He was adamant, however, about having no regrets of his decision to stay in Goodyear, Ariz., with the Tribe this spring.
"When your country needs you, you really want to be there for them," Encarnacion said. "But I understand that I'm with a new team, and I have to be here with my new team. It's definitely been worth the sacrifice to be able to be here."
For Indians manager Terry Francona, it's been a little harder to watch. On one hand, Indians shortstop Francisco Lindor is hitting .429 (3-for-7) with a pair of home runs for Team Puerto Rico.
"It's fun to watch him have some success like that," Francona said of Lindor. "He worked hard to be ready for this."
On the other hand, reliever Andrew Miller was tagged for two home runs in the eighth inning on Saturday for Team USA, allowing four runs and recording just two outs, turning a 5-3 lead into a 7-5 deficit.
"With Andrew, you're seeing a guy out there that's pitching in front of a big crowd, and he's trying to rip off sliders," Francona said. "So when we say our heart's in our throat, we kind of meant it."
From Francona's perspective, Spring Training isn't the ideal time to be pitching high-intensity, meaningful innings.
"The best way I can describe it is Andrew and [closer Bryan] Shaw pitched yesterday," Francona said. "I think they gave up the same amount of runs. Nobody's going to ask about Shaw. It's part of his getting ready for the season. That's why we worry. When Shaw gave up a couple hits and runs, there was 3,000 people here, or whatever. It's the normal progression of Spring Training."
Francona had little concern from a health perspective in sending players to the WBC, but he's mindful of the impact the intense international competition has on an otherwise measured progression to Opening Day.
"He's just not ready to be Miller, that's all it is," Francona said. "It's not USA baseball's fault. That's the time of year that they have this thing, so sometimes that's what you get, because guys aren't ready to be who they are. And that's why you worry, because then they try to be, and they're not ready."
Owen Perkins is a contributor to MLB.com.