Diaz, Frazier among top prospect performers Saturday
Brewers prospect caps huge game with walk-off shot; Indians' No. 2 notches season-high four hits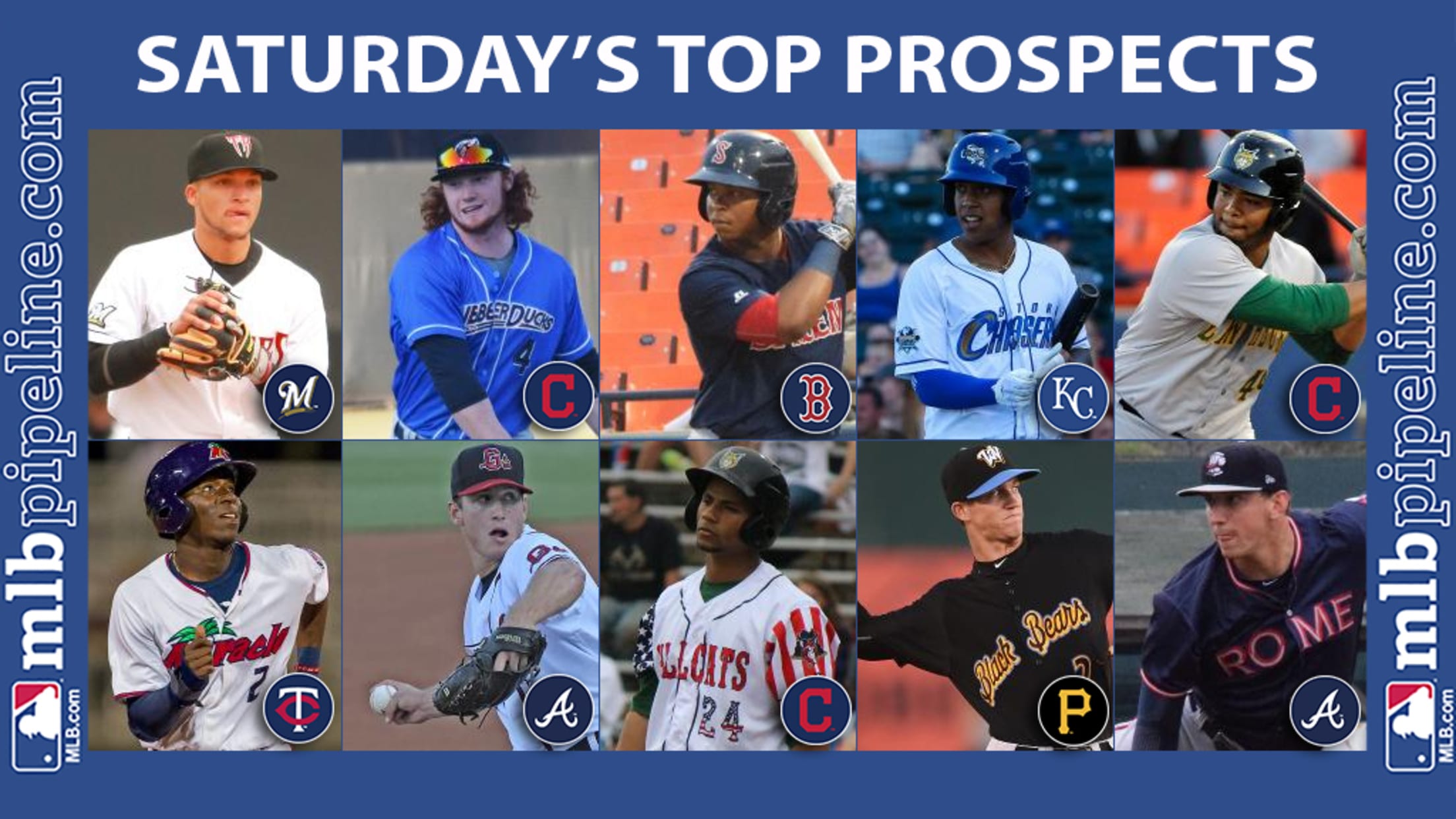 The Midwest League is notorious for dampening the power of young hitters. Apparently no one told that to Isan Diaz.The Brewers' No. 11 prospect slugged a pair of home runs on Saturday, including a walk-off shot to propel Class A Wisconsin past Lake County, 9-8. Diaz also hit a triple
The Midwest League is notorious for dampening the power of young hitters. Apparently no one told that to Isan Diaz.
The Brewers' No. 11 prospect slugged a pair of home runs on Saturday, including a walk-off shot to propel Class A Wisconsin past Lake County, 9-8. Diaz also hit a triple in the contest en route to finishing 3-for-4, while his six RBIs represented a new career high.
After drawing a walk in his first plate appearance, Diaz plated Wisconsin's second run of the game with an RBI triple in the third inning. The left-handed hitter blasted a three-run homer to the opposite field in his third trip to the plate, and, after striking out in the seventh inning, he gave the Timber Rattlers the win when he connected on a two-run shot to center field in the bottom of the ninth.
MILB Video - Title: Watch: MiLB Video - Url: http://www.milb.com/r/video?content_id=963346283
With his huge game Saturday, Diaz now paces all Midwest League hitters with his 15 home runs, 62 RBIs and 175 total bases. The 20-year-old shortstop also extended his hitting streak to seven games, during which he's batting .533 with 13 RBIs and 10 runs scored.
Overall, Diaz his hitting .266/.345/.476 through 96 games for Wisconsin in his full-season debut.
The rest of the best performances from top prospects Saturday
• No. 14 overall prospect Rafael Devers helped lead Class A Advanced Salem in a victory over Frederick as he homered for a second straight game. The Red Sox's No. 2 prospect, who finished 2-for-4 at the plate, also extended his hitting streak to 10 games in the win.
• No. 23 overall prospect Clint Frazier hit his 13th home run and collected a season-high four hits, though it wasn't enough to keep Double-A Akron from falling to Altoona. Before his 4-for-5 performance on Saturday, the Indians' No. 2 prospect had been 1-for-28 at the plate over his previous seven contests.
• No. 30 overall prospectRobert Stephenson (Reds' No. 2) allowed three runs (one earned) on three hits over six innings in Triple-A Louisville's loss to Lehigh Valley. The 23-year-old right-hander struck out seven and did not issue a walk for the first time this season in 17 starts. Overall, Stephenson has pitched to a 3.69 ERA in 100 innings.
• No. 32 overall prospectAdalberto Mondesi (Royals' No. 1) showed off his wheels in Triple-A Omaha's win over Nashville, as he hit a triple and stole two bases while going 3-for-5 at the plate. In 13 games since being promoted to Omaha, Mondesi has hit .308 with seven extra-base hits and eight runs scored.
• No. 78 overall prospect Nick Gordon stayed hot as he went 2-for-5 with his third home run and four RBIs in Class A Advanced Fort Myers' victory against Clearwater. The Twins' No. 4 prospect has been on a tear this month, hitting .349/.371/.453 with 13 RBIs and 10 runs scored in 20 July games.
• No. 80 overall prospect Bobby Bradley (Indians' No. 3) belted his Carolina League-leading 19th home run and tallied four RBIs to power Class A Advanced Lynchburg past Carolina, 12-10. Since the beginning of June, the 20-year-old first baseman has hit .316 with eight home runs and 34 RBIs over 42 games for the Hillcats.
• Indians No. 8 prospect Francisco Mejia extended his hitting streak to 37 games in style as he belted a grand slam in the first inning of Class A Advanced Lynchburg's win against Carolina. The homer was Mejia's second with Lynchburg and ninth of the season, and he's now hitting .346/.377/.536 through 73 games this season after going 1-for-2 with a pair of walks on Saturday.
• In his longest start for Double-A Mississippi, Braves No. 10 prospect Lucas Sims fired 7 1/3 scoreless innings in a shutout against Tennessee. The 22-year-old allowed four hits and four walks while also striking out four and generating 10 ground-ball outs.
• Pirates No. 11 prospect Kevin Newman notched his third four-hit game of the season and first since being promoted to Double-A Altoona. The 22-year-old shortstop went 4-for-4 in the contest to improve his average to .350 through 30 games for the Curve. Overall, the 2015 first-rounder has posted a .359 average, with more walks than strikeouts, over 71 games between the Class A Advanced and Double-A levels.
• Rockies No. 12 prospectGerman Márquez fired eight scoreless innings with just five hits allowed to pace Double-A Hartford in a 6-0 shutout of Reading. The 21-year-old righty walked a pair, fanned seven and generated 10 ground-ball outs in the performance, which saw him throw 69 of his 98 pitches for strikes. It also was the second time in three starts that Marquez completed eight innings.
• Braves No. 29 prospect Patrick Weigel flirted with a no-hitter in Class A Rome's win over West Virginia, as he tossed 6 2/3 innings before finally yielding a knock. The 22-year-old righty went on to allow three hits over a career-best 7 2/3 scoreless innings while striking out eight in the win. With the performance, Weigel lowered his ERA to 2.83 and increased his strikeout total to 107, the third-most in the South Atlantic League.
MILB Video - Title: Watch: MiLB Video - Url: http://www.milb.com/r/video?content_id=962592783
"I felt pretty good coming into today's start," Weigel told MiLB.com. "Me and catcher [Jonathan] Morales had a good game plan to establish the fastball early. Our offense came out and put a lot of runs up early. From that point, it was just about filling up the strike zone and pitching to contact.
"I'd be lying if I said [the no-hitter] didn't cross my mind," he said. "I definitely was aware of what was going on. But you know, I went 3-1 to Munoz and he put a good swing on the ball and got the hit. And from there on out, it was about trying to get to the end of the game and finish it out."
• Royals No. 27 prospect Eric Skoglund hurled six innings of one-hit ball as Double-A Northwest Arkansas lost to Springfield, 3-1. The 6-foot-7 southpaw issued three walks and struck out four, with 60 of his 92 pitches going for strikes in the outing.
MILB Video - Title: Watch: MiLB Video - Url: http://www.milb.com/r/video?content_id=962798983