Nova strong, Miller injured in win vs. Braves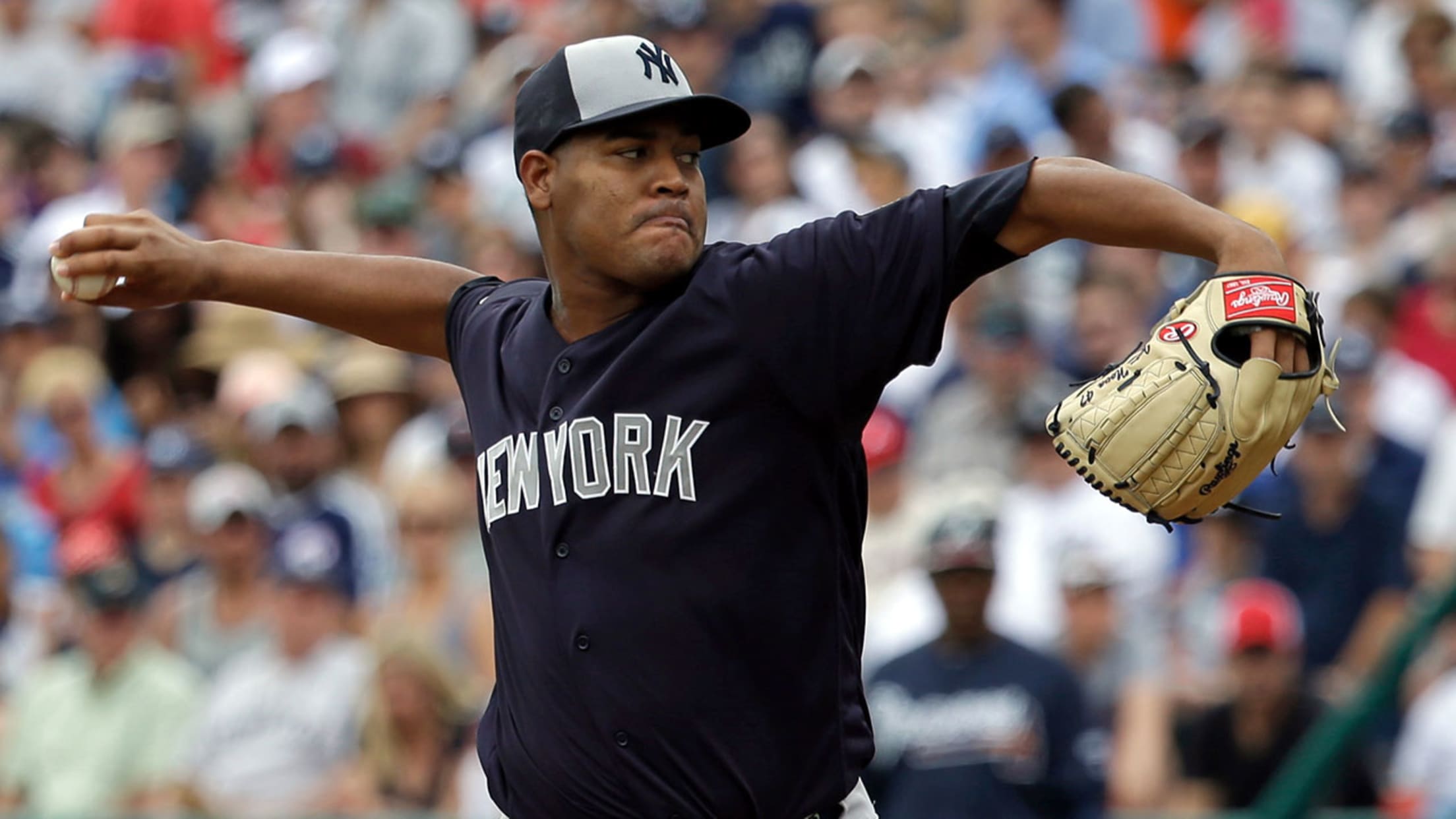 Ivan Nova struck out two over six innings on Wednesday. (AP)
LAKE BUENA VISTA, Fla. -- Braves ace Julio Teheran prepared for his third consecutive Opening Day start in impressive fashion and Yankees lefty reliever Andrew Miller suffered a chip fracture in his right wrist as New York beat Atlanta, 2-0, at Champion Stadium on Wednesday afternoon. Ivan Nova, bidding for
LAKE BUENA VISTA, Fla. -- Braves ace Julio Teheran prepared for his third consecutive Opening Day start in impressive fashion and Yankees lefty reliever Andrew Miller suffered a chip fracture in his right wrist as New York beat Atlanta, 2-0, at Champion Stadium on Wednesday afternoon. Ivan Nova, bidding for a spot in the Yanks' rotation, went six scoreless innings.
Dustin Fowler and Billy Fleming greeted Alexi Ogando with consecutive triples to begin a two-run eighth inning that proved decisive for the Yankees.
• Box score
Miller, who stands as one of the key members of the Yankees' vaunted bullpen, dropped his glove and walked immediately toward the dugout after he was struck on the right arm by a Willians Astudillo line-drive comebacker to begin the bottom of the seventh inning. He will visit a hand specialist to determine the next step.
Making his final tuneup before taking the mound for Monday's regular-season opener against the Nationals, Teheran limited the Yankees to four hits over five scoreless innings. The right-hander posted a 2.01 ERA over five Spring Training starts and provided some indication that he is primed to be better than he was last year when he posted a 4.04 ERA over 33 starts.
"I'm glad that I did what I've been doing my whole Spring Training," Teheran said. "I know that was my last [spring] start, and I feel ready for the season."
Yankees outfielder Aaron Hicks notched a pair of singles off Teheran and then capped his three-hit performance with a sixth-inning double off left-handed reliever Eric O'Flaherty, who was making his first appearance since rejoining the Braves courtesy of a trade completed with the Pirates on Sunday. O'Flaherty pitched around a pair of hits as he completed a scoreless inning.
Nova surrendered just two hits against a Braves lineup that included Freddie Freeman, Nick Markakis and A.J. Pierzynski.
"I pitched really good. I feel good about the way I pitched," Nova said. "That's the only thing that I can control. I did my part, and like I always say, they're going to make a decision."
Up next for the Yankees: The Yankees will wrap up the Gulf Coast portion of their spring on Thursday with split-squad games. Michael Pineda gets the call against the Cardinals at George M. Steinbrenner Field in a 1:05 p.m. ET contest, facing Mike Leake. Chad Green takes the start against the Tigers at 1:05 p.m. in Lakeland. Both games are on MLB.TV.
Up next for the Braves: Freeman will be in the lineup when the Braves travel to Sarasota to play the Orioles on Thursday at 3:05 p.m. ET (listen on Gameday Audio). Bud Norris will make his final start, and John Gant, who has emerged as an Opening Day roster candidate, will complete a multi-inning relief stint that could prepare him for the bullpen or rotation.
Mark Bowman is a reporter for MLB.com.