Happ happy to 'flush' rough start vs. Rays
Blue Jays lefty lasts two-plus innings in first loss of 2016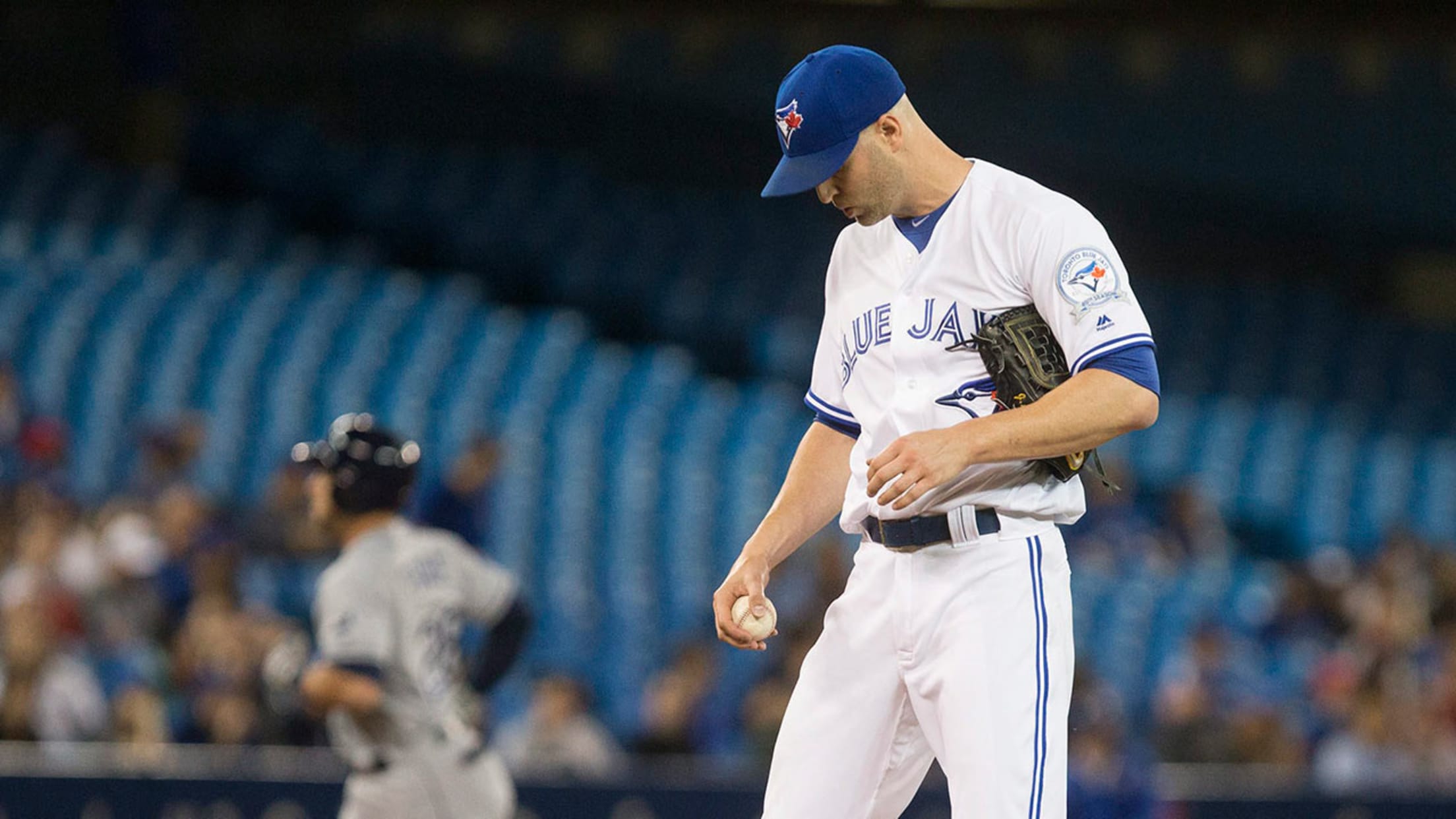 J.A. Happ allowed eight runs over two-plus innings and took his first loss on Monday vs. the Rays. (AP)
TORONTO -- If there's been one consistent component of the Blue Jays' opening quarter of the season, it's been the performance of the team's starting pitching.Left-hander J.A. Happ has been a major part of Toronto's impressive staff -- Happ entered the night third behind Jake Arrieta and Clayton Kershaw since
TORONTO -- If there's been one consistent component of the Blue Jays' opening quarter of the season, it's been the performance of the team's starting pitching.
Left-hander J.A. Happ has been a major part of Toronto's impressive staff -- Happ entered the night third behind Jake Arrieta and Clayton Kershaw since Aug. 14, 2015, with a 1.68 ERA -- but he was not his usual self in Monday's 13-2 thumping at the hands of the Tampa Bay Rays.
Happ went a season-low two-plus innings and allowed a season-high eight earned runs and two home runs, his worst outing since allowing seven runs on July 30, 2015, against the Twins.
Signed by the Blue Jays in the offseason to a cost-effective, three-year, $36-million dollar deal after a second half surge with the Pirates, Happ blamed the outing on his inability to locate his trusted two-seam fastball.
"It was cutting on me a little bit instead of sinking or fading, and then I probably tried to feel for it a little bit," Happ said after the fact.
When at its best, the two-seamer is a weapon that Happ uses to neutralize right-handed batters, and he came into the night holding righties to a .248 clip with four home runs on the year. Happ surrendered a two-run shot to Steve Pearce in the first inning on a two-seamer that missed its spot, and then met the same outcome in the second inning courtesy of Tim Beckham, and he conceded the pitch wasn't coming out of his hand the same way it normally does.
"It happens from time to time, but when it happens, I should probably go to other pitches or use the four-seamer," Happ said. "It's been so good for me this year, I felt like I could make the adjustment, and some were good. But it's just a matter of being able to hit with everything, and tonight I didn't."
The outing also snapped a number of personal streaks for Happ. The former Phillies top prospect entered the night having thrown 14 2/3 consecutive shutout innings, and Monday's game marked the first time all year he's allowed more than three runs. Happ was also one of six pitchers to be undefeated in the American League, until suffering his first defeat tonight.
The 33-year-old credits his mental headspace as a large reason for his turnaround from last season, and he believes tonight's outing was just a blip on the radar. Happ says he'll continue to put in his off-day work and chalk this one up as a bad start in an otherwise solid season.
"This game certainly can drive you crazy, and in the past it has," he said. "Tomorrow I'm going to flush it. I'm going to come in, I'm going to get my work in like always, and we'll keep going. I felt good, and I'm going to feel good my next time out, and we'll do everything we can to make sure this doesn't happen again."