Cave placed on waivers; Reds roster not set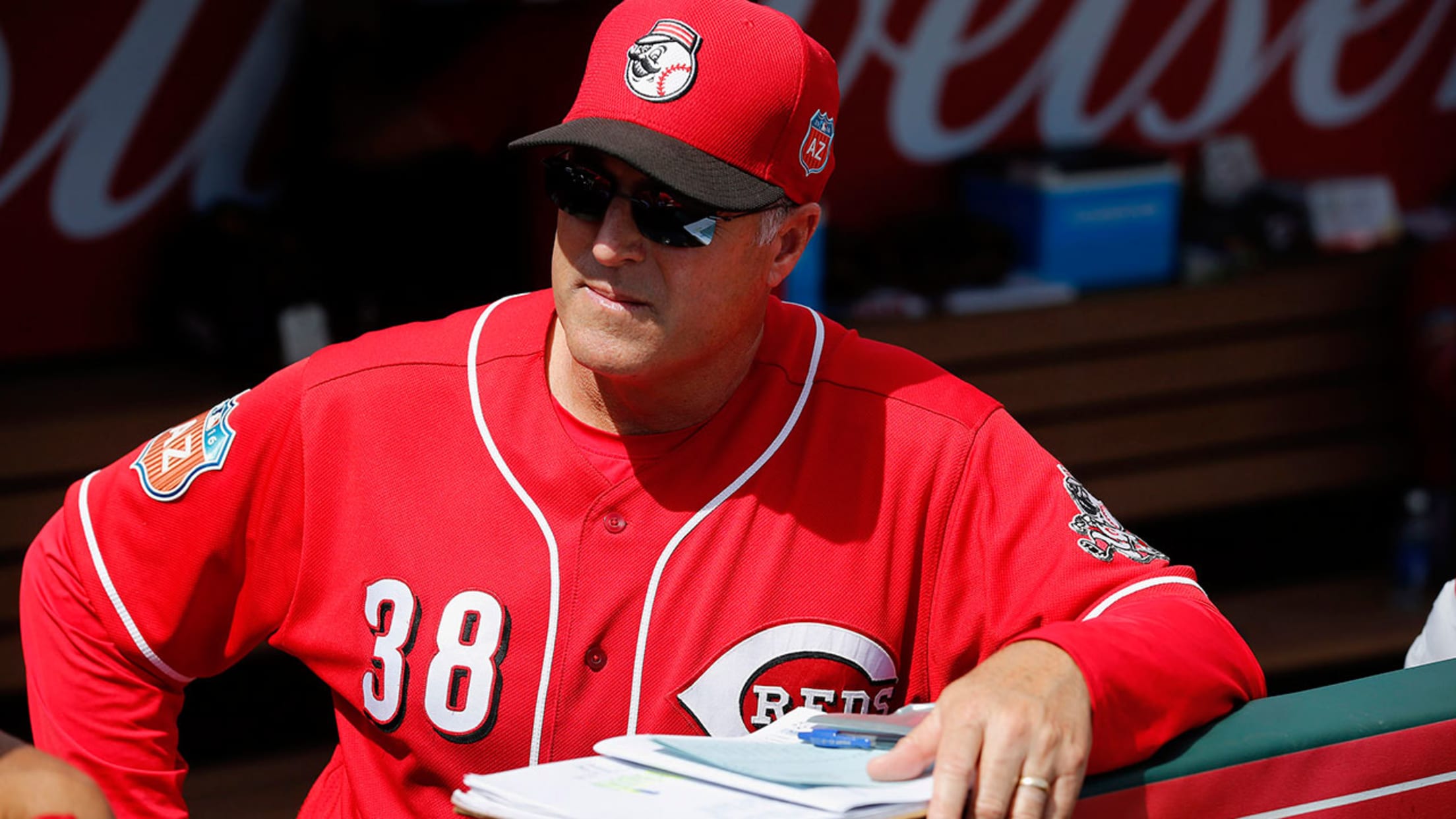 The Reds currently have 34 players in Major League camp ahead of Monday's Opening Day meeting with the Phillies in Cincinnati. (AP)
GOODYEAR, Ariz. -- Immediately following their 3-1 loss to the Indians on Thursday, the Reds broke camp and headed home for Cincinnati. Besides a plane full of players and coaches, they will be carrying a few unanswered roster questions.The Reds did not come to a resolution to finalize their 25-man
GOODYEAR, Ariz. -- Immediately following their 3-1 loss to the Indians on Thursday, the Reds broke camp and headed home for Cincinnati. Besides a plane full of players and coaches, they will be carrying a few unanswered roster questions.
The Reds did not come to a resolution to finalize their 25-man roster.
"Not enough, unfortunately," Reds manager Bryan Price said. "I think we have some resolution in how we get to the final decisions and how we share that with the players. It will probably come out over the next day or two unfortunately. It's kind of going to where we hoped we wouldn't go with it. It looks like we'll get ourselves to Cincinnati and maybe down to Indy to make some final decisions."
• Hamilton to begin season at bottom of batting order
One move was made on Thursday that added clarity to the bench situation. A source confirmed to MLB.com that Rule 5 pick and outfielder Jake Cave was placed on waivers. If he goes unclaimed, his former club, the Yankees, would have three days to decide if it wants Cave back for half the $50,000 the Reds paid to select him.
With Cave no longer in the picture, it would appear that utility player Jordan Pacheco, infielder/outfielder Jose Peraza and outfielder Scott Schebler are in line to nab the final three bench spots, barring a surprise.
Price revealed that the fifth player in the battle, outfielder Yorman Rodriguez, has battled with a strained left hamstring this week. It would appear that Rodriguez -- who is out of Minor League options -- could be also headed to the disabled list.
The camp roster currently stands at 34 players before the Reds play a final exhibition game on Saturday vs. the Pirates at Indianapolis. There will be a team workout at Great American Ball Park on Sunday morning, before Opening Day at home vs. the Phillies on Monday at 4:10 p.m. ET.
Doing roster math actually brings the total closer to 25 when you subtract outfielder Juan Duran, who was suspended for 80 games last month for testing positive for performance enhancing drugs.
An entire rotation's worth of starting pitchers seem destined to begin the season on the disabled list in Homer Bailey, Anthony DeSclafani, John Lamb, Michael Lorenzen and Jon Moscot. Bailey will remain behind in Arizona to continue his rehab from Tommy John surgery and remains on target for a return to the rotation in May.
Following Tuesday's cuts of six players, that appeared to set the eight-man bullpen to consist of J.J. Hoover, Jumbo Diaz, Tony Cingrani, Ross Ohlendorf, Caleb Cotham, Dayan Diaz, Keyvius Sampson and Blake Wood.
Also on the camp roster are two extra catchers -- Ramon Cabrera and Kyle Skipworth. Because he was recovering from ankle surgery, Skipworth will also start out on the DL. Barring a surprise move, Cabrera seems a good bet to begin the season at Triple-A Louisville.
Left to be decided is to name a starting pitcher to pitch Game 3 of the regular season next Thursday vs. the Phillies. Tim Melville seems to the leading candidate to take that start, but it has not been finalized.
The 40-man roster is currently at 38 players. If they officially make the team, three non-roster players would need to be added in Melville, Dayan Diaz and Pacheco.
Not to be overlooked is the potential for a last-minute stunner before the roster is set. In 2012, on the eve of Opening Day, the Reds claimed Alfredo Simon off of waivers for their bullpen. The move forced the club to send down infielder Todd Frazier after it appeared likely he was going to make the team out of camp.