Japan, U.S. continue roll at Women's World Cup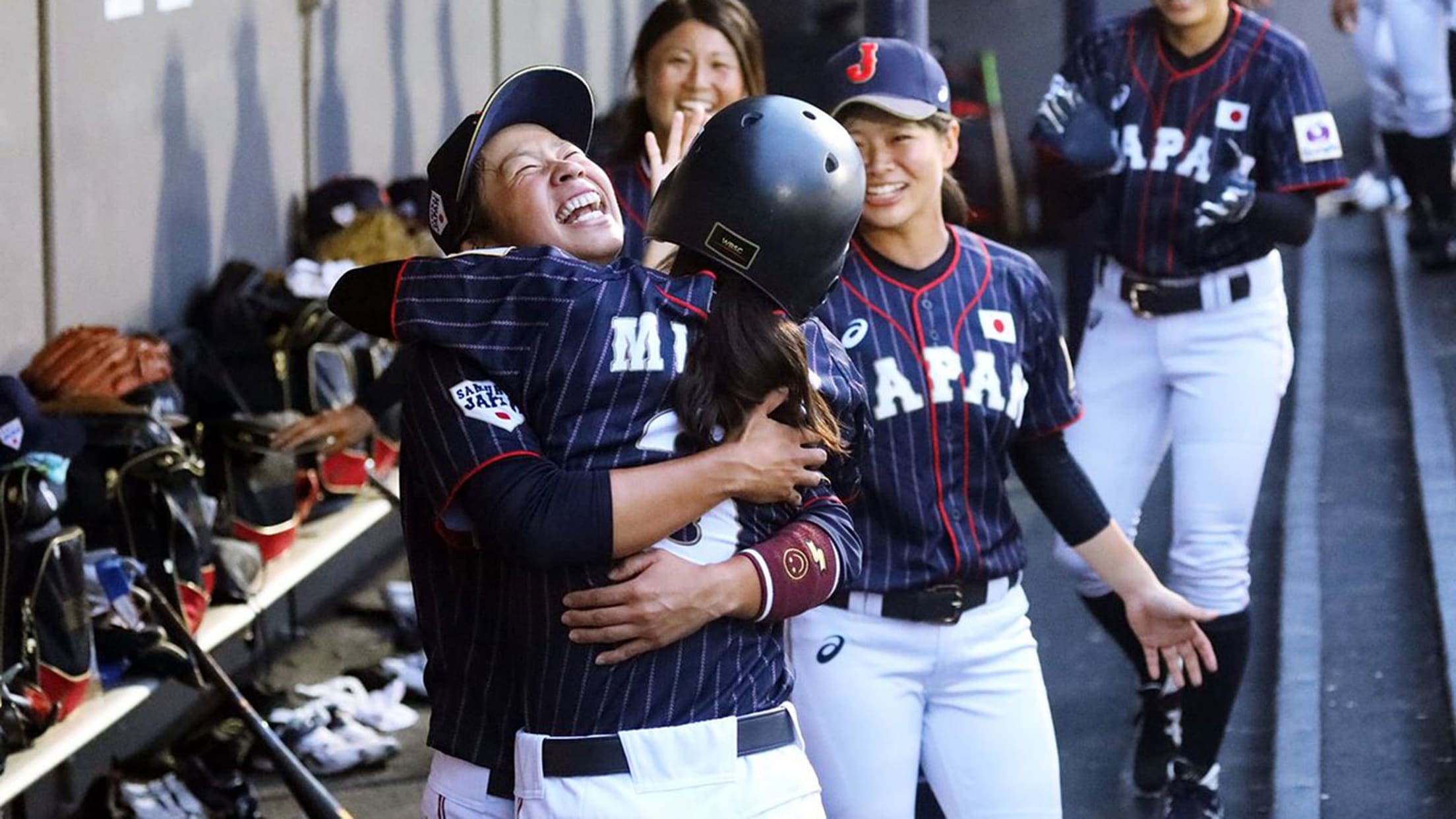 As the opening round of the 2018 WBSC Women's Baseball World Cup winds down in Florida, the excitement is only ratcheting up. The U.S. and defending champion Japan continued their undefeated starts to the tournament with victories on Day 4, while the Dominican Republic, Chinese Taipei, Puerto Rico and Canada
As the opening round of the 2018 WBSC Women's Baseball World Cup winds down in Florida, the excitement is only ratcheting up. The U.S. and defending champion Japan continued their undefeated starts to the tournament with victories on Day 4, while the Dominican Republic, Chinese Taipei, Puerto Rico and Canada were also victorious.
Anyone interested in future girls' or women's baseball programming and events can send an e-mail to girlsbaseball@mlb.com to get more information about opportunities through MLB & USA Baseball.
• Women's Baseball World Cup schedule
• Live stream the Women's World Cup
Here's what you need to know from Saturday's opening round action:
Dominican Republic 19, Hong Kong 1 (five innings)
With a 3-1 lead in the top of the third inning, the Dominican Republic broke the game wide open with a seven-run frame, as Melissa Rodriguez and Yocarla Guerrero each tripled, while Geraldina Feliz doubled. Carla Minier pitched all five innings, giving up one run on three hits.
Chinese Taipei 13, Korea 0 (five innings)
A five-run first inning fueled Chinese Taipei's second victory of the tournament, highlighted by a Shen Chia Wen double and a pair of walks. A pair of defensive miscues from Korea also aided the effort. Chinese Taipei tacked on three in the second, one in the third, and four in the fourth, led by three RBIs apiece from Shen Chia Wen and Huang Chiao Yun.
Highlights: Korea v Chinese Taipei - Women's Baseball World Cup 2018 #WomensBaseball #WorldCup @ctba pic.twitter.com/r8BfC6E9N4

— WBSC ⚾🥎 (@WBSC) August 25, 2018
Hu Ching Wen started and tossed three scoreless innings before reliever Liang Yung Chi closed it out over the final two frames.
Puerto Rico 16, Netherlands 1 (five innings)
The Netherlands took a 1-0 lead after Esther Maliepaard walked, stole second and third and scored in the first inning. But it was all Puerto Rico after that. Puerto Rico scored seven times in the second inning, with Lisandra Berrios and Diamilette Quiles each coming through with RBI doubles during a six-hit inning. Angelis Rivera yielded just one hit over four strong innings for Puerto Rico.
📺 Highlights: 🇳🇱 Netherlands v Puerto Rico 🇵🇷 #WomensBaseball #WorldCup🏆 @beisbolPR @knbsb @usssaspacecoast pic.twitter.com/zkRxAUXeEb

— WBSC ⚾🥎 (@WBSC) August 25, 2018
United States 3, Venezuela 1
The U.S. squad remained undefeated and clinched a berth in the super round of the tournament after winning a classic contest that featured dazzling defense and a mammoth 363-foot home run by Megan Baltzell. Per Flight Scope, WBSC stats partner for this World Cup, the ball had an exit velocity of 95.8 mph and traveled 363 feet. It was the first homer of the 2018 tournament.
HOOOOOOOOOOOOOME RUN 💪💪💪 Megan Baltzell 🇺🇸🇺🇸🇺🇸 !!!!!!!!!!!!! #WomensBaseball #WorldCup @usabaseballwnt pic.twitter.com/RolDzMEbYt

— WBSC ⚾🥎 (@WBSC) August 25, 2018
The other two U.S. runs came in the second, courtesy of Jade Cortarez, who cashed in with a two-run single.
Hanging on to a two-run lead in the bottom of the seventh, Megan Meidlinger relieved starter Martina Sementelli to try to close out the victory. After Meidlinger issued a walk to the first batter she faced, Venezuela's Yohelis Colina hit a line drive headed for the outfield, when Amanda Gianelloni made a diving catch at second and doubled off the baserunner at first.
ICYMI: @AmandaaGee06 gave a defensive clinic today #WomensBaseball #WorldCup @USABaseballWNT @USSSASpaceCoast pic.twitter.com/IHb1MkWORo

— WBSC ⚾🥎 (@WBSC) August 25, 2018
Japan 4, Cuba 1 Japan also ran its record to 4-0 with its 25th consecutive Women's World Cup victory, clinching a spot in the super round out of Group B.
Cuba got on the board first on a failed squeeze play that nevertheless resulted in a run scoring in the fifth inning, before which Japan starter Ami Sakahara hadn't allowed a hit. But Japan answered right away, as Tomomi Nakada led off the sixth inning with a single and advanced to second on a defensive miscue on a pickoff attempt. Miku Kitayama then bunted her over to third before Lori Miura doubled her home. Chihiro Funakoshi followed with a single to put Japan ahead. Miura later provided some insurance with a two-run single in the top of the seventh.
Highlights: 🇯🇵 Japan v Cuba 🇨🇺 Women's Baseball World Cup 2018 #WomensBaseball #WorldCup @samuraijapan_pr @usssaspacecoast pic.twitter.com/xZ5gxdBKTa

— WBSC ⚾🥎 (@WBSC) August 26, 2018
Canada 9, Australia 6 Jenna Catherine Flannigan went 3-for-4 with a pair of doubles and three RBIs, while Kaitlyn Marlene Ross went 2-for-3 with a double and two RBIs in Canada's victory over Australia.
Highlights: 🇨🇦 Canada v Australia 🇦🇺 Women's Baseball World Cup 2018 #WomensBaseball #WorldCup @teamausbaseball @baseballcanada @usssaspacecoast pic.twitter.com/E0y97rZVvc

— WBSC ⚾🥎 (@WBSC) August 26, 2018
Allison Paige Schroder started and gave up six runs, though only two of those were earned, over 3 2/3 innings before Elizabeth Loren Gilder (two-thirds of an inning) and Anne-Sophie Lavallee (2 2/3 innings) shut down Australia the rest of the way.