Banister seeks to improve club's high K rate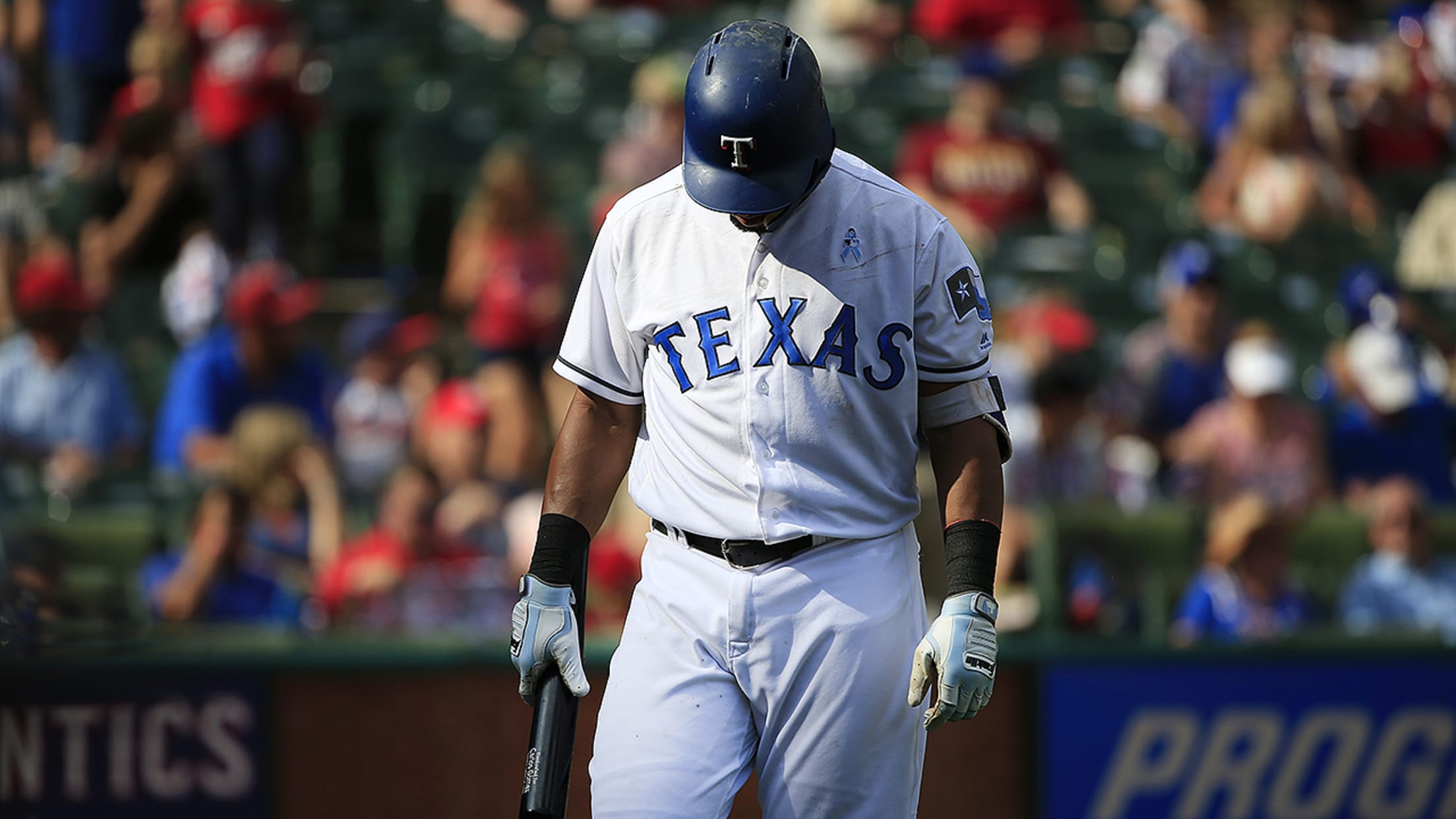 Carlos Gomez and his Rangers teammates have been striking out at a very high rate. (Getty)
CHICAGO -- The Rangers' offense went into Friday with 272 strikeouts in the month of June, second-most ever in the American League. The Rangers needed only six more to equal the mark set by the 2015 Astros -- and they eclipsed the mark, striking out seven times in Friday's 8-7
CHICAGO -- The Rangers' offense went into Friday with 272 strikeouts in the month of June, second-most ever in the American League. The Rangers needed only six more to equal the mark set by the 2015 Astros -- and they eclipsed the mark, striking out seven times in Friday's 8-7 loss to the White Sox.
It's a record that manager Jeff Banister wasn't eager to set. It's also not appealing that the Rangers have eight players on pace to strike out more than 100 times this season.
"With our strikeout rate, it's hard to continue to put [together] the type of offense we want," Banister said. "With that strikeout rate, you're not building multiple opportunities to put runs on the board. Limiting the strikeout rate and creating more scoring opportunities is one of the things we need to improve."
The Rangers entered Friday third in the AL with 390 runs scored and fourth with 117 home runs. They were also third in team strikeouts, and their .311 on-base percentage was tied for the second-lowest. Home runs have accounted for 22 of the Rangers' last 30 runs heading into Friday.
The Rangers also had just 572 at-bats with runners in scoring position, the fourth-lowest number in the AL. That reaffirms Banister's contention that the Rangers need to create more scoring opportunities with fewer strikeouts.
They need to do it with the players they have. The Rangers are focused on relief pitching as the non-waiver Trade Deadline approaches.
"That's our offense, barring injury," Banister said. "I don't see it where our offensive set changes that much. There are still guys inside that offense I believe will trend to where they normally are. We have seen stretches of what our offense can do and will do."
Andrus awaits stork
Rangers shortstop Elvis Andrus has more on his mind than baseball these days. His wife Cori is getting ready to give birth to their first child, although Andrus said he doesn't expect it to happen until the Rangers return to Arlington.
The baby is due sometime in July. The Rangers have an off-day on Thursday, and they have the four-day All-Star break July 10-14. Andrus is planning on being there for the birth and could miss up to three games on paternity leave with the Rangers able to replace him on the roster.
"It would be huge if it happened on Thursday," Andrus said.
Rangers beat • Nick Martinez is back in the bullpen now that Cole Hamels is off the disabled list, and his two scoreless innings Thursday lowered his career relief ERA to 1.25 over 17 appearances. That's the lowest among active MLB pitchers with at least 35 innings as a reliever.
• Reliever Jeremy Jeffress, on the disabled list with a strained back, has begun playing catch in Arlington.
• Pitcher Eddie Gamboa, who was designated for assignment earlier this week, has rejected being sent outright to Triple-A Round Rock and instead has opted for free agency.