Bridich's 2016 strategy: 'Keep group together'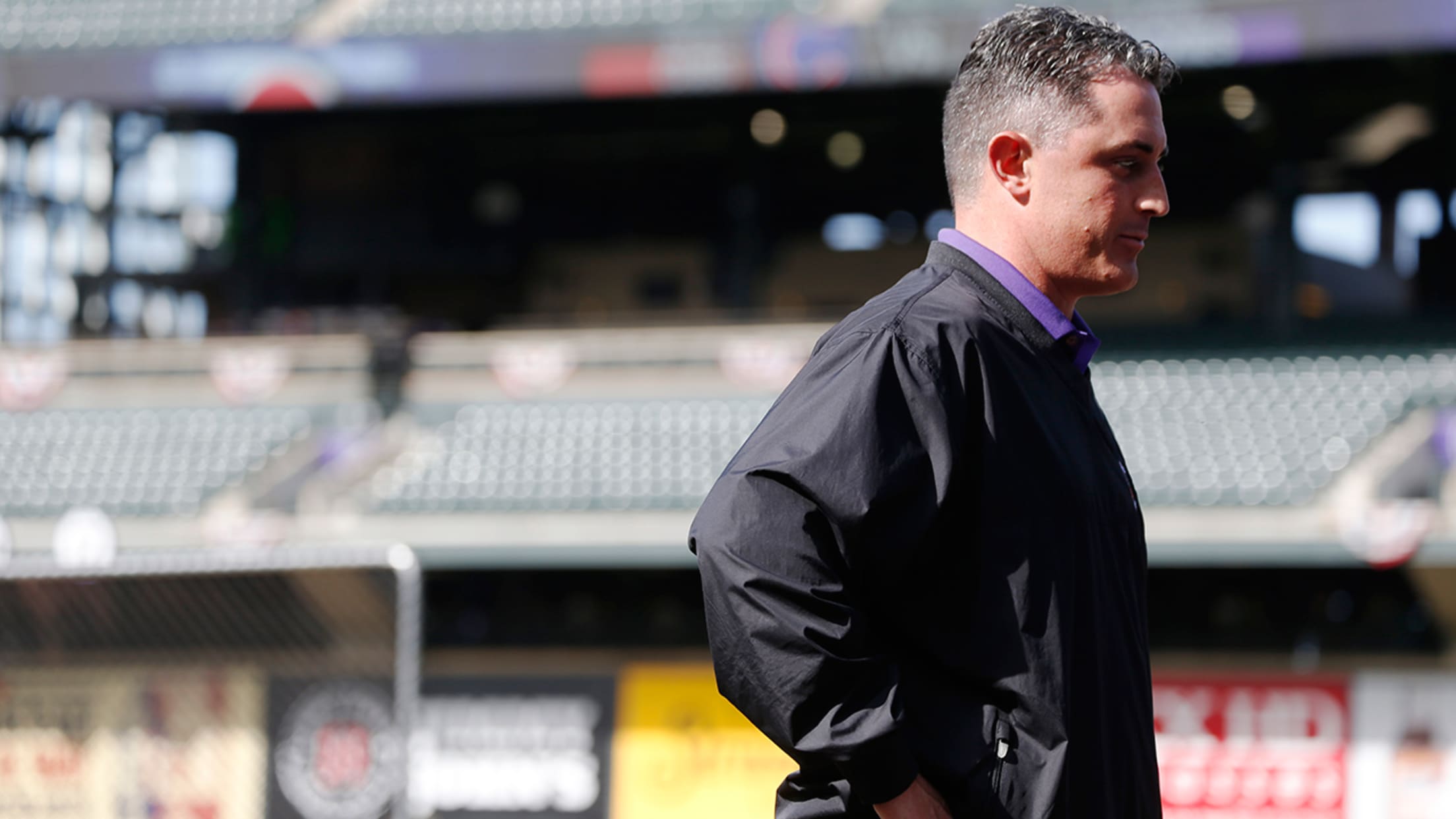 Rockies GM Jeff Bridich avoided big trades in 2016, instead choosing to "stick with the group." (AP)
DENVER -- A review of the crucial days near the non-waiver Trade Deadline leaves the Rockies not with answers, but with questions in the front office and from the clubhouse as they attempt to become a true postseason team.With the Rockies 40-48 at the break, general manager Jeff Bridich resisted
DENVER -- A review of the crucial days near the non-waiver Trade Deadline leaves the Rockies not with answers, but with questions in the front office and from the clubhouse as they attempt to become a true postseason team.
With the Rockies 40-48 at the break, general manager Jeff Bridich resisted calls -- especially from other clubs -- to trade off expensive or experienced players and turn attention to the future. But between then and July 31 -- the eve of the Deadline -- the Rockies backed Bridich's strategy by going 12-5 to move into clear contention.
The Rockies didn't trade for reinforcements. They didn't change their minds and become sellers, either. But ultimately, the lack of options in the bullpen and their inability to cover for injuries -- areas that existed even when the team was playing well -- led to a sixth straight sub-.500 season.
Within the coming days, Bridich and manager Walt Weiss will decide whether to go forward together. Regardless, what happened in 2016 raises a question that can be answered only by future decisions: Will the Rockies always try to win on homegrown depth, or will the time come to make bold moves?
This year, there were circumstances that could be argued for or against the decision to stand pat.
Two days before the Deadline, star rookie shortstop Trevor Story suffered a season-ending left wrist injury. A second bout with back problems cost the team pitcher Tyler Chatwood for the second half of August, and first baseman Mark Reynolds was lost twice after Aug. 1 because of broken bones in his left hand. Add to that the fact the Rockies were using their organizational depth and didn't have it to trade for bullpen help.
The offseason moves -- the trade for lefty Jake McGee from the Rays, and free-agent signings of veterans Jason Motte and Chad Qualls -- went for naught as all were injured and ineffective.
Could, or should, the Rockies have augmented the roster and the bullpen?
"The right answer to your question is that we decided not to make any trades," Bridich said. "We could've made trades. The decision was that we wanted to stick with the group that we had. Statistically or in hindsight, a lot of people will say you should've done this or should've done that.
"But when you have the opportunity to do some things and play some meaningful games that you haven't played in a while, you saw the way the group of players was interacting and how they were going about their business, we made the decision to stick with the group, keep the group together and give us a true chance to win."
Players, many of whom have not known another organization, appreciated the continuity but wondered if it's time for reinforcements. With Reynolds due for free agency, first base joins the bullpen as an area of obvious need.
"We have some guys that are impact guys, but at the same time, we need other ones that can make an impact," star third baseman Nolan Arenado said. "I don't necessarily think it's on the offensive side but on the pitching side in the bullpen. But we've had injuries here this year, and that's been the tough part -- we haven't been able to see them really contribute."
Center fielder Charlie Blackmon said the days when the team was close were fun. He was diplomatic about the overall roster strategy.
"I'm going to say that I have a lot of confidence in the guys we have, but there's always room for improvement," Blackmon said. "That's all I'm going to say."
Second baseman DJ LeMahieu said of the roster strategy, "I think it's time to be aggressive. It's time to go for it. We've kind of been in that middle stage since I've been here. We're not rebuilding, but we're not going for it.
"I think everyone in this locker room would say we're ready -- the guys we have in this locker room are good enough to win. But the few holes we have, we need to fill."
Veteran outfielder Carlos González's name always comes up in trade speculation. But last offseason, Bridich saw him as enough of a key cog that he called to give him an early look at offseason strategy.
Gonzalez thought at the Deadline, even with a youthful group, "We were in a good spot, had a good thing going." He still expresses confidence in the organization's strategy.
"If you really believe in a couple guys we have in here, you deposit all your confidence in those guys and let them know what they need to do to make adjustments," Gonzalez said. "We want to win. We want to be in the postseason. I'm starving for postseason games. I want to celebrate my birthday [Oct. 17] playing, not watching games on TV. I want to have my cake in the clubhouse.
"Obviously, when things fall apart, it's easy to point fingers. I'm not too worried about it. I feel like Bridich and the organization know what they need to do to reach the next level."