Eickhoff optimistic following cortisone injection
Crawford's patience Saturday puts him among MLB's best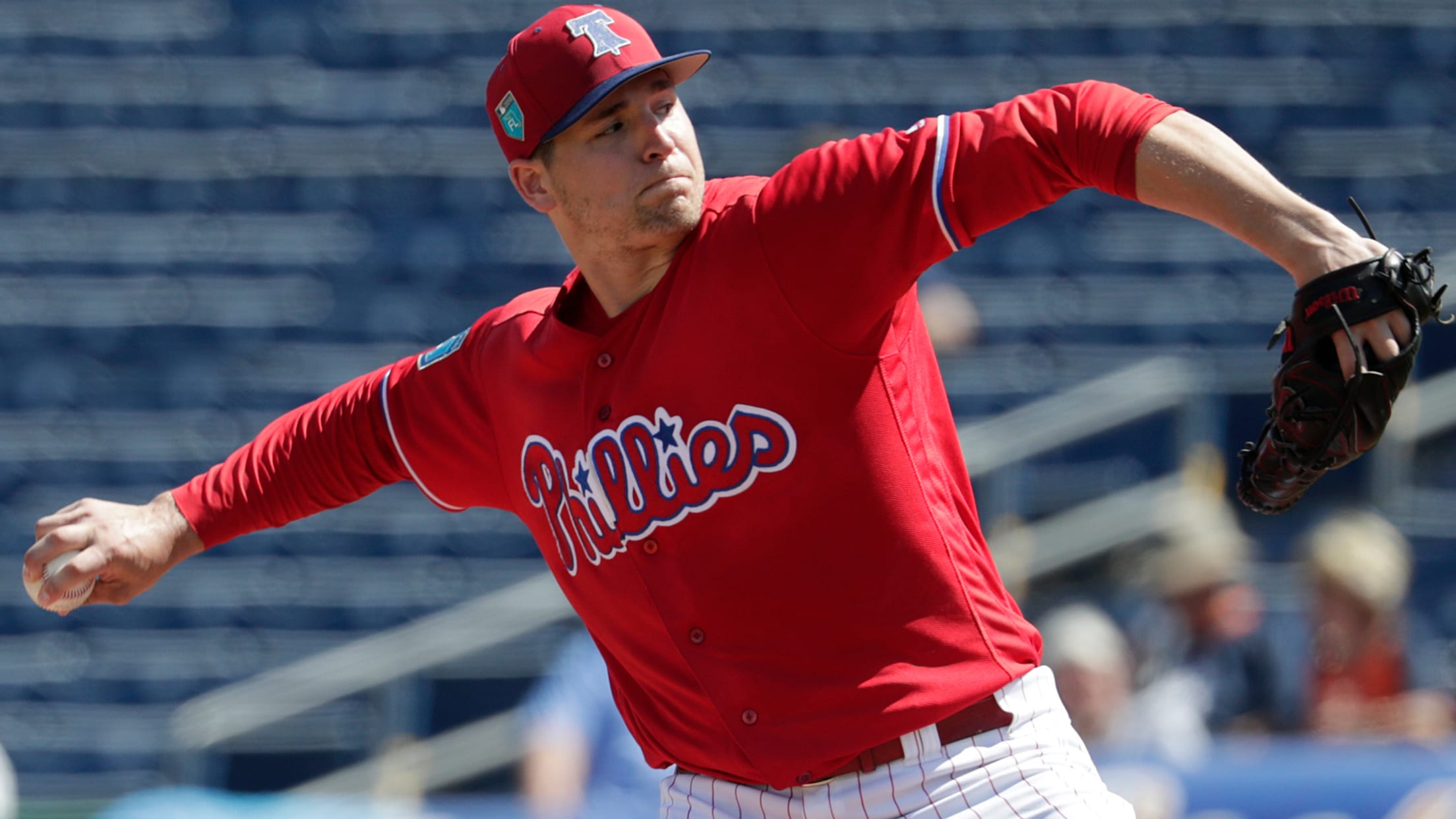 MILWAUKEE -- Jerad Eickhoff hopes the cortisone injection in his right wrist does the trick and that he can return to the mound without further complications this season.Eickhoff, who has not pitched this season, is scheduled to throw a bullpen session on Tuesday in Philadelphia. He opened the season on
MILWAUKEE -- Jerad Eickhoff hopes the cortisone injection in his right wrist does the trick and that he can return to the mound without further complications this season.
Eickhoff, who has not pitched this season, is scheduled to throw a bullpen session on Tuesday in Philadelphia. He opened the season on the disabled list with a strained right lat, but he had a setback when he felt the same tingling and weakness in his right fingertips that ended his 2017 season during a rehab start. Four specialists ruled out thoracic outlet syndrome, which could have required a rib to be surgically removed.
"That's the biggest sigh of relief," Eickhoff said, "I think, knowing that it's not anything in my shoulder or my elbow. The work that I put into that, it's been strengthened and strong, and that's the biggest thing. Having the wrist thing, I think any kind of scenario is optimistic. Whether this is fine and feels normal to me, that would be great. But even the worst-case scenario is still very good."
Eickhoff said doctors seems confident that the inflammation in his right wrist can be knocked out with the injection and anti-inflammatories, but no one will truly know until he gets on the mound and starts throwing again.
"That's really the only time that I feel it," Eickhoff said. "It might be a maintenance thing here and there and maybe some anti-inflammatories or something in the future. I'm very optimistic."
Forty club
J.P. Crawford saw 40 pitches in five plate appearances in Saturday's win, walking three times and striking out twice. That's the second-most pitches seen by a player in a game this season, tying San Francisco's Brandon Belt. Oakland's Matt Olson saw 43 pitches in an April 18 game, but he needed eight plate appearances to do so.
Cincinnati's Joey Votto is the last player to see more than 40 pitches in five or fewer plate appearances. He saw 43 on Aug. 27, 2017.
The last Phillies player to see 40-plus pitches in a game was Casper Wells on Aug. 24, 2013, but he needed eight plate appearances. No Phillies player has hit the 40 mark in five or fewer plate appearances since pitch data started being tracked in 1988.