Thursday's top prospect performers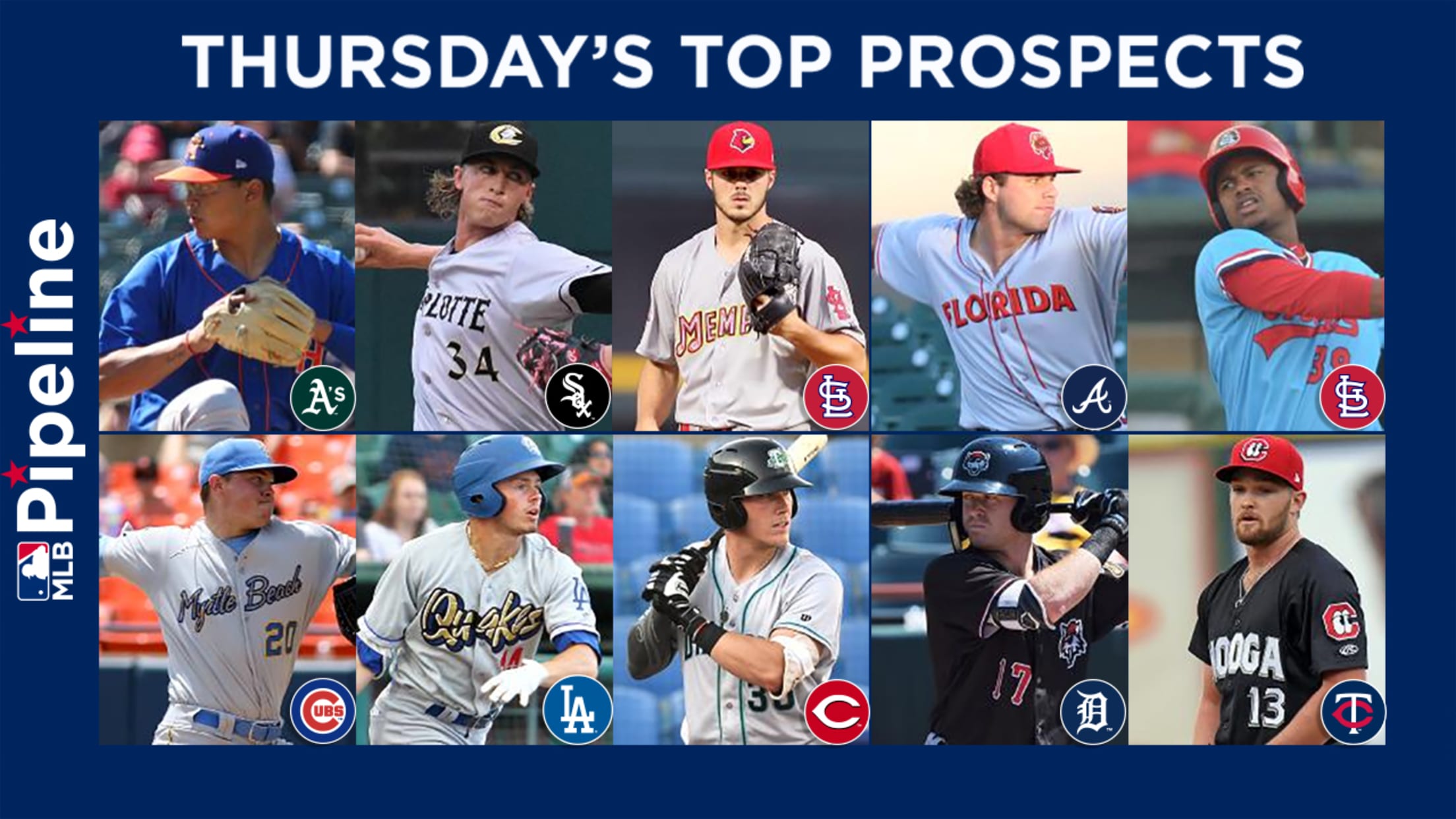 Here's MLB Pipeline's roundup of the top prospect performances in the Minor Leagues on Thursday.Jesus Luzardo extended his scoreless streak to 26 innings as he spun another gem in Double-A Midland's 3-1 win over Corpus Christi.:: Complete prospect coverage ::The Athletics' top prospect (No. 20 overall) hasn't surrendered a run
Here's MLB Pipeline's roundup of the top prospect performances in the Minor Leagues on Thursday.
Jesus Luzardo extended his scoreless streak to 26 innings as he spun another gem in Double-A Midland's 3-1 win over Corpus Christi.
:: Complete prospect coverage ::
The Athletics' top prospect (No. 20 overall) hasn't surrendered a run since June 11 and hasn't allowed an earned run since June 6. The lefty has been lights out all season, posting a 2.36 through 14 starts with Midland after beginning the year with Class A Advanced Stockton, and Thursday's outing was no different.
Luzardo threw 42 of his 68 pitches for strikes and issued just one walk and one hit as he cruised through five innings. Luzardo also recorded seven strikeouts, bringing his total to 106 through 83 1/3 innings this season.
MILB Video - Title: Luzardo's seventh strikeout - Url: http://www.milb.com/r/video?content_id=2286417783
The 20-year-old got into a rhythm right away as he retired the first nine batters he faced. The Hooks put their leadoff man on base in both the fourth and fifth innings, but no damage was done and Luzardo retired six in a row to finish his outing.
Other top prospect performances from Thursday's action:
• No. 10 overall prospect Michael Kopech (White Sox No. 2) put together another strong start for Triple-A Charlotte. The hard-throwing right-hander yielded seven hits, but limited the damage to just two runs (one earned) over six innings. Kopech, who has struggled with consistency this season, has thrown the ball well lately, giving up one earned run or less in four of his past five starts. Also worth noting that Kopech's command was strong as he threw 70 of his 102 pitches for strikes while striking out nine and walking one.
• No. 100 overall prospect Dakota Hudson (Cardinals' No. 3) fell two outs shy of his first complete game this season, but still picked up his 13th win for Triple-A Memphis. Hudson, who was lifted after 6 1/3 innings, struck out eight and gave up one run on five hits as he lowered his ERA to 2.36 through 18 starts.
• Braves No. 12 prospect Bryse Wilson has been nearly untouchable lately for Double-A Mississippi. After throwing seven scoreless frames, Wilson has turned in a scoreless performance in three of his past four starts. The 20-year-old right-hander matched his season high with nine strikeouts -- a total he's reached in three of his past four starts -- as he threw 64 of his 99 pitches for strikes. Wilson also walked one and gave up three hits.
MILB Video - Title: Wilson throws seven scoreless - Url: http://www.milb.com/r/video?content_id=2286357883
• Cardinals No. 27 prospect Elehuris Montero hit a pair of homers -- his first career multihomer game -- as part of a 3-for-5 performance for Class A Peoria. The 19-year-old hit two run homers in both the third and seventh innings.
MILB Video - Title: Watch: Montero goes yard - Url: http://www.milb.com/r/video?content_id=2287242283
• Cubs No. 18 prospect Keegan Thompson continues to post zeros for Double-A Tennessee. The right-hander threw five scoreless innings and hasn't given up a run in three of his past four starts. Thompson threw 42 of his 72 pitches for strikes, struck out five, walked one and gave up two hits.
• Dodgers No. 11 prospect Gavin Lux extended his hitting streak to 19 games with a leadoff triple for Class A Advanced Rancho Cucamonga. The 20-year-old later added another hit to finish 2-for-4 and boost his average to .324. Lux, a first-round pick from the 2016 Draft, last went hitless on June 26. Since then, he's raised his average 15 points and collected multiple hits in nine of the 19 games.
• Reds No. 8 prospect Tyler Stephenson set a career high with two homers and tied a career high with five RBIs in a huge game for Class A Advanced Daytona. Stephenson, who is hitting .282 through 76 games this season, hit a two-run shot in the sixth and then capped his night with a three-run blast in the ninth.
MILB Video - Title: Watch: Stephenson launches homer - Url: http://www.milb.com/r/video?content_id=2287234383
• Reds No. 9 prospect Vladimir Gutierrez gave up one run over seven innings for Double-A Pensalcola and has now surrendered one earned run or less in seven of his past eight starts. Not only did Gutierrez keep the runs off the board, but he also piled up the strikeouts, reaching double digits (10) for the second time in his career.
• Tigers No. 11 prospect Mike Gerber helped lift Triple-A Toledo to a win as he clubbed a pair of homers for the second time this season. Gerber, who has 12 homers through 59 games this season, hit solo homers in the fifth and eighth innings before finishing 2-for-3 with two RBIs.
MILB Video - Title: Watch: Gerber rips 2nd homer - Url: http://www.milb.com/r/video?content_id=2287239783
• Twins No. 16 prospect Kohl Stewart seems to be finding his rhythm with Triple-A Rochester. Stewart gave up one run over six innings, while striking out eight and giving up a trio of hits. After giving up 11 runs in 10 innings over his first two starts, the right-hander has allowed one earned run in each of his past two outings (12 innings).
• Blue Jays first-round Draft pick Jordan Groshans came through with the second three-hit game of his career, finishing 3-for-5 with a homer in the Rookie-level GCL. The 18-year-old has gotten off to a fast start in his brief career and is slashing .372/.440/.590 with three homers through 21 games.