Leyland praises former Tigers rival Mauer
Twins slugger retired on Monday after 15 MLB seasons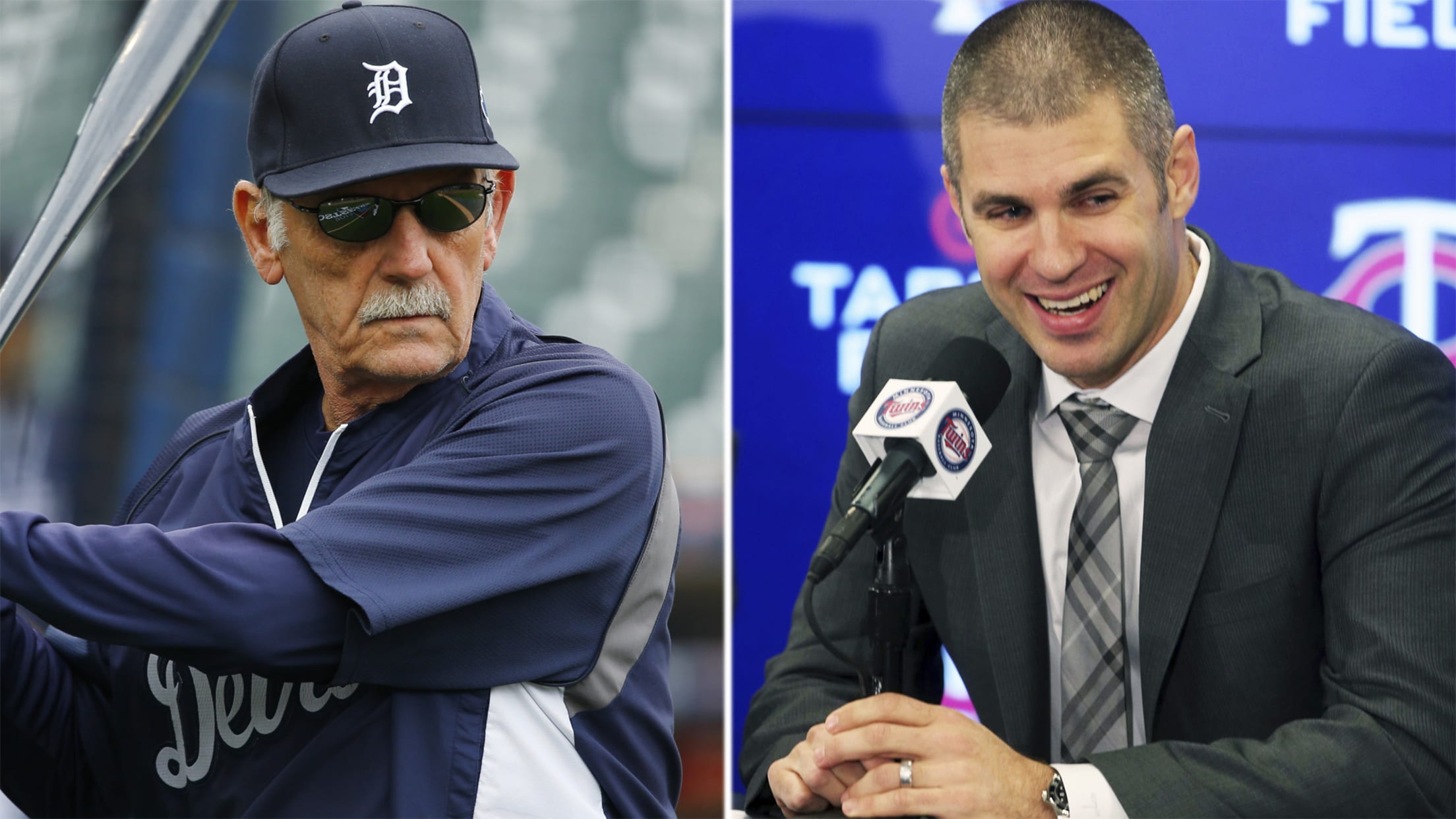 DETROIT -- Tigers manager Ron Gardenhire was part of the gathering at Target Field when Joe Mauer officially announced his retirement on Monday. It made sense, since Gardenhire managed Mauer in Minnesota for his first 11 Major League seasons.Former Tigers manager Jim Leyland was not there. He only knew Mauer
DETROIT -- Tigers manager Ron Gardenhire was part of the gathering at Target Field when Joe Mauer officially announced his retirement on Monday. It made sense, since Gardenhire managed Mauer in Minnesota for his first 11 Major League seasons.
Former Tigers manager Jim Leyland was not there. He only knew Mauer from the opposite dugout and from a few conversations, among them a flight together from Detroit to New York for the All-Star Game in 2008. Leyland's respect for Mauer, however, went well beyond that of a division foe.
"This guy was one of the best hitters in the Major Leagues for a long time," Leyland said.
Mauer spent his entire career with Minnesota and was the Tigers' rival in the American League Central for a decade and a half. But his impact on those games made him one of the biggest nemeses Detroit has known in recent years.
Mauer's 246 hits, 122 RBIs and 132 runs scored against the Tigers rank him second in the Comerica Park era, just six hits, 27 RBIs and two runs behind former White Sox slugger Paul Konerko. No player with at least 150 games played against Detroit in that span has a better batting average against them than Mauer's .305 mark. That average also ranks 17th all-time among players with at least 200 games against the Tigers, just ahead of Hall of Famer Goose Goslin.
Just as impressive, Mauer finished with almost as many walks from Tigers pitching (106) as strikeouts (112).
"He was just one of those guys that was kind of magical with the bat," Leyland said. "He was so quiet in the box. That's what stood out to me. He never looked fooled. He never looked off-balance."
Mauer's place on the Comerica Park leaderboard among visiting players is impressive. His 121 hits at the ballpark rank 39th all-time among all players, including Tigers, and second only to Konerko (133) among visitors. Mauer's 64 RBIs lead all visiting players at Comerica Park and rank 35th among all players. His .294 average at the park ranks 12th among players with at least 400 plate appearances there, and his .800 OPS is 16th.
Whenever the Twins and Tigers tangled, Mauer tormented Detroit. He batted .348 (47-for-135) with 10 doubles, three home runs and 17 RBIs against the Tigers from 2004-06, his first three big league seasons, and .333 (24-for-72) with four homers and 15 RBIs in 2009. He drove in two runs in the division tiebreaker game in '09, known to Tigers fans simply as Game 163. He racked up 18 RBIs off Tigers pitching in '17, batting .339 (20-for-59) with more walks (eight) than strikeouts (seven).
Leyland wasn't there for 2017, but he saw most of the rest. Few hitters troubled his teams more.
"He was such a great hitter and he used the whole field," Leyland said. "Such a quiet competitor, just there to beat you every single day. You pretty much got in situations with him with guys on that you knew you weren't going to strike him out. You just hoped he was going to hit it to somebody."
The fact that Mauer did all that for one team, his hometown club, made it all the more remarkable.
"In today's world, that's unheard of," Leyland said. "That's part of the story that makes it such a great story. Who knows if that'll ever happen again?"