DiMaggio assists Yanks in doubleheader sweep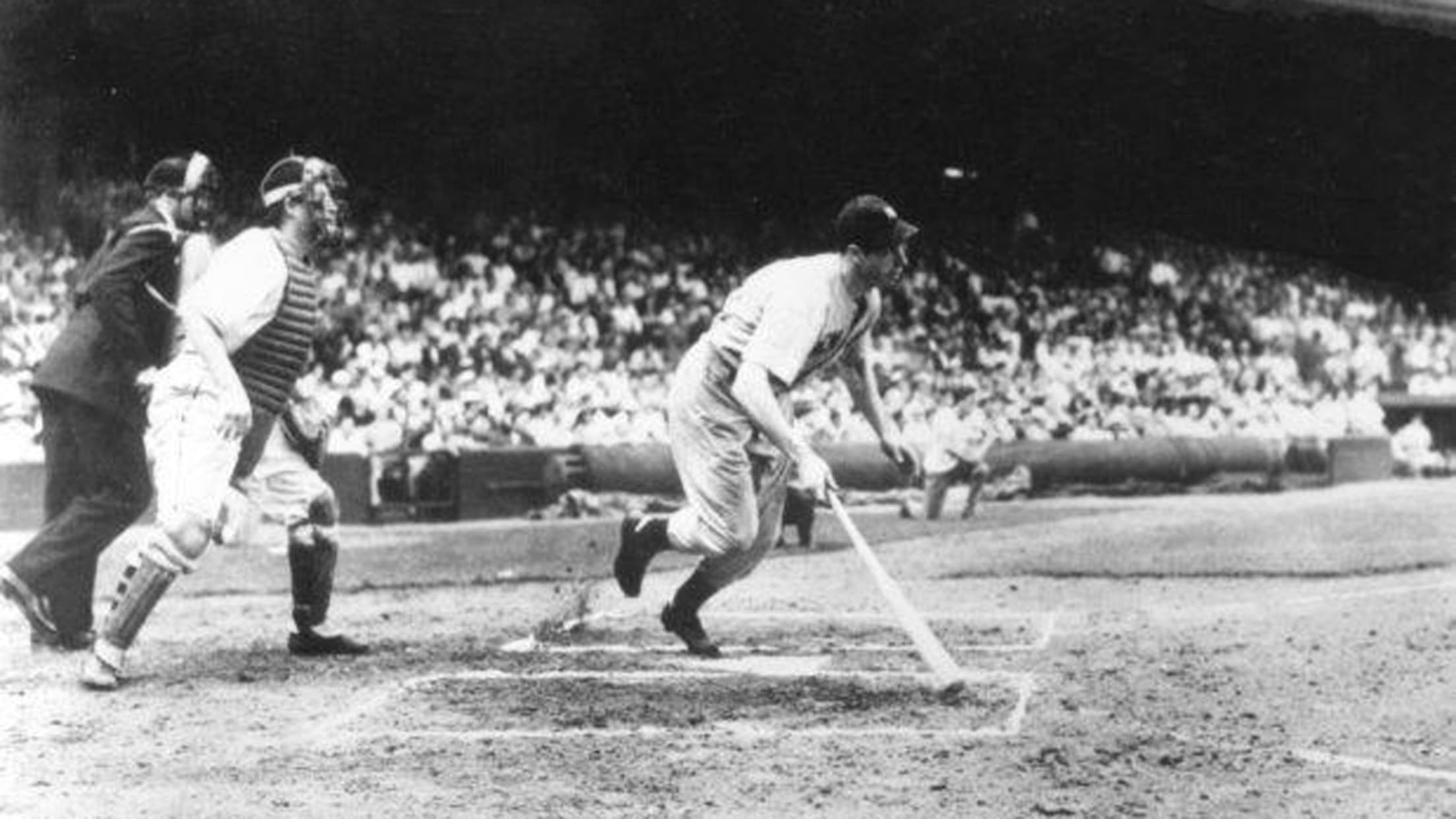 CLEVELAND, June 1, 1941 -- Something special just might be happening with this year's New York Yankees.Joe McCarthy's club, which has been playing a lot better of late, waited out the previous day's rain and entered Sunday's doubleheader in Cleveland with a chance to halve the Indians' lead in the
CLEVELAND, June 1, 1941 -- Something special just might be happening with this year's New York Yankees.
Joe McCarthy's club, which has been playing a lot better of late, waited out the previous day's rain and entered Sunday's doubleheader in Cleveland with a chance to halve the Indians' lead in the American League standings to two games.
• Joe DiMaggio's run to 56: Rewriting the record
Then they took the field at Cleveland Stadium and capitalized on it with a two-game sweep. New York took advantage of the brilliant pitching of Red Ruffing to win the opening game, 2 to 0, and made good on Lefty Gomez's fine work in the nightcap with a 5 to 3 victory that now has them two games out of first place.
A boisterous crowd of more than 52,000 couldn't have liked the results, but the Yankees are building some momentum as the calendar flips to June.
The Indians simply couldn't solve Ruffing, who scattered eight singles throughout his nine innings, did not walk a batter, struck out one and got the tidy job done in all of one hour and 57 minutes.
• Follow @TheStreak
Frankie Crosetti got the Yankees on the scoreboard in the second inning with a run-scoring single, and Joe DiMaggio, in slightly better health after suffering through a sore throat in Friday's twin bill in Boston, scored the second and final run for the Yankees in the third inning, when he hit a two-out single and subsequently scored on a Buddy Rosar double.

That was enough for the Yankees because of how stingy Ruffing ended up being on this day. While Gomez wasn't quite as good in Game 2, he was good enough.
Gomez was in a protracted duel with Cleveland pitcher Mel Harder, with neither hurler giving an inch through seven taut innings that saw the score knotted at 1 to 1. The Indians had gotten their first run in the bottom of the first on a Ken Keltner home run, and the Yankees had tied it in the top of the fifth, when Tommy Henrich led off with a walk and Joe Gordon doubled him home two batters later.
The Yankees took control of the game with a big eighth courtesy of Johnny Sturm and George Selkirk, both of whom hit two-run homers to give New York a 5 to 1 lead. DiMaggio, who had been held hitless up to that point, singled after Selkirk's roundtripper but was stranded at first when Henrich's flyout ended the inning. Still, DiMaggio departs Cleveland with a .328 batting average.

The four-run advantage proved to be insurmountable for Cleveland, although the Indians did not go quietly. Gomez gave up a double and a triple in the ninth, and the Indians cut the lead to 5 to 3, but Yankees reliever Marv Breuer got the final three outs to seal the crucial win for New York.
Their reward? A Monday game against Indians great Bob Feller.

On May 15, 1941, Joe DiMaggio began his legendary 56-game hitting streak. In celebration of the 75th anniversary of that seemingly unbreakable record, we'll be doing a day-by-day account of the momentous feat.