Giants could get Panik, Pence back soon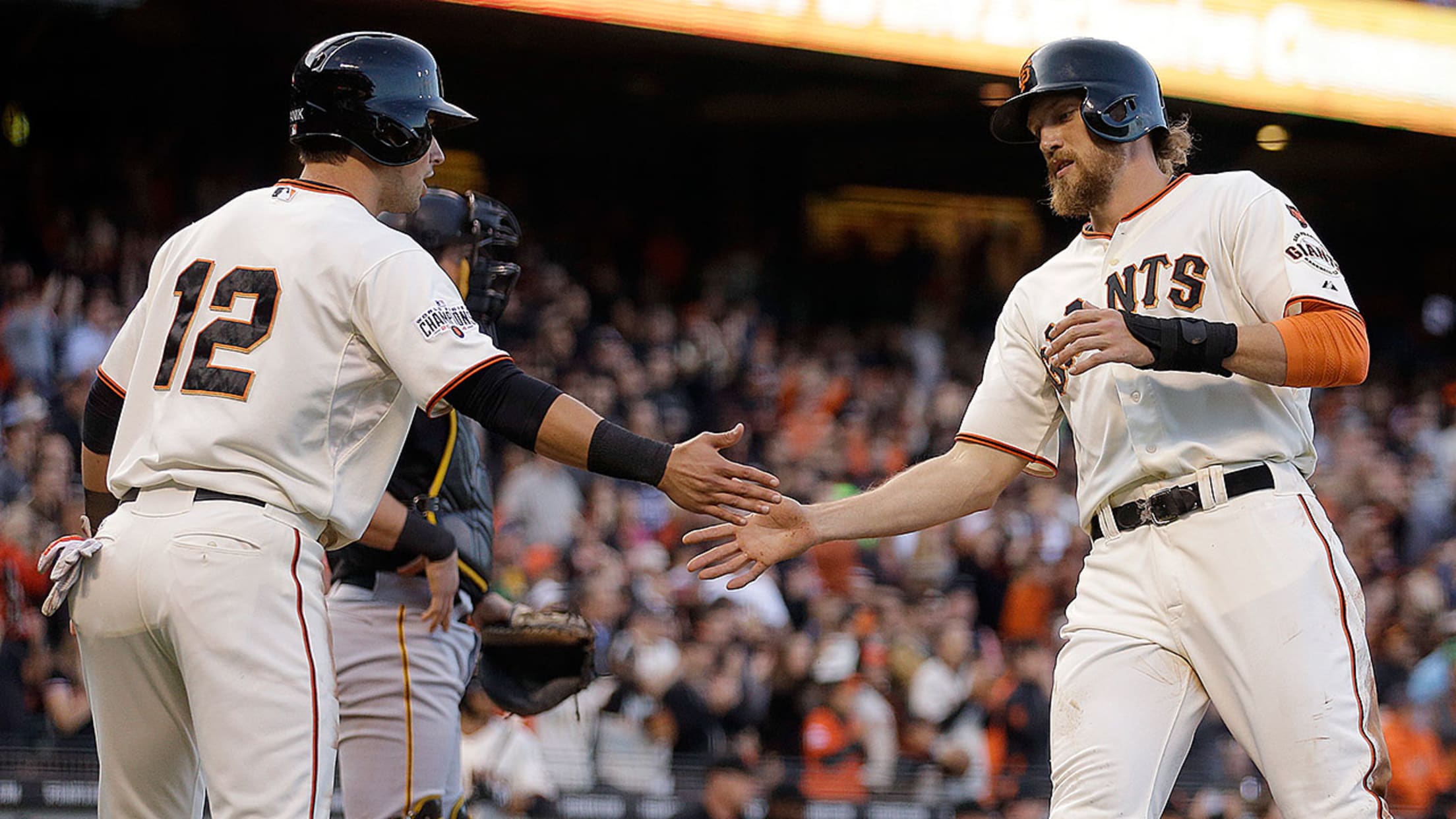 Joe Panik could return sooner than Hunter Pence, who is about a week away. (AP)
SAN FRANCISCO -- Giants manager Bruce Bochy admitted the All-Star break might have thrown his club into a bit of a "funk." The Giants entered that period with the best record in the Majors, but returned to AT&T Park on Monday following a 1-7 road trip that saw their division
SAN FRANCISCO -- Giants manager Bruce Bochy admitted the All-Star break might have thrown his club into a bit of a "funk." The Giants entered that period with the best record in the Majors, but returned to AT&T Park on Monday following a 1-7 road trip that saw their division lead over the Dodgers shrink to three games.
"I don't think anybody saw that coming," Bochy said before the Giants began a seven-game homestand with a matchup against the Cincinnati Reds.
It is a homestand that both Hunter Pence (hamstring) and Joe Panik (concussion) could rejoin the team for. Bochy said Panik would continue his rehab Tuesday with Triple-A Sacramento. The Giants slowed the pace of Panik's return to baseball-related activities last week, but the second baseman was at the ballpark Monday, participating in batting practice and taking grounders in the field.
"I think it's going to be close when those two come back," Bochy said. "Panik may just be a little ahead of Hunter, because he hasn't missed as much time. Hunter, I'd say we're a week away. Joe could be a couple days earlier."
Matt Duffy was alongside Panik before Monday's game taking part in batting practice as well. According to Bochy, the Giants' Opening Day third baseman has gotten "over the hump" when it comes to his recovery from a left Achilles strain.
Duffy has continued to increase his running and could begin his rehab assignment by this weekend. But Bochy added that Duffy's return can't be rushed, given the setback he's already experienced.
Regardless, it appears Pence, Panik and Duffy are inching closer to their returns, which should serve as a necessary boost for the Giants. The team entered Monday batting .125 (9-for-72) with runners in scoring position since the All-Star break.
Bochy responded to the Giants' hitting woes by tweaking the lineup for their series opener with the Reds. Brandon Belt, who normally bats third in the order, hit in the six-hole. Belt went 2-for-33 with 17 strikeouts during San Francisco's road trip.
"It's fair to say that we've had some guys that aren't locked in at the plate," Bochy said. "You just hope you come out of it sooner than later. Tweaked the lineup today. Belt's been fighting [a slump] all month."
• Bochy commented on the Chicago Cubs' recent acquisition of closer Aroldis Chapman from the Yankees, noting that he wished the clubs had made the deal three days earlier. Chapman pitched three shutout innings against the Giants this past weekend and gives the Cubs what Bochy terms as a "premier closer."
But the Giants skipper added he tries not to get "caught up" with the cluster of news surrounding the non-waiver Trade Deadline. "You can't be concerned with what happens outside your club," said Bochy.
Justin Wise is a reporter for MLB.com based in the Bay Area.