Lester vows to 'flat out do better' after rout
Cubs lefty allows 11 runs for first time in nearly 7 years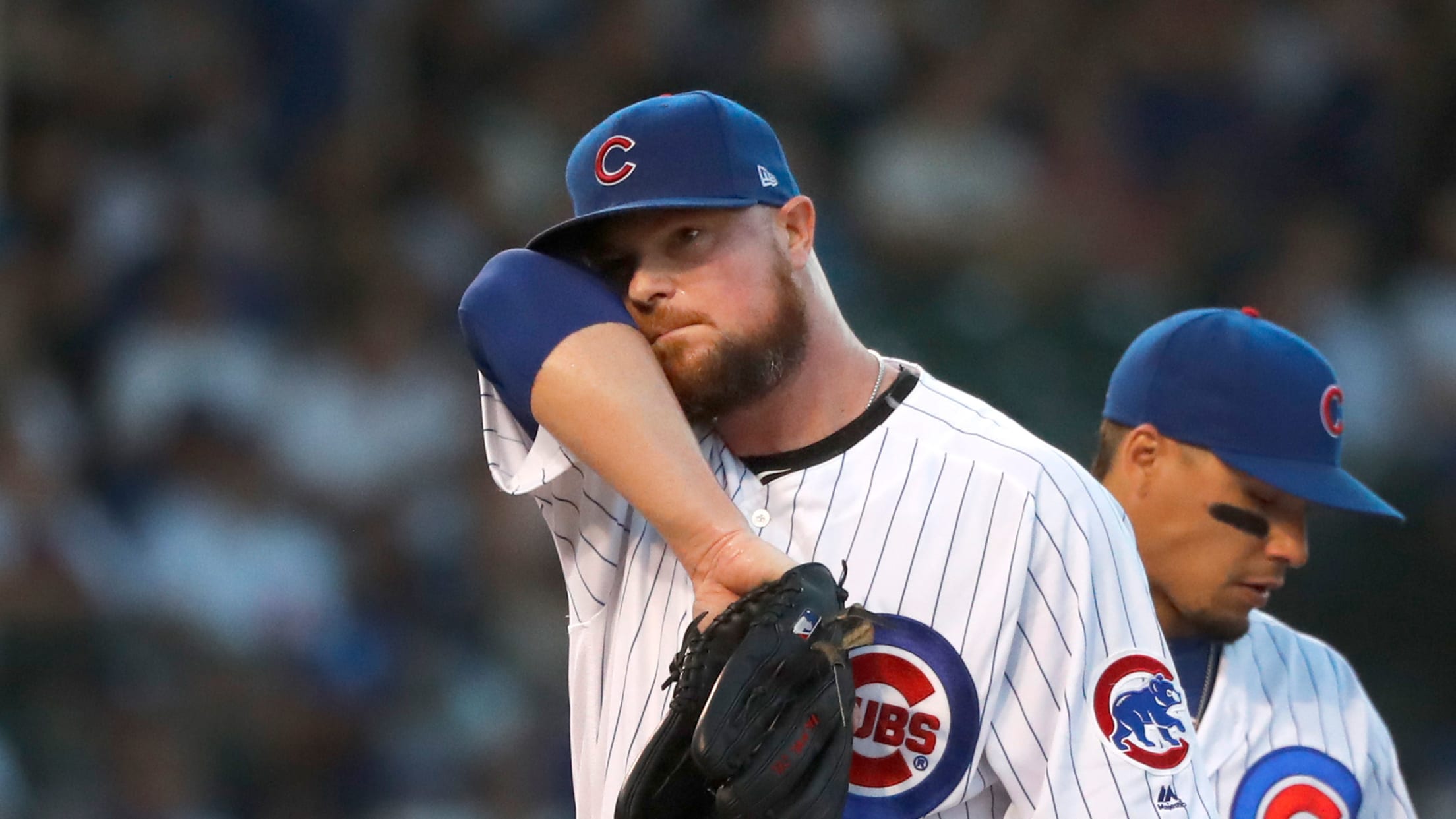 CHICAGO -- Jon Lester has had back-to-back starts he would rather forget. And so, at a time he considers himself the weakest link to a starting rotation that will be critical to the Cubs' postseason chances, the veteran left-hander has one priority: Pitch better. A night after the Cubs got
CHICAGO -- Jon Lester has had back-to-back starts he would rather forget. And so, at a time he considers himself the weakest link to a starting rotation that will be critical to the Cubs' postseason chances, the veteran left-hander has one priority: Pitch better.
A night after the Cubs got a stellar outing by Kyle Hendricks, Lester ran into early trouble and never escaped in a lopsided 11-4 loss to the Athletics on Tuesday at Wrigley Field.
Lester surrendered 11 runs (10 earned) on 10 hits over just four innings as the Cubs saw their four-game winning streak snapped. Lester struck out six, walked three and was hit hardest in the second inning when the A's batted around and scored eight times. Lester took his second straight loss and has not won since July 13. The 11 runs were the most allowed by Lester since July 22, 2012.
Asked what happened, Lester replied: "What happened is I gave up 11 runs. It doesn't matter how I feel, it doesn't matter about a game plan, it doesn't matter about executing pitches, it doesn't matter about anything. I gave up 11 runs. It really doesn't matter."
Manager Joe Maddon added: "Jonny just had a bad day. … Jon's been there before. This is a wastecan kind of a night, and you just dump it and move on."
The Cubs' ace gave up three-run homers to Dustin Garneau and Stephen Piscotty, whose blast in the fourth inning extended the A's lead to 11-0. The rough start came after he allowed five runs and nine hits over five innings in a loss to the Cardinals.
Lester's struggles come at a time the Cubs could really use some length out of their starting pitchers. In the last two days, closer Craig Kimbrel and reliever Brandon Kintzler were added to the 10-day injured list, depleting an already shaky bullpen.
"When it comes down to it, the injuries are the injuries, but I'm pretty much the weakest link in the rotation right now," Lester said. "I've got to figure out a way to right that ship, pick my end up, do better -- flat out do better."
The Cubs struggled offensively against A's starter Brett Anderson, who threw five scoreless innings before Kris Bryant finally ended the drought with a two-run homer in the sixth. Maddon said he liked the way his team battled to the end, and he knows the Cubs can't afford to dwell on the loss.
Before Bryant went deep, Cubs reliever Duane Underwood Jr. ignited the crowd of 40,627 by striking out the side in back-to-back innings in his 2019 debut. Underwood, who was called up from Triple-A Iowa on Monday, pitched two flawless innings with six strikeouts before Maddon turned to Derek Holland in the seventh.
Underwood's effort tied a franchise record for most consecutive strikeouts by a reliever on a night when Cubs relievers held the A's without a hit for four innings. Underwood said he didn't realize he had struck out six straight batters until he returned to the dugout, but the 25-year-old said the showcase was just an example of what he hopes to bring to the Cubs.
"I was just happy to get in the game and show the team what I've got," he said. "Hopefully, I showed them enough. And whatever I need to do to help the team is my only goal here. Hopefully, I get to keep doing that."
Maddon turned to reserve catcher Taylor Davis to pitch the ninth, with Kyle Schwarber serving as his catcher. The A's loaded the bases with three straight singles, but Davis made a nice play on a chopper and fired to Schwarber for a force at home for the first out before retiring two more to keep the A's from scoring.