Polanco leads SS field in All-Star Primary vote
Castro, Cron, Cruz among Twins' top vote-getters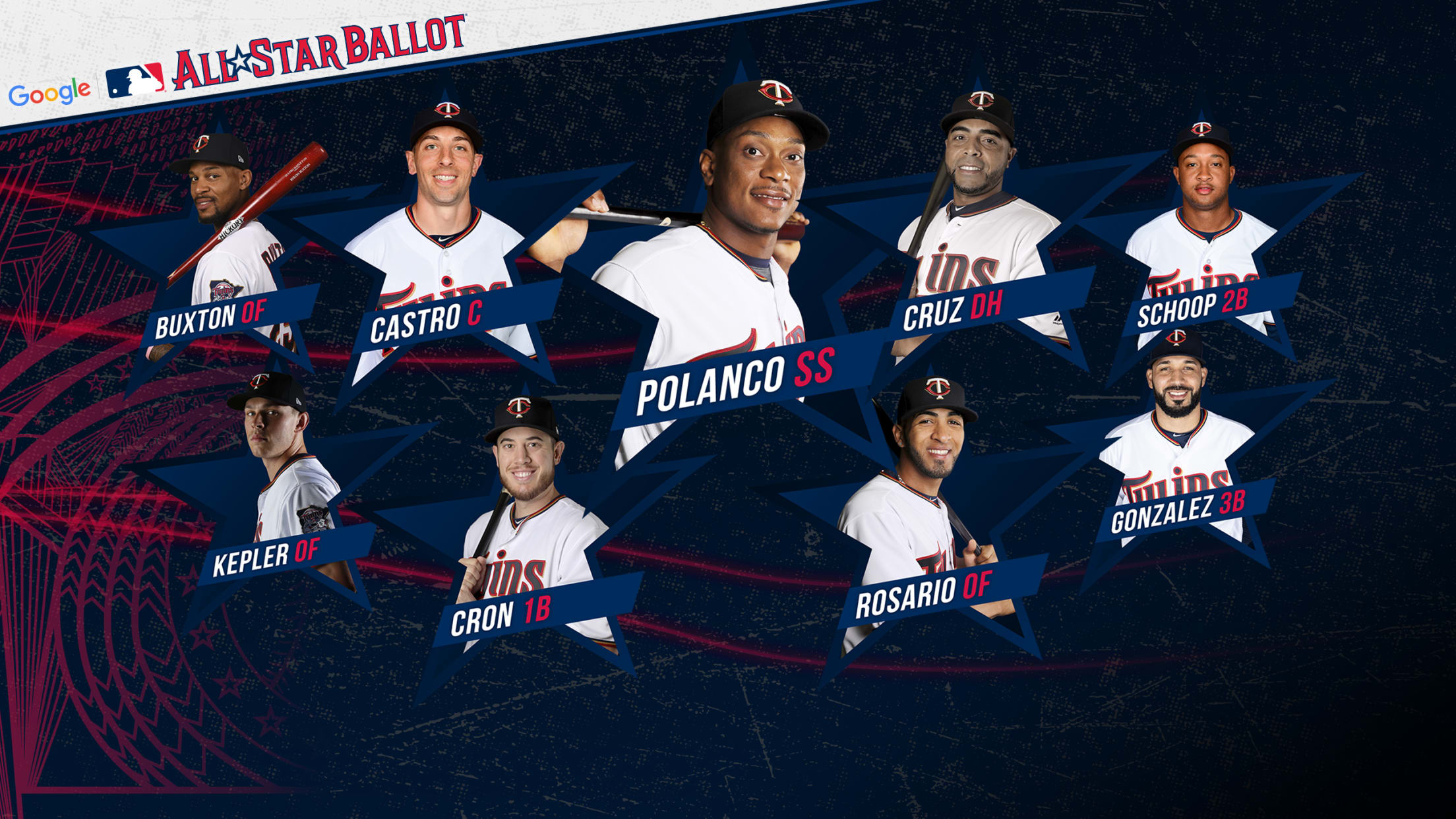 Read our FAQ on this year's revamped balloting format, which includes two phases of fan voting to determine the All-Star starters, and the ability to vote through Google Search. MINNEAPOLIS -- Jorge Polanco leads all American League shortstops in voting for the 2019 All-Star Game presented by Mastercard, headlining a
Read our FAQ on this year's revamped balloting format, which includes two phases of fan voting to determine the All-Star starters, and the ability to vote through Google Search.
MINNEAPOLIS -- Jorge Polanco leads all American League shortstops in voting for the 2019 All-Star Game presented by Mastercard, headlining a deservedly strong showing by the first-place Twins that includes five players in position to move on to the next round of voting as of Monday's first ballot update.
• VOTE NOW: Google MLB All-Star Ballot
With 395,210 votes, Polanco holds a 65,000-plus-vote lead over Carlos Correa of the Astros, with the Yankees' Gleyber Torres close in third place. In addition to Polanco, Jason Castro is third among AL catchers, C.J. Cron is second in first-base voting, Nelson Cruz has the third-most votes among designated hitters and Eddie Rosario is sixth in outfield voting.
Polanco, who leads all qualified AL shortstops in average (.333), on-base percentage (.393), slugging percentage (.569) and wRC+ (152), could become the first Twins infielder to start an All-Star Game since Roy Smalley in 1979. (Justin Morneau won the first-base vote in 2010, but he could not start due to injury.)
The Twins have five players in position to progress to the Starters Election, fewer than only the Yankees and Astros, who have six apiece.
But the Twins might not be done there; four additional position players still have time to make their way up the standings, with Max Kepler and Byron Buxton 10th and 11th in outfield voting -- the first two places out of qualifying for the next round -- and Jonathan Schoop also on the cusp of qualifying, in fourth place among second basemen. Marwin Gonzalez is in seventh place among third basemen.
Astros outfielder Josh Reddick holds ninth place with 220,079 votes, with both Kepler (202,822) and Buxton (192,230) not far behind. The Twins and Astros are the only teams represented by all three outfielders in the top 11 of the position. Meanwhile, Schoop has 179,792 votes, but he needs to make up plenty of ground to catch up to Yankees second baseman DJ LeMahieu, who holds third place with 379,820 votes.
Though Gonzalez is no longer the primary third baseman, following Miguel Sanó's return to the Twins, he has 132,235 votes, with third-place Hunter Dozier's 216,809 the mark to beat to qualify for the next round.
Polanco, Cron, Rosario, Kepler, Buxton and Gonzalez have never been named to an All-Star team.
Fans may vote in The Primary at MLB.com and on all 30 club sites, the MLB At Bat and MLB Ballpark apps up to five times in any 24-hour period. Fans in the US and Canada can also vote on Google Search for every position, or up to 17 unique players per day, by searching "MLB Vote" or the names of their favorite players. Primary voting ends at 4 p.m. ET on Friday, June 21.
The top three vote-getters at each position (including nine outfielders) per league will move on to The Starters Election, which begins at noon ET on Wednesday, June 26. The votes will reset for a 28-hour voting window that ends at 4 p.m. ET on Thursday, June 27. Starters for the 2019 Midsummer Classic will be unveiled on ESPN that night at 7 ET. The pitchers and reserves will be announced on Sunday, June 30, at 5:30 p.m. ET.
Then on Tuesday, July 9, during the 2019 All-Star Game presented by Mastercard, fans may visit MLB.com and the 30 club sites to submit their choices for the Ted Williams Most Valuable Player Award presented by Chevrolet.
The 90th Midsummer Classic, at Progressive Field in Cleveland, will be televised nationally by FOX Sports; in Canada by Rogers Sportsnet and RDS; and worldwide by partners in more than 180 countries. FOX Deportes will provide Spanish-language coverage in the United States, while ESPN Radio and ESPN Radio Deportes will provide exclusive national radio coverage. MLB Network, MLB.com and SiriusXM also will provide comprehensive All-Star Week coverage. For more information about MLB All-Star Week and to purchase tickets, please visit AllStarGame.com and follow @MLB and @AllStarGame on social media.