Altuve, Correa need boost in ASG voting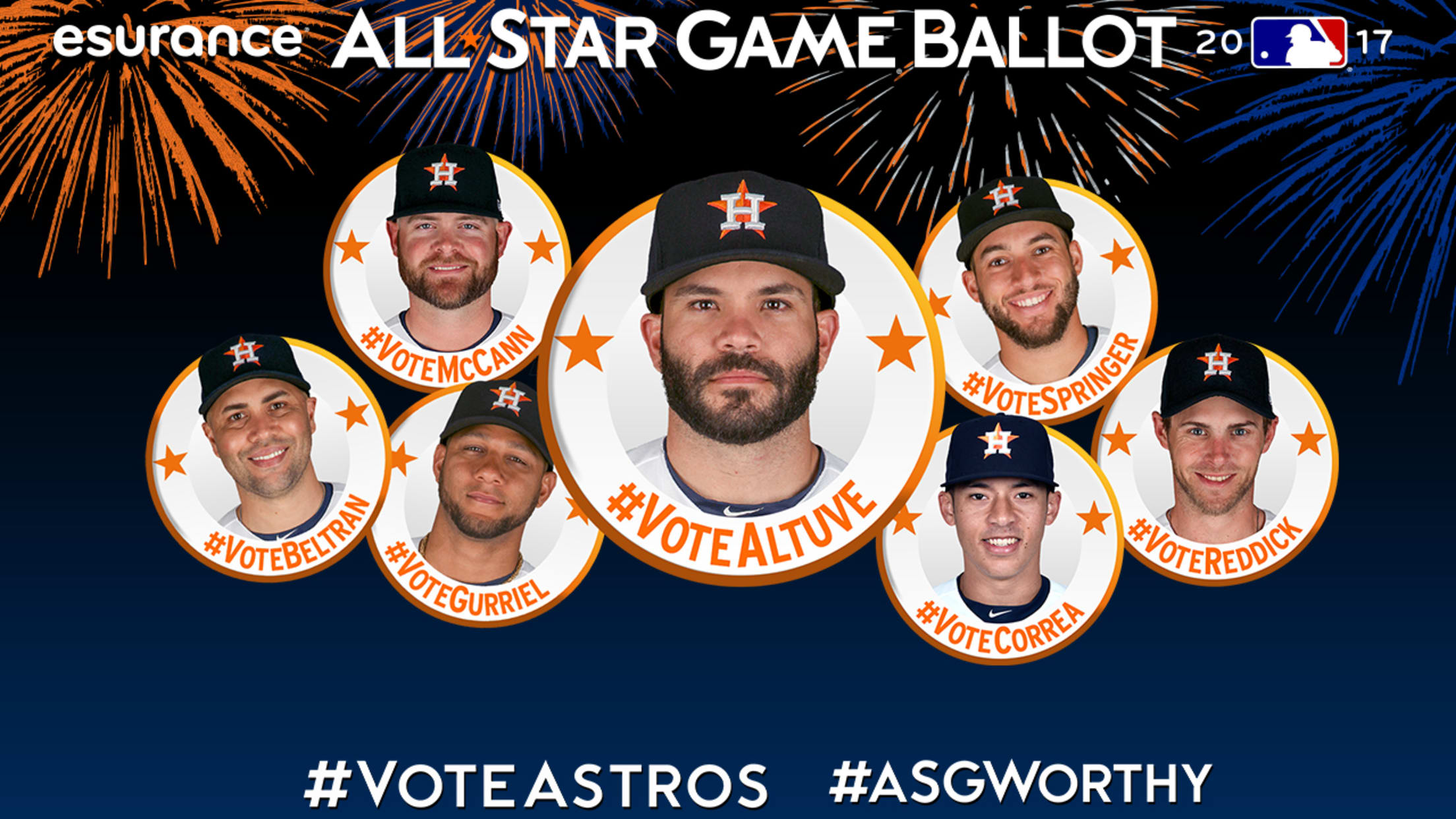 MINNEAPOLIS -- Despite having the best record in baseball and opening up a huge lead in the American League West, the Astros don't have any players leading the balloting totals at their positions in the Esurance All-Star Game fan voting update released Wednesday.Astros star Jose Altuve ranks second among AL second
MINNEAPOLIS -- Despite having the best record in baseball and opening up a huge lead in the American League West, the Astros don't have any players leading the balloting totals at their positions in the Esurance All-Star Game fan voting update released Wednesday.
Astros star Jose Altuve ranks second among AL second basemen with 515,732 votes, just 536 votes behind the Yankees' Starlin Castro. Altuve's 515,732 votes are fifth among all AL players. Altuve has been voted the AL starter the past two seasons and has been an All-Star four times overall.
Altuve entered Wednesday hitting .320 with seven homers and 27 RBIs, including a Major League-best .439 on the road.
• VOTE NOW for #ASGWorthy players
Carlos Correa ranks second in the voting among AL shortstops behind friend and fellow Puerto Rican Francisco Lindor of the Indians. Lindor (602,238) has a sizable 348,720-vote lead over Correa (253,518), though Correa was hitting .379 with eight doubles, six homers, 23 RBIs and a 1.107 OPS in May, heading into play Wednesday.
Meanwhile, seven-time All-Star catcher Brian McCann ranks third among AL backstops with 296,187 votes, trailing Salvador Perez of the Royals (420,268) and Welington Castillo of the Orioles (339,902). Yuli Gurriel (182,945) is fifth among AL first basemen, and Carlos Beltran (175,700) and George Springer (162,087) rank 13th and 14th, respectively, among outfielders.
Fans may cast votes for starters at MLB.com and all 30 club sites -- on computers, tablets and smartphones -- exclusively online using the 2017 Esurance MLB All-Star Game Ballot until Thursday, June 29, at 10:59 p.m. CT. On smartphones and tablets, fans can also access the ballot via the MLB.com At Bat and MLB.com Ballpark mobile apps. Vote up to five times in any 24-hour period for a maximum of 35 ballots cast.
Following the announcement of the 2017 All-Star starters, reserves and pitchers, fans should return to MLB.com and cast their 2017 Esurance MLB All-Star Game Final Vote for the final player on each league's All-Star roster. Then on Tuesday, July 11, while watching the 2017 All-Star Game presented by MasterCard live on FOX, fans may visit MLB.com to submit their choices for the Ted Williams Most Valuable Player Award presented by Chevrolet with the 2017 MLB All-Star Game MVP Vote.
The 88th Midsummer Classic, at Marlins Park in Miami, will be televised nationally by FOX Sports; in Canada by Rogers Sportsnet and RDS; and worldwide by partners in more than 160 countries. ESPN Radio and ESPN Radio Deportes will provide exclusive national radio coverage, while MLB Network, MLB.com and SiriusXM will have comprehensive All-Star Week coverage. For more information about MLB All-Star Week and to purchase tickets, please visit AllStarGame.com and follow @AllStarGame on social media.