Pirates shut down Bell, Marte, Díaz and Tucker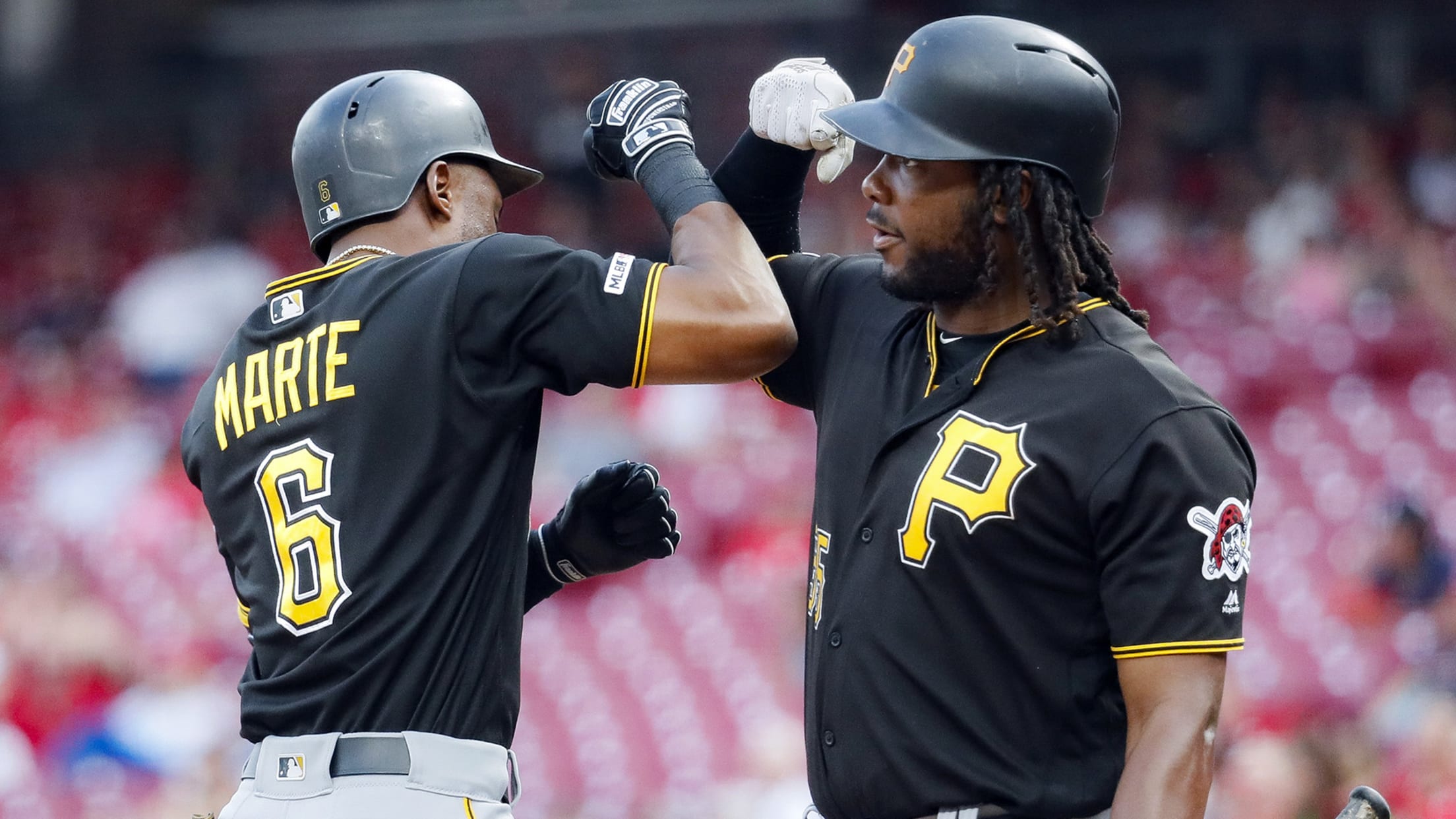 PITTSBURGH -- The Pirates will finish the season without two of their best players, one of their top catchers and one of their most promising young talents. On Wednesday, Pittsburgh director of sports medicine Todd Tomczyk officially made the announcement that had seemed obvious for several days: The club shut
PITTSBURGH -- The Pirates will finish the season without two of their best players, one of their top catchers and one of their most promising young talents.
On Wednesday, Pittsburgh director of sports medicine Todd Tomczyk officially made the announcement that had seemed obvious for several days: The club shut down first baseman Josh Bell (strained left groin), center fielder Starling Marte (sprained left wrist), catcher Elias Díaz (sprained right knee) and shortstop Cole Tucker (strained left knee).
Marte has not done anything but pinch-run since Sept. 8, when he tweaked his wrist while hustling to make a catch in center, and he's still too sore to hit in a game. Bell hasn't played since Sept. 13, when he came up limping at Wrigley Field. Díaz exited Saturday's game in Milwaukee after awkwardly twisting his knee while trying to corral a pitch from James Marvel. Tucker reported continued discomfort in his left knee after going 1-for-4 in Sunday's series finale at Miller Park.
None of the injuries will require surgery, Tomczyk said, and all four players are expected to have a normal offseason heading into Spring Training. If the Pirates weren't less than a week away from the end of a last-place season, it's even possible that Bell and Marte would be playing through the pain.
"If we were at a different stage of the season and a different place in the standings, Starling and Josh would both be out there," Tomczyk said.
It's a particularly frustrating way for Marte and Bell to finish the season considering what they accomplished throughout the year.
Marte, 30, was putting together one of his best all-around seasons with a .295/.342/.503 slash line, 23 homers, 25 steals and 82 RBIs in 132 games. Bell was the story of the Bucs' first half as he made his first All-Star team; ultimately, the 27-year-old slugger will finish the season with 37 homers, 116 RBIs and a .277/.367/.569 slash line in 613 plate appearances over 143 games.
Marte still wanted to try to play, Tomczyk said, and Bell apparently didn't shut it down without a fight either.
"We're just running out of days. Josh wants to be out there. He wants to finish on the field with his teammates," Tomczyk said. "But as a group, from a medical team and an organizational standpoint, it's best for Josh for his offseason to begin right now and for him to head into that as strong and as normal as he can. … Right before I walked in here, I was just having a final conversation with Josh: 'Really? Do we really have to do this?'"
Tucker has been dealing with a sore left knee off and on this season, manager Clint Hurdle said on Tuesday, but it flared up again while hitting on Sunday. Díaz has a low-grade sprain of his medial collateral ligament, Tomczyk said, which could heal in about two weeks.
"With where we're at in the season, it's most advantageous and best for Mr. Díaz to rest and have a normal offseason as well," Tomczyk said.
Trainer's room
• Veteran outfielder Melky Cabrera is available off the bench but limited by a sore right thumb.
• Tomczyk said Right fielder Gregory Polanco, who only played 42 games this year due to lingering complications from left shoulder surgery last September, received the third of his three scheduled platelet-rich plasma injections earlier this week. After a brief period of rest, Tomczyk said, Polanco will visit with Dr. David Altchek to map out the rest of his offseason. The Pirates are optimistic that Polanco will be ready for Spring Training next year.
• Right-handers Chad Kuhl and Edgar Santana, who have spent the last year recovering from Tommy John surgery, progressed to throwing simulated games during the fall instructional league in Bradenton, Fla. In a few days, they will be able to complete their rehabilitation process, head home and enjoy a normal offseason.
• Pitching prospect JT Brubaker, who made only six starts this season due to a forearm/elbow injury, is also scheduled to throw a sim game in Florida, Tomczyk said.
Adam Berry covers the Rays for MLB.com and covered the Pirates from 2015-21. Follow him on Twitter @adamdberry.