Reds recall red-hot utility man VanMeter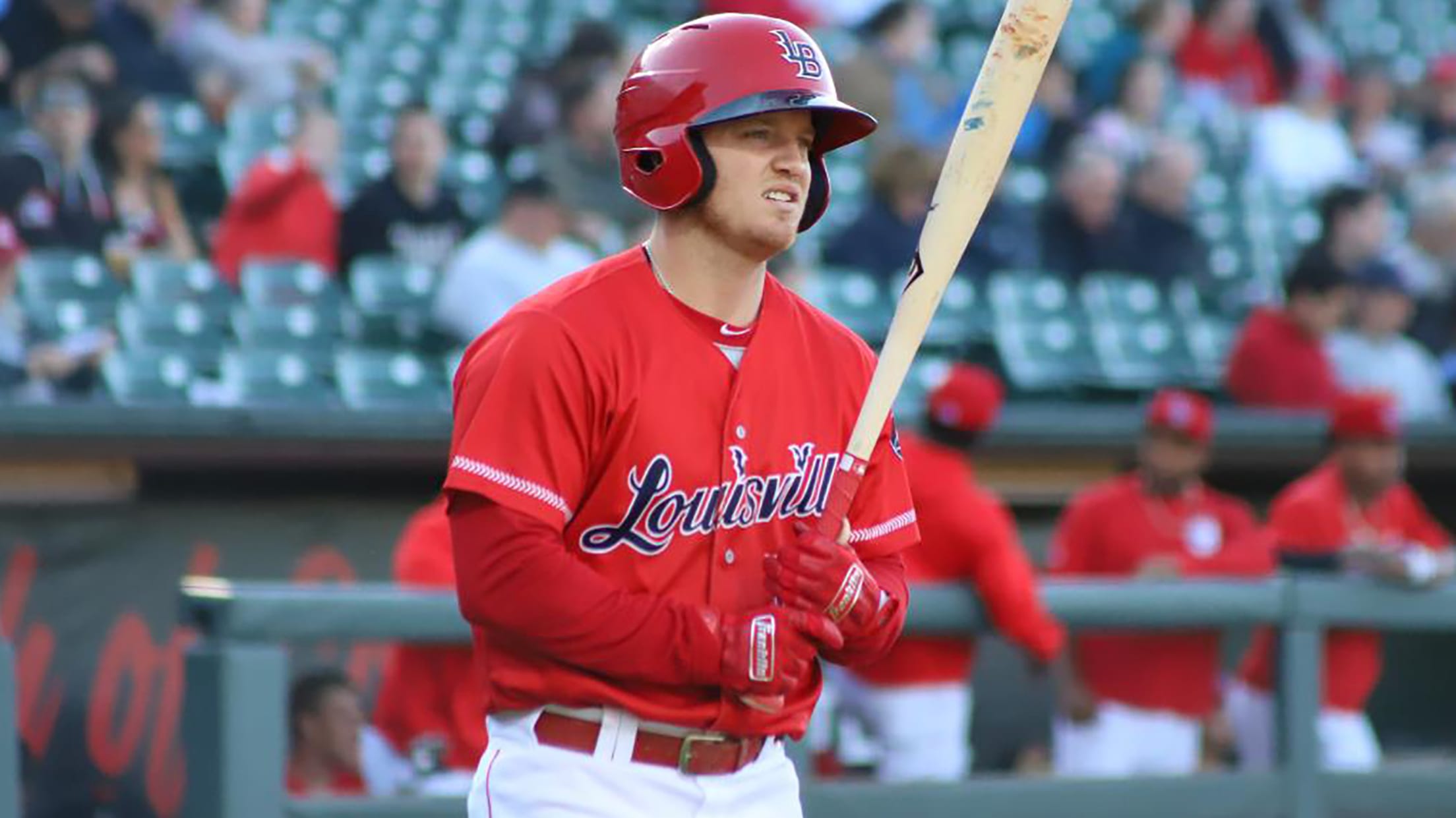 CINCINNATI -- Even before Josh VanMeter began crushing Triple-A pitching, he was on the radar of Reds manager David Bell and his staff, who spent time with the 24-year-old infielder/outfielder during Spring Training and admired his work ethic and approach on a daily basis. "To see him put in the
CINCINNATI -- Even before Josh VanMeter began crushing Triple-A pitching, he was on the radar of Reds manager David Bell and his staff, who spent time with the 24-year-old infielder/outfielder during Spring Training and admired his work ethic and approach on a daily basis.
"To see him put in the work and taking the risk of making adjustments, you become a fan of him," Bell said. "He was over for the games [during Spring Training] quite a bit even though he wasn't in Major League camp. He would come over and our staff got to know him."
On Sunday, the northern Indiana native was recalled from Triple-A Louisville, where he was leading the International League with 13 home runs, 31 RBIs, 81 total bases, a .736 slugging percentage and an OPS of 1.167. To make room on the roster, left-hander Cody Reed was optioned to Louisville.
VanMeter produced four multihomer games in his first 30 contests this season at Louisville, tying Brandon Cromer (1999) and Mike Hessman (2013) for the most multihomer games for a Bats player in a season since 1982.
On April 29 at Toledo, VanMeter hit three home runs and drove in eight runs. His 11 April home runs tied the franchise record for most homers in a month.
VanMeter, who was hitting .336 in Triple-A, was acquired by the Reds in 2016 as the player to be named in a trade that sent Rule 5 catcher Luis Torrens to the Padres.
"To do what he did for a month in Triple-A, he made that happen himself," Bell said.
VanMeter credited his former Minor League hitting coach Johnny Washington -- now the Padres' hitting coach -- for helping him make adjustments to his swing that laid the foundation for his torrid start at the plate this season.
Coincidentally, VanMeter's promotion to the big leagues came after he went 0-for-3 on Saturday night.
"[Louisville manager] Jody Davis called me into his office last night and said, 'It must have taken a hitless night to get you to the big leagues,'" VanMeter said. "The overwhelming emotions took over from there. It's special."
VanMeter said even he has been surprised by his red-hot start to the season at the plate and that he has difficulty explaining it when asked.
"I made some adjustments to my swing dating back to the second half in Triple-A last year, and it's really starting to pay off," VanMeter said. "Just being locked in every day, taking the same approach and not missing mistakes is really the biggest thing when it comes to hitting at the upper levels. Just sticking to my routine, hitting the ball in the air, and it's been working for me."
The question now is where VanMeter fits into the Reds' plans. He played multiple positions in Triple-A, starting seven games at first base, 12 games at second and eight at third. He can also play outfield. The Reds already have a player with similar utility skills in Derek Dietrich, who's off to a hot start at the plate.
"He's a part of this team," Bell said of VanMeter. "We'll get him opportunities. We feel like he can help us off the bench, and hopefully get him a start here and there. He has worked very hard to be here. He's earned this day in every way possible. He's still young, but he's put some years in to get here."
VanMeter and Reds center fielder Nick Senzel, who was promoted from Triple-A on Friday, are close friends and were roommates in Louisville. Senzel hit his first career home run on Saturday.
"He's a couple days ahead of me and a homer ahead of me, but I have way more than him on the season," VanMeter said with a smile.