Urias struggles as Dodgers' skid reaches 5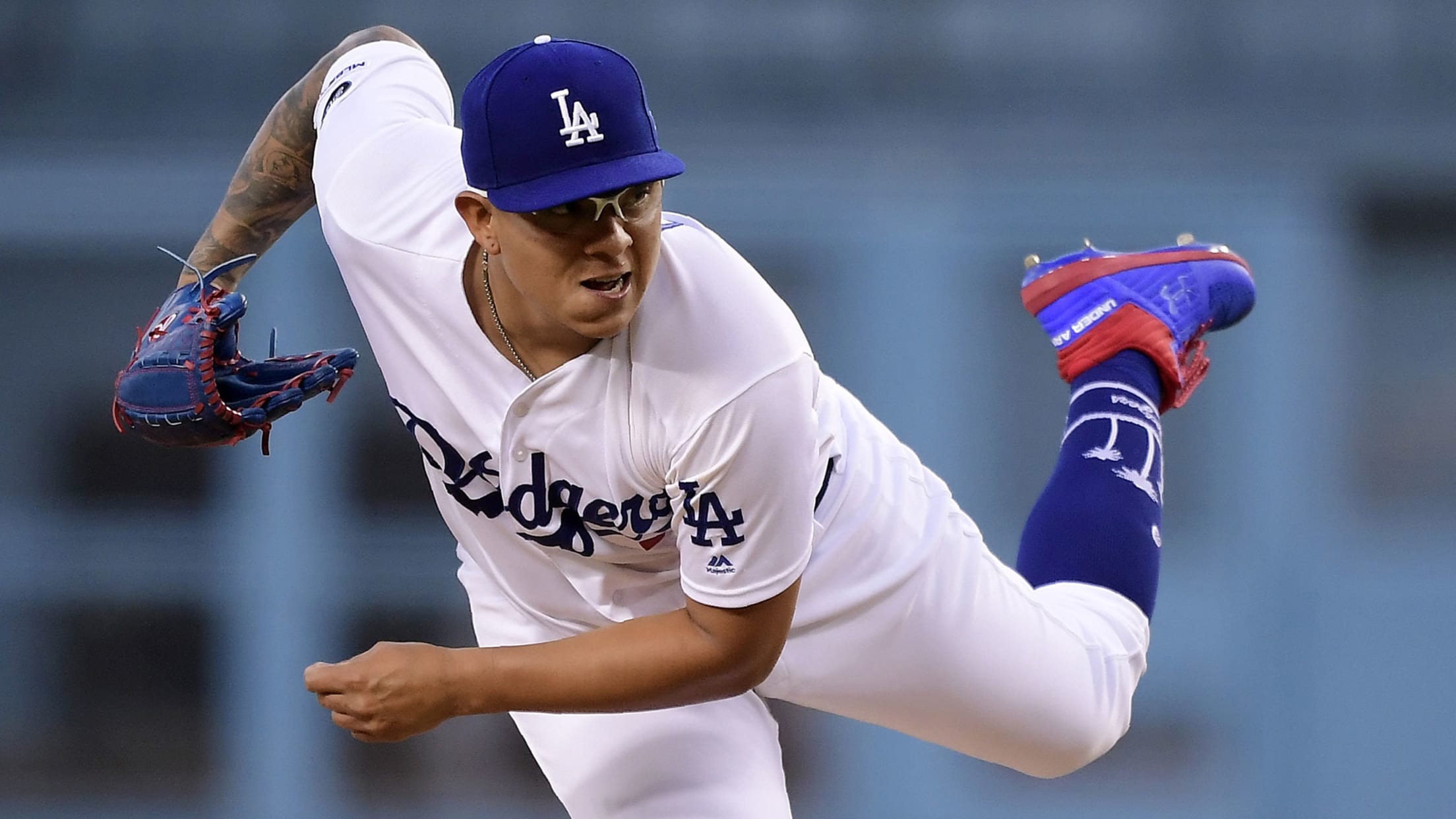 LOS ANGELES -- When the Dodgers beat the Milwaukee Brewers in the 2018 National League Championship Series, they started Clayton Kershaw, Hyun-Jin Ryu and Rich Hill in five of the seven games. All three were on the injured list for Friday night's rematch at Dodger Stadium, the Dodgers winning a
LOS ANGELES -- When the Dodgers beat the Milwaukee Brewers in the 2018 National League Championship Series, they started Clayton Kershaw, Hyun-Jin Ryu and Rich Hill in five of the seven games.
All three were on the injured list for Friday night's rematch at Dodger Stadium, the Dodgers winning a home run derby, 3-2, but losing the game, 8-5, as Dodgers starter Julio Urías let two leads get away. Urias has a 5.27 ERA.
One day earlier, Walker Buehler couldn't protect a lead in St. Louis, allowing five runs for the second time in his three starts after a one-start Spring Training. His ERA is 8.25.
This was the first of seven games in 10 days between the teams. The win snapped Milwaukee's three-game losing streak, while the Dodgers' losing streak was extended to five after they were swept in a four-game series in St. Louis earlier in the week. Dodgers starters have allowed 21 earned runs in 21 innings during the losing streak.
But Kershaw returns on Monday from shoulder inflammation, and Hill goes out on a Minor League rehab assignment next week after passing a sim game test on Friday. Ryu's return from what the club said is a mild groin injury is less certain because he had the same injury last year and was out three months.
A record-breaking home run spree translated into an 8-2 start for the Dodgers, but now there are similarities to last year, when the entire starting rotation was injured in the first two months and they didn't reach first place until just before the All-Star break.
Management's plan coming into the season was to limit Urias' innings early in the season by putting him in the bullpen so he could be a late-season weapon, as he was last year. Instead, he's struggling as a fill-in starter, putting his arm through 31-pitch first innings, as he did against the Brewers. Later, he allowed two-run homers to Hernan Perez on a hanging curve and to former Dodger Yasmani Grandal on a high changeup. Grandal also singled in a run in his return to Dodger Stadium as a visitor.
"I just focus on the fact that the team gave me the lead and I couldn't keep it," said Urias. "It feels worse when the team gets you a lead and I gave it away."
National League home run leader Cody Bellinger (No. 8), Corey Seager (No. 2) and Joc Pederson (No. 5) went deep for the Dodgers, who led 3-2 and 5-4. But the Brewers posted multiple runs in three of the first five innings, then tacked on single runs off relievers Joe Kelly (12.27 ERA) and Kenley Jansen, the closer appearing for the first time in six days.
"These guys, they are relentless, they don't quit," Dodgers manager Dave Roberts said of the Brewers. "They fight, they put at-bats together a lot like we do. They have strength in the bullpen. They get big hits, they win pitches. Tonight, the difference, hanging breaking ball we couldn't get there to Perez, and Grandal, left a changeup up and another two-run homer."
Urias was charged with six runs (five earned) in five innings and has allowed nine runs (eight earned) in his last two starts over 8 2/3 innings. The team ERA is 5.00.
"We've got to get ahead of hitters -- that's across the board. Starters, relievers, and we just have to pitch better," said Roberts. "Part of pitching is to get ahead and get count leverage. Gives you more margin for error when you're ahead in the count. When you're behind in the count, you can't be as fine. If you're not executing pitches, they're slugging there. That's kind of what's been happening."
In his previous start at Coors Field, Urias issued three walks in the first inning and didn't make it out of the fourth. On Friday night, he was in and out, retiring seven consecutive batters at one stretch, but also allowing two runs in three different innings.
"In Colorado, he was more erratic," said Roberts. "Tonight wasn't the case. He was where he needed to be, but looking back, when he needed to finish guys, to make the pitch. He finished with a punch of [Mike] Moustakas, so the stuff was there. But in between those 87 pitches, he made a couple mistakes."
The Dodgers lead the league with 32 home runs and have homered in 27 consecutive home games dating to last year, second in MLB history to the Colorado Rockies, who had a streak of 32 in 1999.
"I know just by watching them play the past week or so and watching video on them that they're not all there," Grandal said of his former club. "Obviously, I know the ability that they have to control a game, and I know the ability we have to control a game. It comes down pretty much to who's hot and who's not."
Ken Gurnick has covered the Dodgers for MLB.com since 2001.