Miller eager to learn in revamped 'pen
Righty filled valuable role in 2015 after climb from Double-A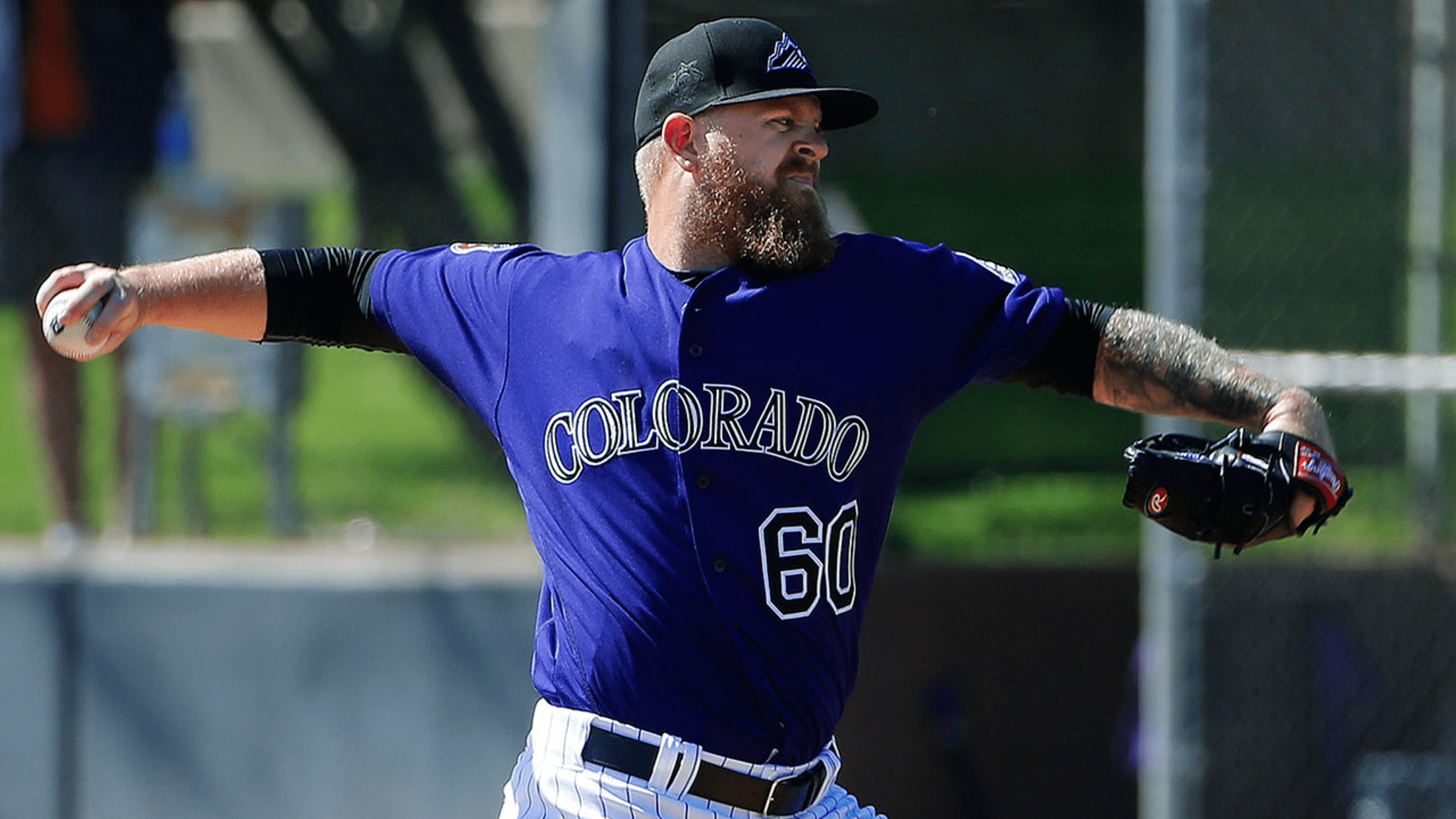 Justin Miller, who is out of options and likely for the Opening Day bullpen, proved last year that he can protect leads late in games. (AP)
SCOTTSDALE, Ariz. -- Rockies right-hander Justin Miller said being thrust into late-game roles at the end of 2015 has helped his confidence for this season.The Rockies remade their bullpen by picking up veteran right-handers Jason Motte and Chad Qualls and veteran lefty Jake McGee. That means Miller, 28, who yielded
SCOTTSDALE, Ariz. -- Rockies right-hander Justin Miller said being thrust into late-game roles at the end of 2015 has helped his confidence for this season.
The Rockies remade their bullpen by picking up veteran right-handers Jason Motte and Chad Qualls and veteran lefty Jake McGee. That means Miller, 28, who yielded no runs in 13 of his final 15 appearances last season, will slot earlier. But Miller proved to himself and to the Rockies that he can protect late leads if asked.
"By pitching the last couple years and going through September and all the time last year, I feel I belong," Miller said.
Miller, who was a Rangers prospect before elbow surgery slowed his progress, debuted for eight games with the Tigers in 2014, and he turned out to be an important Rockies non-roster signee before last spring. With the Rockies' depth tested by the early season loss of righty Adam Ottavino to elbow surgery, Miller capitalized by displaying a power fastball and slider, going 3-3 with a 4.05 ERA in 34 games over four callups from Triple-A.
Miller doesn't look at the Rockies' bullpen additions as taking late innings from him but as a chance to learn.
"Going through the Minors, I've always been one of those guys who has been a back-inning guy," Miller said. "Having Qualls, Motte, McGee, 'Otto' [Ottavino will return around midseason] here is nothing but a good thing. They all have experience and different points of view. I'm trying to be a sponge, listen to what they say and put some of that in my toolbox."
Miller, who carried a 6.06 ERA in six spring outings (four scoreless), is out of Minor League options, which means he is likely a part of the Opening Day bullpen. Instead of focusing squarely on numbers, he's working on his extension toward home plate. A scoreless inning in his last Cactus League game, Thursday against the Mariners, he said was "the best I've felt all spring."
Manager Walt Weiss noted that the Rockies put Miller at Double-A New Britain last season despite the fact he was in the Majors the previous year, and he handled it well.
"He wasn't happy, I'm sure, but he never carried that with him, never showed that," Weiss said. "He went down and did his job. When he was in Triple-A, he did the same thing, put his head down and did what he was supposed to do. He's a great example for guys who may not break camp with us.
"By the end of the year he was pitching at the end of winning games, protecting leads for us at the Major League level."