Key Padres hitters slumped in August
Seven Minor Leaguers in the news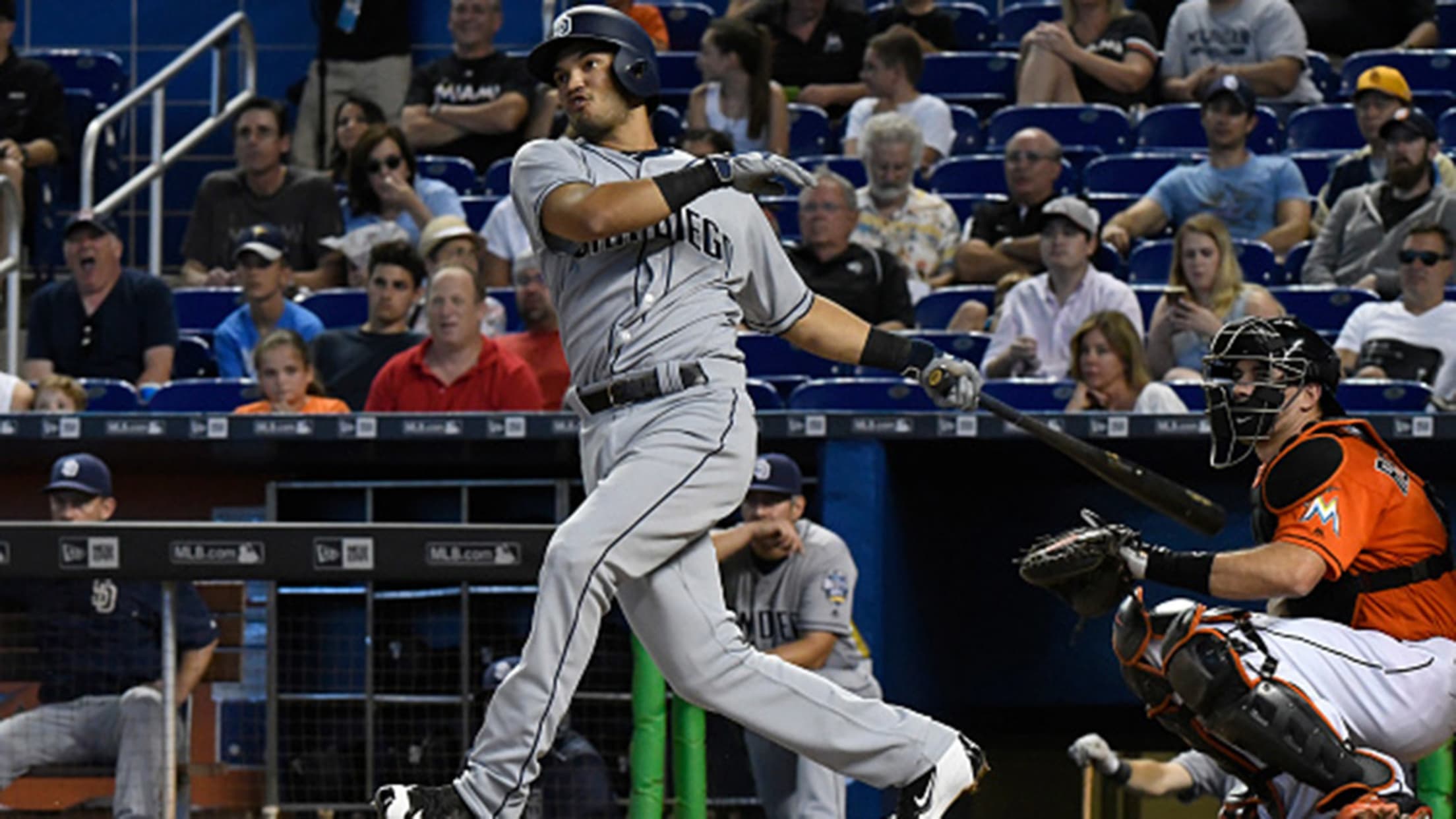 Bill Center, longtime sportswriter for U-T San Diego, is an employee of the Padres.A number of Padres, led by Wil Myers, are in prolonged batting slumps.Myers is hitting only .199 since the All-Star break with four homers and 19 RBIs, although he has drawn 20 walks in 39 games to
Bill Center, longtime sportswriter for U-T San Diego, is an employee of the Padres.
A number of Padres, led by Wil Myers, are in prolonged batting slumps.
Myers is hitting only .199 since the All-Star break with four homers and 19 RBIs, although he has drawn 20 walks in 39 games to keep his on-base percentage at .304. But his second-half OPS of .632 is 241 points below his first half number. Since the All-Star Game, Myers has struck out 53 times in 168 at-bats.
More recently, Myers is in a 4-for-43 (.093) slump over 11 games since August 16 with one extra-base hit (a triple) with three RBIs and three runs scored. He has struck out 21 times in the last 43 at-bats as his batting average has tumbled from .276 to .260 (it has fallen 26 points since the All-Star break).
But Myers is far from alone:
• Catcher Derek Norris's season-long slump worsened in August. He is 7-for-51 (.137) in the month with no extra-base hits - his last extra-base hit was a double on July 20 - two RBIs and a run scored with 18 strikeouts, including 12 in his last 22 at-bats. He has drawn six walks this month. Since the All-Star break, Norris's batting average has fallen from .212 to .185, making it a possibility that he will join Ruben Rivera as the only two Padres to hit under .200 with 400 or more plate appearances.
• Left fielder Alex Dickerson hasn't had a multi-hit game since August 13. He is 8-for-50 (.160) over his last 13 games with two doubles and a homer for five RBIs and seven runs scored. He has 13 strikeouts in the 50 at-bats as his batting average has dropped from .289 to .251.
• Third baseman Yangervis Solarte is 3-for-31 (.097) in eight games since August 20 with one triple for one RBI and one run scored.
• Brett Wallace is 3-for-30 (.091) since July 30 with a double, two RBIs and 13 strikeouts, although he has made only six starts during that time. NOTES FROM THE SCOREBOOK
• Two hitters who are not slumping are middle infielders Ryan Schimpf and Luis Sardiñas. Second baseman Schimpf is 8-for-15 in a five-game hitting streak with a double, two triples and two homers for four RBIs and six runs scored. Shortstop Sardinas is 7-for-20 since joining the Padres with two doubles and a homer for five RBIs and three runs scored.
• Padres prospects are picking up a fair share of minor league awards. Lake Elsinore infielder Luis Urias, 19, won dual awards as the Rookie of the Year and Most Valuable Player of the Advanced Single-A California League. Second baseman Carlos Asuaje was named Rookie of the Year in the Triple-A Pacific Coast League (Padres left fielder Alex Dickerson won the award in 2015) and is joined by three El Paso teammates -- outfielders Hunter Renfroe and Manuel Margot and catcher Austin Hedges -- on the All-PCL team. Austin Allen is the catcher on the Single-A Midwest League post-season All-Star team.
• Center fielder Franchy Cordero set a Padres' minor league system, single-season record Tuesday when he hit his second triple in as many games for Double-A San Antonio. Cordero now has 16 triples on the season - eight each at Lake Elsinore and San Antonio. Cordero broke the record of 15 set by Luis Salazar in 1980 while playing for Triple-A Hawaii. Margot leads the PCL with 12 triples, which is tied for sixth on the Padres' all-time, single-season minor league list.
• With the end of the Arizona Rookie League season Monday, the two Padres infielders rehabbing in Arizona - Alexi Amarista and Jemile Weeks moved their rehab assignments to Advanced Single-A Lake Elsinore. Amarista was 1-for-4 Tuesday night. Weeks was 0-for-1 with a walk.