LAST CHANCE: Vote in close ASG races
Arenado, Murphy, Posey among those seeing voting surge before balloting ends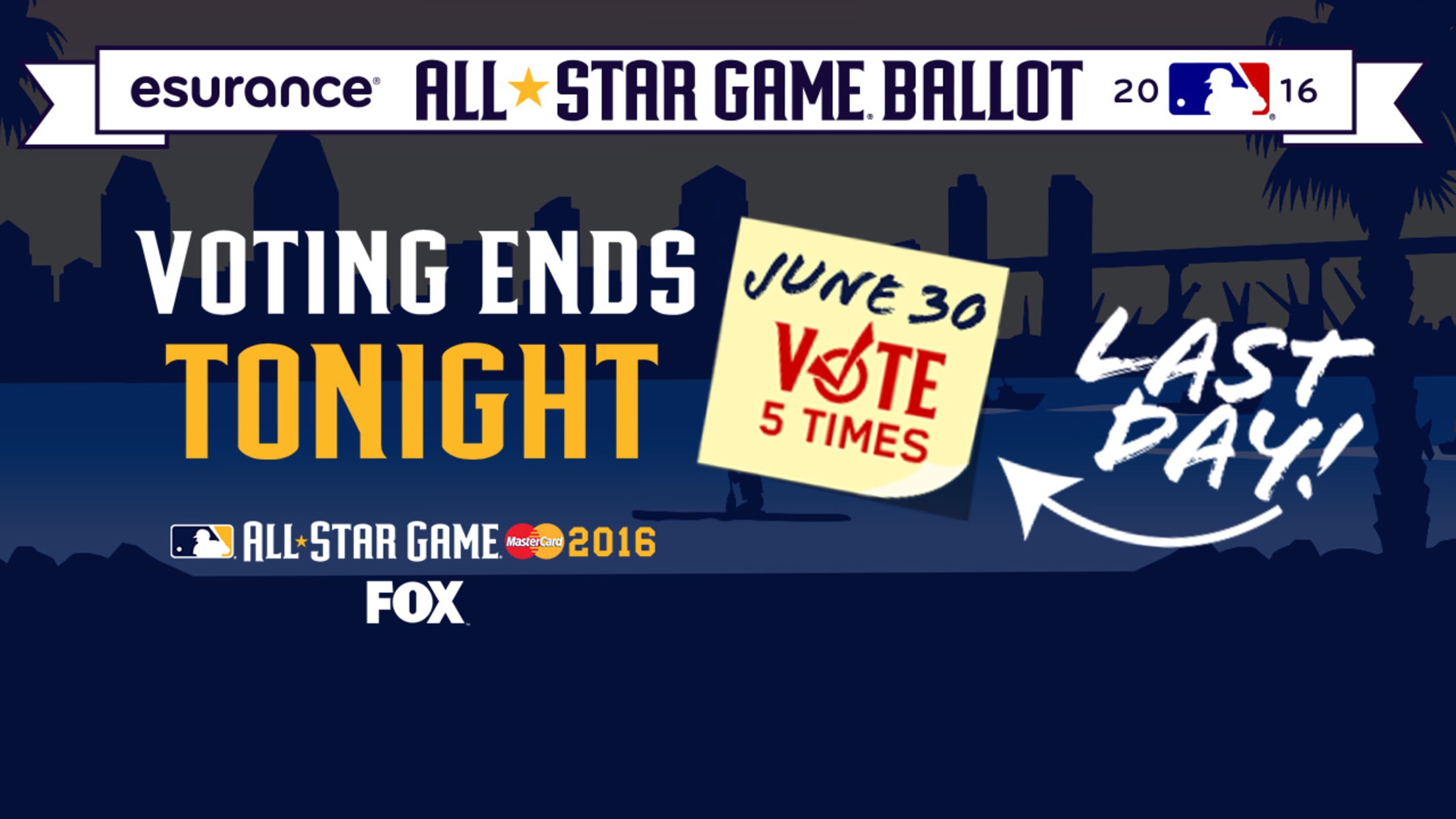 Entering the final day of the 2016 Esurance MLB All-Star Game Ballot, several positional leaders have seen their leads either disappear or shrink in the last few days.Major League Baseball released its final balloting update on Wednesday as fans continue deciding starters for the 87th All-Star Game on July 12
Entering the final day of the 2016 Esurance MLB All-Star Game Ballot, several positional leaders have seen their leads either disappear or shrink in the last few days.
Major League Baseball released its final balloting update on Wednesday as fans continue deciding starters for the 87th All-Star Game on July 12 at Petco Park in San Diego. Voting ends tonight at 11:59 p.m. ET, and American League and National League rosters will be revealed at 7 p.m. ET on July 5 in the Esurance All-Star Selection Show on ESPN.
• Justice: Down to the wire, some races too close to call
Buster Posey of the Giants has reclaimed the lead over Yadier Molina of the Cardinals by approximately 107,000 votes at National League catcher, receiving 51.5 percent more votes over the last two days.
Washington's Daniel Murphy has outgained NL second base leader Ben Zobrist of the Cubs by 53.5 percent and now trails by fewer than 185,000 votes.
Colorado's Nolan Arenado has outgained NL third base leader Kris Bryant of the Cubs by 25.1 percent since Monday's latest update and is trailing by about 290,000 votes.
Mets outfielder Yoenis Cespedes has moved to the front of the NL outfield race by just over 4,000 votes while receiving 41.5 percent more votes than Dexter Fowler of the Cubs, who now ranks second among NL outfielders.
Colorado rookie Trevor Story has outgained NL shortstop leader Addison Russell of the Cubs by 20.0 percent and now trails by about 290,000 votes.
In the American League, Mookie Betts of the Red Sox is holding onto the third outfield spot by fewer than 50,000 votes as Kansas City's Lorenzo Cain, Baltimore's Mark Trumbo and Toronto's Jose Bautista continue to keep pace. Betts also has outgained his teammate Jackie Bradley Jr. for the second AL outfield spot and now trails him by about 225,000 votes.
The AL team will have nine elected starters via the Esurance MLB All-Star Game Ballot, while the NL roster will have eight fan-elected starters. Pitchers and reserves for both squads -- totaling 25 for the NL and 24 for the AL -- will be determined through a combination of "Player Ballot" choices and selections made by the two All-Star managers, Ned Yost from the Royals and Terry Collins from the Mets.
Fans can cast their votes for starters at MLB.com and all 30 club sites -- on their computers, tablets and smartphones -- exclusively online using the 2016 Esurance MLB All-Star Game Ballot until 11:59 p.m. ET tonight. Vote up to five times in any 24-hour period for a maximum of 35 times.
You can also text VOTE to 89269 (USA) or 101010 (Canada), or just text VOTA for a ballot in Spanish. Message and data rates may apply, with up to five messages. No purchase is required. Reply STOP to cancel and reply HELP for info.
Following the roster unveilings, be sure to return to MLB.com and cast your 2016 Esurance MLB All-Star Game Final Vote for the final player on each league's All-Star roster. That balloting will conclude at 4 p.m. ET on Friday, July 8.
Now in its 15th season with nearly 600 million votes cast, fans again will be able to make their Final Vote selections on MLB.com, club sites and mobile devices. Last year's Final Vote winners were Cardinals pitcher Carlos Martinez and Royals third baseman Mike Moustakas.
On Tuesday, July 12, watch the 2016 All-Star Game presented by MasterCard live on FOX, as well as MLB.TV Premium (for authenticated subscribers), and during the game visit MLB.com to submit your choice for the Ted Williams Most Valuable Player Award presented by Chevrolet via the 2016 MLB All-Star Game MVP Vote.
The 87th All-Star Game will be televised nationally by FOX, in Canada by Rogers Sportsnet and RDS, and worldwide by partners in more than 160 countries via MLB International's independent feed. ESPN Radio and ESPN Radio Deportes will provide national radio coverage of the All-Star Game. MLB.com, MLB Network and SiriusXM will also provide comprehensive All-Star Week coverage. For more information, please visit allstargame.com.