Williamsport pitches in during Play Ball Weekend
The Little League World Series host site held a free baseball clinic for kids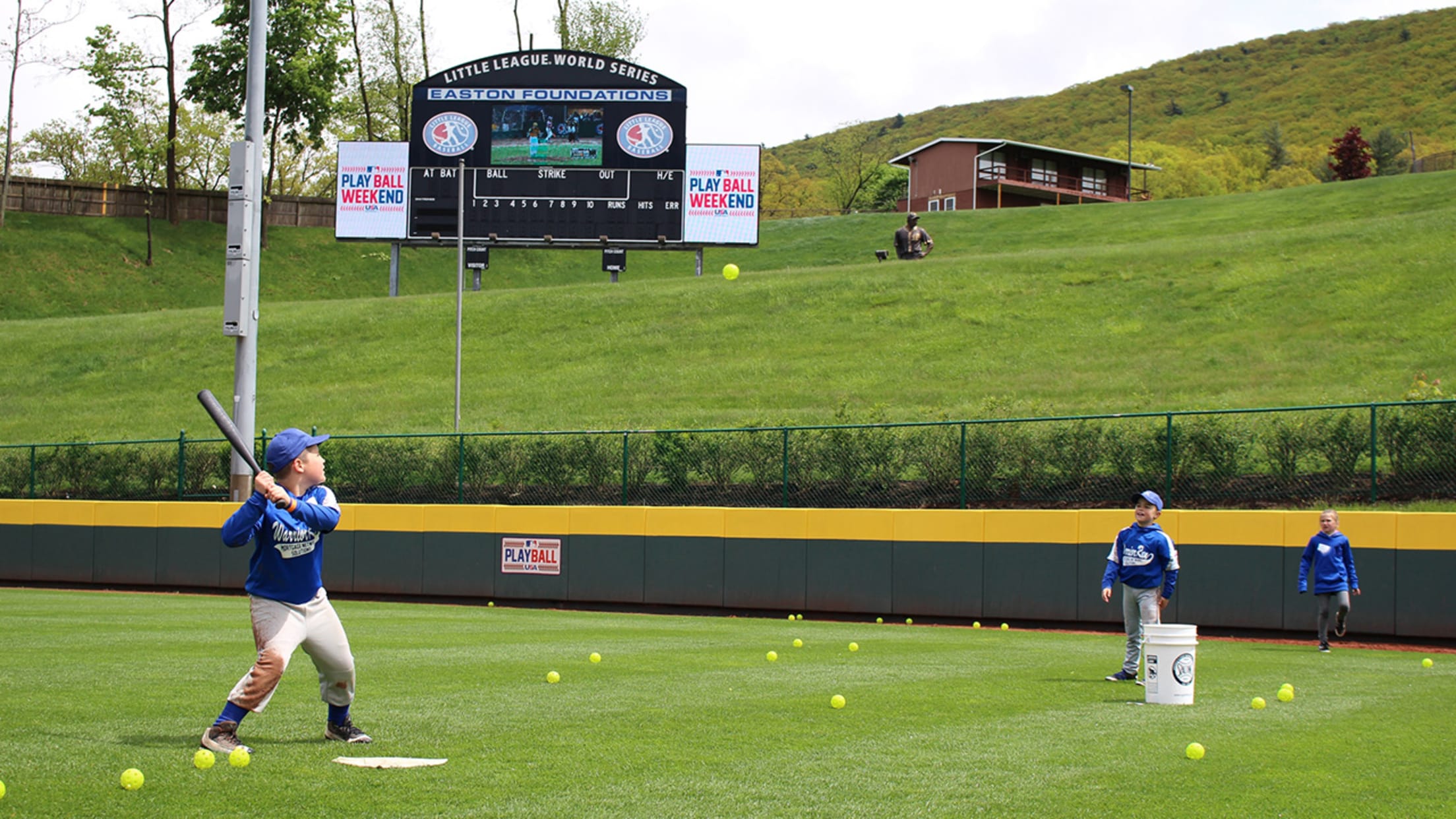 Kids took over the field at Lamade Stadium during Play Ball Weekend. (Courtesy of Little League Baseball and Softball)
SOUTH WILLIAMSPORT, PA -- Little League is all about having a good time on the field with your friends and, now Major League Baseball is joining in on the fun with its Play Ball initiative.And on Sunday, May 15, Little League International added to the fun. To celebrate Play Ball
SOUTH WILLIAMSPORT, PA -- Little League is all about having a good time on the field with your friends and, now Major League Baseball is joining in on the fun with its Play Ball initiative.
And on Sunday, May 15, Little League International added to the fun. To celebrate Play Ball Weekend, hundreds of children and their families made their way to the Little League complex in South Williamsport, Pa., for a free event that allowed kids to play on the same fields that are used by some of the best youth players from around the country.
"Major League Baseball's Play Ball initiative is about inspiring everyone to pick up a ball and play," said Stephen D. Keener, Little League President and CEO. "What better place to enjoy fun activities, such as backyard baseball and softball games and playing catch, then on the fields where the Little League Baseball World Series is played each August."

Play Ball events were hosted in MLB parks around the league in order to encourage community outreach, make the game accessible, promote healthy lifestyles and demonstrate how baseball and softball can be played in a fun environment. Little League was happy to help spread that message.
"In the digital age we live in, getting kids involved in anything is so important," said Shaddon Rice, a local Little League parent and league volunteer from Selinsgove, Pa., who had four children participate in the clinic in Williamsport. "When we found out about the Play Ball Weekend, I didn't know what to expect, but being here, and seeing all that the kids got to do was empowering and awesome. My kids had a lot fun and enjoyed a great experience."
Children ages 7 to 14 participated in special skill-developing activities on Howard J. Lamade and Volunteer Stadiums, organized by Baseball Factory and Little League International staff. A series of other baseball and softball-related games and fun activities were available for children of all ages, including hitting and fielding drills and instruction.
"I really like baseball, and playing games with my friends," said Conner Shoemaker, a seven-year-old Warrior Run Little Leaguer from Watsontown, Pa. "Today, my favorite thing to do was running the bases."
As Williamsport welcomed participation with open arms, Little Leaguers celebrated Play Ball Weekend all across the nation at special events with many MLB Clubs. On Sunday night, Manhattan Beach (Calif.) Little League visited Dodger Stadium prior to the game between the Los Angeles Dodgers and St. Louis Cardinals, and received instruction from Adrian Gonzalez and Manager Dave Roberts. Alumni, like Astros outfielder George Springer (Forestville, Conn. Little League) were eager to help spread a love of baseball and inspire the same passion that they had as youngsters; Springer even brought his nephew out to take some hacks at Fenway Park.
George Springer's nephew is LOVING #PlayBall Weekend. pic.twitter.com/39LWUWFN8e

— Play Ball (@PlayBall) May 15, 2016
In the end, Little League was happy to help make Play Ball Weekend a huge success.
"This is Conner's first season playing Little League and he loves it," said Rebecca Hill, Conner Shoemaker's mother. "For Little League to give kids the chance to play on the fields where the World Series is played has been a great experience that we will both remember for a long time."