Lucchesi breaks through for Padres starters
Rookie left-hander is first Padres starter to allow no runs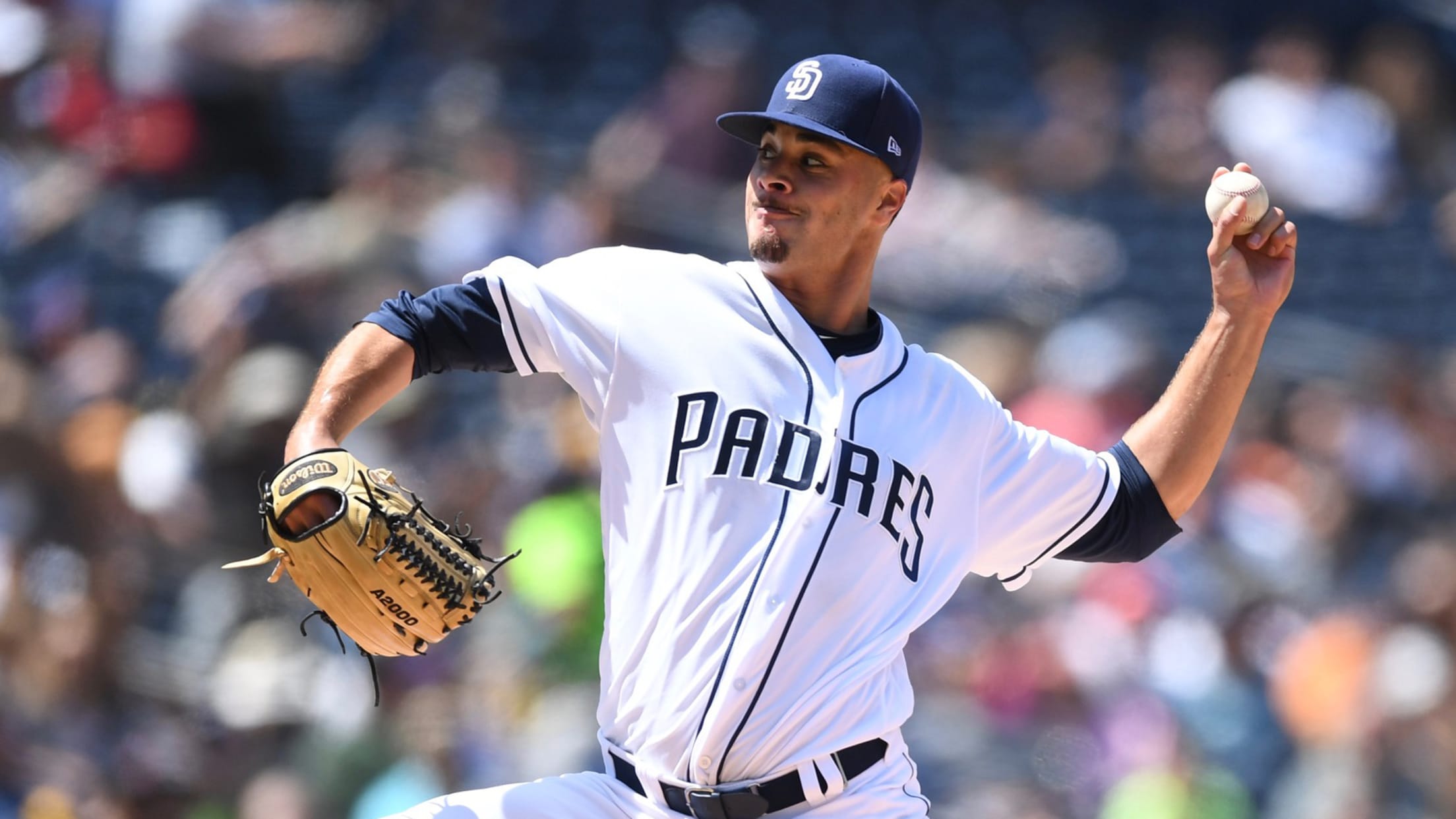 Bill Center, longtime sportswriter for U-T San Diego, is an employee of the Padres.Padres' rookie left-hander Joey Lucchesi pitched five scoreless innings against the Colorado Rockies at Petco Park. He gave up only one hit and three walks while striking out seven. If fact, the only hit was
Bill Center, longtime sportswriter for U-T San Diego, is an employee of the Padres.
Padres' rookie left-hander Joey Lucchesi pitched five scoreless innings against the Colorado Rockies at Petco Park.

He gave up only one hit and three walks while striking out seven. If fact, the only hit was a game-opening single by Charlie Blackmon. The three walks all came in the first two innings. Lucchesi retired the last 10 Rockies he faced.

Not only was it a notable second Major League start for Lucchesi, it was notable among all seven Padres starts this season.

Lucchesi was the first Padres' starting pitcher this season to work five scoreless innings. He was also the first starting pitcher to take a shutout into the fourth. Before Lucchesi, the Padres starters had given up 16 runs in the first three innings of the first six games.

Padres starting pitchers went into Lucchesi's start Thursday with a 6.25 earned run average. They had allowed 22 runs on 41 hits and 14 walks in 31 2/3 innings over the season's first six games.

NOTEBOOK:

--LHP Robbie Erlin allowed a hit with three strikeouts in two scoreless innings Wednesday night. Erlin, who is returning from "Tommy John" elbow reconstruction surgery in May of 2016, has allowed two runs on four hits and a walk with three strikeouts over 5 2/3 innings in two relief appearances. Padres manager Andy Green said Erlin could be in line for a more prominent role, including possibly a start - but added Erlin will not be allowed to approach 200 innings this season.

--OF Hunter Renfroe is 4-for-14 with three walks in his first 17 plate appearances this season. Green said he'll soon be getting some starts against right-handed pitching, possibly as soon as this weekend in Houston. Renfroe has a double and a triple for a .412 on-base percentage and a .500 slugging percentage.

--SS Freddy Galvis was 2-for-3 Thursday afternoon and has reached base in all seven of the Padres' games. He is 8-for-24 (.333) with a home run and five RBIs plus four walks for a .429 on-base percentage. He had the highest on-base percentage of his career last season at .309.

--Third base has become a strange early-season dilemma for the Padres. As Padres manager Andy Green said recently, he's looking for someone to take the job. Three players - Chase Headley, Cory Spangenberg and Christian Villanueva - have started games at third. Veteran Headley is 0-for-8 in his three games (two starts) at third with four strikeouts and a walk. Spangenberg has two homers and three RBI in five at-bats in his two games at third base. Christian Villanueva, who had the eighth, three-homer game in Padres history Tuesday night, is 3-for-13 in three starts at third with the three homers and five RBIs.

--Jose Pirela's two assists while in left field Tuesday night was not only a career high, it was the first two-assist game for a Padres' outfielder since Melvin Upton Jr. on Aug. 27, 2015, at Washington.