Margot's 5-for-10 set could mark end of slump
Notes on Lucchesi, Ellis, Hand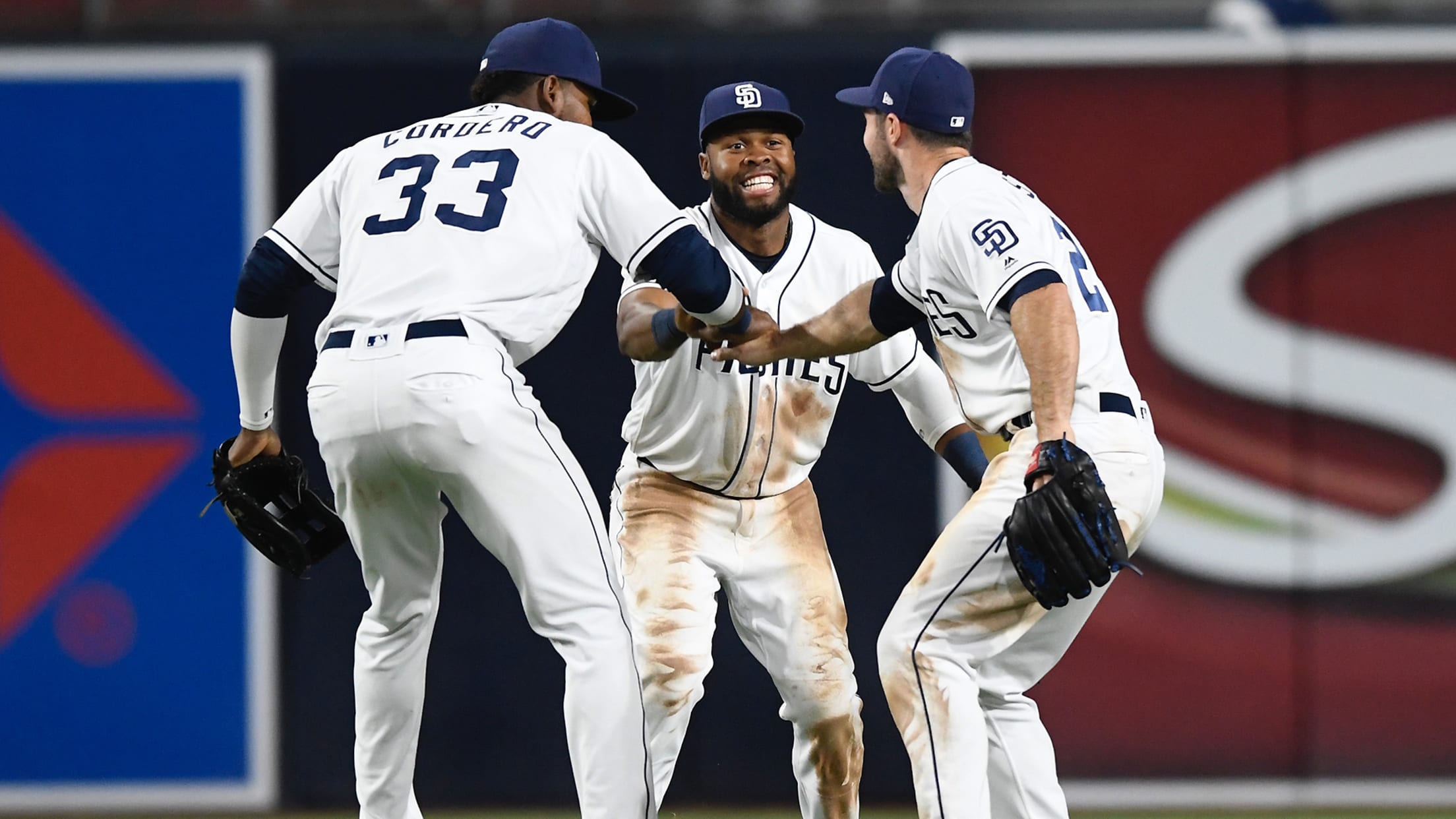 Bill Center, longtime sportswriter for U-T San Diego, is an employee of the Padres.Center fielder Manuel Margot was 3-for-5 Wednesday night with his fifth double and a stolen base and had a hand in both runs scored by the Padres in their 2-1 win over the Washington Nationals at Petco
Bill Center, longtime sportswriter for U-T San Diego, is an employee of the Padres.
Center fielder Manuel Margot was 3-for-5 Wednesday night with his fifth double and a stolen base and had a hand in both runs scored by the Padres in their 2-1 win over the Washington Nationals at Petco Park.
Margot doubled home A.J. Ellis to tie the game in the fourth then singled, stole second, moved to third on the catcher's throwing error and scored the game-winning run on Matthew Szczur's double in the seventh.
Margot was 5-for-10 in the three-game series against the Nationals to climb above the .200 mark for the first time since the second game of the season.
This is the second time this season that the 23-year-old sophomore appears to be breaking out of his season-long slump. Margot was on a three-game hitting streak April 10 when he was hit in the ribs by a pitch and forced to go on the disabled list for 10 games.
Since April 24, Margot has gone 13-for-47 (.277) with four doubles and two triples, although he drew only one walk. The spurt has raised his batting average from .135 to .202. His on-base percentage remains well below average at .252.
Margot hit .263 as a rookie last year with a .313 on-base percentage.
NOTEBOOK
• Joey Lucchesi became the first Major League pitcher to pick off two runners in a game Wednesday night. Lucchesi picked Howie Kendrick off first in the fourth and caught Wilmer Difo off first an inning later. Lucchesi lowered his ERA to 2.98, which is the lowest among the Padres' starters. Lucchesi is 2-0 (and the Padres are 3-2) in his five starts at Petco Park with a 2.39 ERA.
• Seven of the last eight outs recorded by closer Brad Hand have come via strikeouts. Hand has 10 saves in 12 conversion attempts and has lowered his ERA to 2.55 with four straight scoreless appearances. Despite the Padres' slow start, Hand is tied for third in saves in the National League. Hand has 29 strikeouts in 17 2/3 innings this season or 14.8 per nine innings.
• A.J. Ellis, 37, who entered the season as a .237 career hitter over 606 games, is 7-for-16 over his last five games with two doubles and two walks to raise his season batting average to .278. He has reached base in five straight games.
• Christian Villanueva is hitless in 28 straight at-bats dating back to May 1. The slump, which includes 10 strikeouts and only one walk, has lowered his batting average from .324 to .243.