Mariners Caravan gets underway
Players, broadcasters set for appearances across Washington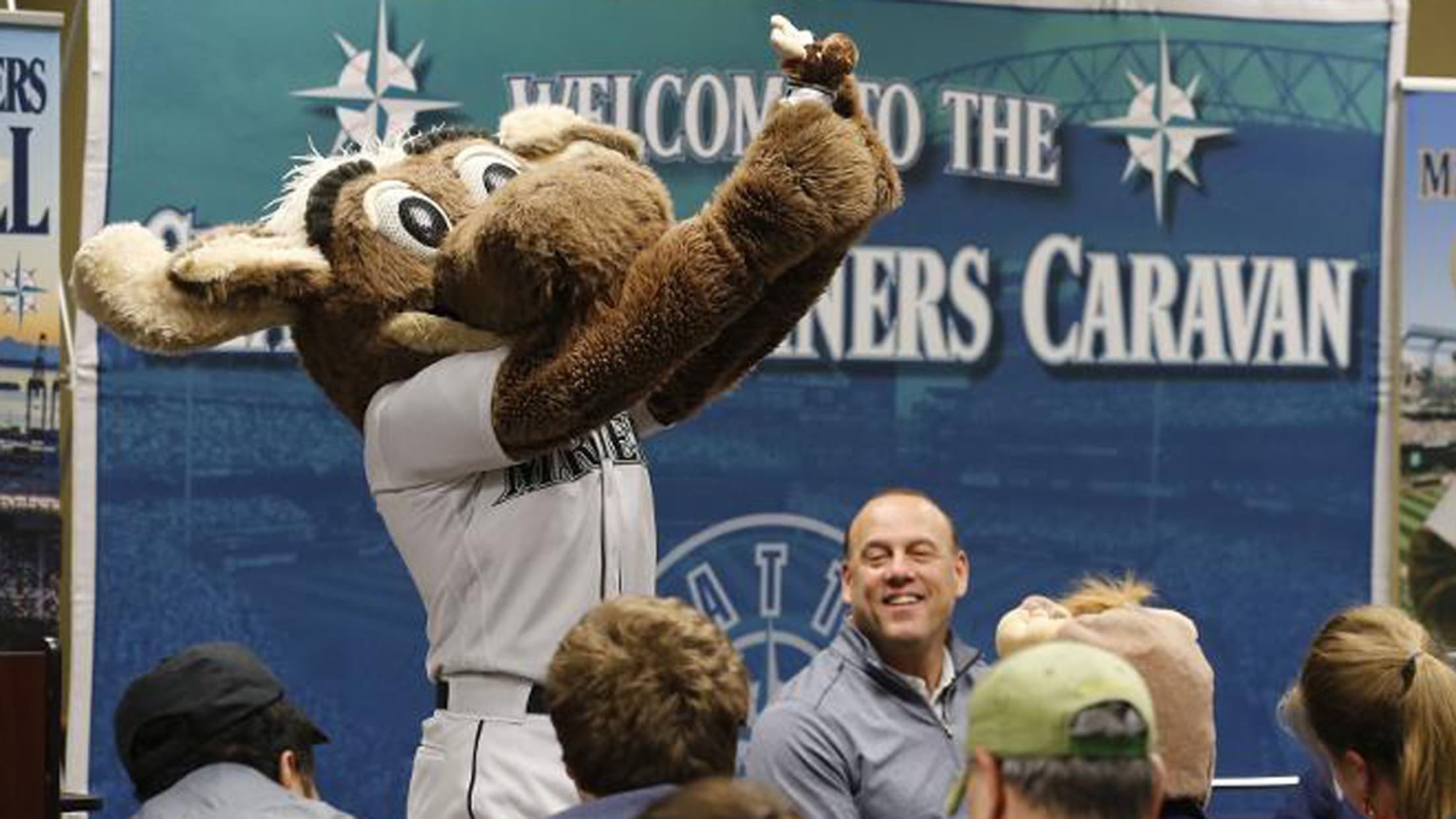 The Caravan concludes on Friday, Jan. 26 at the Bellevue Square Mariners Team Store. (Ben Van Houten/Mariners)
SEATTLE -- The Mariners are once again taking to the road for three weeks in January to meet fans and sign autographs on the annual Mariners Caravan across the state of Washington. Versatile utility man Taylor Motter, young starting candidate Marco Gonzales and catcher Mike Marjama helped kick off the
SEATTLE -- The Mariners are once again taking to the road for three weeks in January to meet fans and sign autographs on the annual Mariners Caravan across the state of Washington. Versatile utility man Taylor Motter, young starting candidate Marco Gonzales and catcher Mike Marjama helped kick off the tour on Monday in Yakima.
Seven players -- including top prospect Kyle Lewis and manager Scott Servais -- will join members of the Mariners' broadcast team and the Mariner Moose at various communities through Jan. 26 for public autograph and photo sessions, as well as non-public visits to elementary schools, hospitals and Boys & Girls Clubs.
The first public autograph session with Motter, Gonzales and Marjama joined by broadcaster Aaron Goldsmith is on Monday from 4:30-6 p.m. PT at the Yakima Valley SunDome. That group will also be at the Pybus Public Market in Wenatchee from 4-5:15 p.m. on Tuesday and Spokane's Warehouse Performance Center from 4:15-5:45 p.m. on Wednesday.
Gonzales, Marjama and broadcaster and former Mariners standout Mike Blowers conclude the first week of public sessions at Whitman College's main gym in Walla Walla on Thursday from 4:30-6 p.m., and Columbia Basin College's Gjerde Center in Pasco on Friday from 4:15-5:45 p.m.
There will also be private assemblies for students in Cle Elum and Wenatchee during the first week, as well as visits to Sacred Heart Medical Center in Spokane and Kadlec Medical Center in Richland.
Participants for the remaining two weeks are still being finalized, but reliever Dan Altavilla, starting pitcher Andrew Moore and broadcaster Dave Sims are confirmed for public autograph sessions on Tuesday, Jan. 16, at Saint Martin's University in Lacey, Wednesday, Jan. 17, at New Athlete in Vancouver, Wash., from 4:45-6:15 p.m., and at Lower Columbia College in Longview on Friday, Jan. 19, from 4:30-6 p.m.
Lewis, the club's first-round Draft pick in 2016, is tentatively slated to appear along with reliever James Pazos and broadcasters Rick Rizzs and Dave Valle at the Bellingham Boys & Girls Club from 4:45-6 p.m. on Wednesday, Jan. 24.
The Caravan concludes on Friday, Jan. 26, with Servais, Pazos and Rizzs currently scheduled to appear at the Bellevue Square Mariners Team Store from 5:15-6:15 p.m. School and hospital visits are also planned for Mt. Vernon, Kirkland and Vancouver, B.C., in the final week.