Inbox: Is new order on horizon for Mariners?
Beat reporter Greg Johns answers questions from fans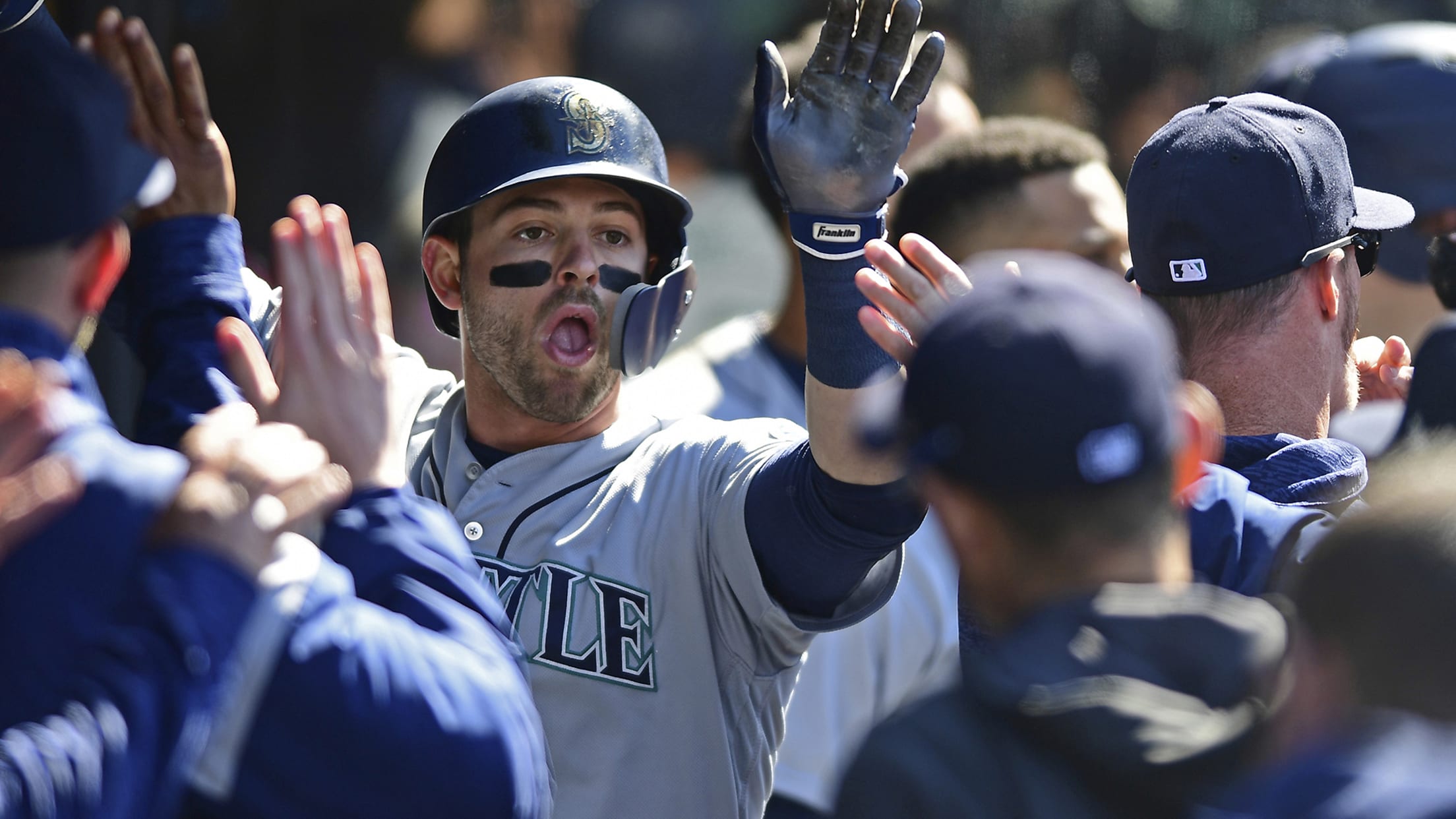 Seattle Mariners' Mitch Haniger is congratulated int he dugout after hitting a solo home run off Cleveland Indians relief pitcher Zach McAllister in the ninth inning of a baseball game, Sunday, April 29, 2018, in Cleveland. The Mariners won 10-4. (AP Photo/David Dermer) (David Dermer/AP)
As hot as Mitch Haniger has been, how long will manager Scott Servais insist on batting him sixth in the order? -- Nick O., Shoreline, Wash.The Mariners like to alternate left-right-left-right hitters at the top of the order to make it hard for opposing managers to match up relievers against
As hot as Mitch Haniger has been, how long will manager Scott Servais insist on batting him sixth in the order?
-- Nick O., Shoreline, Wash.
The Mariners like to alternate left-right-left-right hitters at the top of the order to make it hard for opposing managers to match up relievers against them in the late innings, and it's hard to argue with right-handers Jean Segura and Nelson Cruz batting in the Nos. 2 and 4 spots behind Dee Gordon and Robinson Cano.
Haniger could move up to No. 5 and drop Kyle Seager down a spot. But the current order seems to be working quite well, and Haniger is getting plenty of RBI opportunities. He filled in well in the cleanup spot while Cruz was sidelined, but he has hit .328 with seven homers and 13 RBIs in 61 at-bats hitting sixth. There's nothing wrong with having a deep lineup, and in fact, that appears to be Seattle's greatest strength in the first month.
:: Submit a question to the Mariners Inbox ::
When do you think we will see Guillermo Heredia back with the Mariners?
-- Jared C., Brier, Wash.
Unless Heredia is called up as an injury replacement, he has to wait 10 days before being recalled. That means he can't return until Wednesday at the earliest, and I suspect he'll be back with the team then or soon after. General manager Jerry Dipoto said when Heredia was optioned to Tacoma that it was a short-term move while some other things were worked out and the team was facing a string of right-handed starters.
Heredia got hit in the hand by a pitch in his second game with Tacoma, but he only missed one game and is back playing now. I'm not sure what his return will mean for Ichiro Suzuki's role with the team, but we should get some clarity there soon as well.
Do you think Daniel Vogelbach's name will be brought up as a trade chip around the non-waiver Trade Deadline? Dipoto brought in Ryon Healy to be the starting first basemen and Evan White is waiting in the wings (though a few years away) with his stellar defense. Vogelbach seems to be the odd man out and might have some value.
-- Ryan R., Moses Lake, Wash.
Anything is possible on the trade front, but Vogelbach does provide needed depth at both first base and designated hitter for the Mariners both now and going forward. Both Healy and Cruz have already spent time on the disabled list, and Cruz will be a free agent at the end of the season. Having capable depth is a big part of any team's success over the long haul.
Do the Mariners have any plan for Jayson Werth?
-- Corey H., Bothell, Wash.
The plan is simply to provide Werth a chance to play and get at-bats with Triple-A Tacoma, then see where that goes. After missing much of last season with a fractured foot and then not signing until the final days of Spring Training, the 38-year-old was willing to ink a Minor League deal. If Werth hits, he'll get another shot, whether with Seattle or elsewhere. So far, he's batting .200 (3-for-15) with a double and five strikeouts in five games, so it's going to take time.
What's Roenis Elias' status? And when could he possibly be called up, whether it be in the bullpen or a starting role?
-- Ethan C., Vancouver, B.C.
Elias was acquired from the Red Sox with the idea of converting him back to a starter, but that will take some time as he'd been used in a relief role all spring by Boston after missing much of last year with a strained oblique. So far, he's pitched two innings of relief at Tacoma, and the plan is to continue stretching him out.
Elias provides additional depth for the Mariners' rotation, but he's far from a slam dunk to be the first pitcher called up as he started just one game for the Red Sox in two seasons after being traded by Seattle in the Wade Miley deal in 2016. Elias joins Ariel Miranda, Rob Whalen, Christian Bergman and Casey Lawrence as potential callups should the Mariners need help at this point.
When will Dipoto get credit for the steal he orchestrated in obtaining Jean Segura and Haniger in return for Taijuan Walker?
-- Chris H., Alki, Wash.
That trade certainly is working out well for Seattle, and Dipoto gets full credit for pushing to include the lesser-known Haniger in that deal at the time. When you make as many trades as Dipoto did over his first two years, there'll be some good and some bad, and many that take time to see where they fall. That one certainly is lining up in the very good category at this point.
To date, the Mariners have scored 57 of their total 126 runs this season with two outs (45.2 percent). What do those numbers suggest to you about this offense and what to expect as we go down the road?
-- Josef O., Seattle, Wash.
Much like hitting with runners in scoring position, two-out production usually reflects how a team does in all hitting situations. Really good offensive teams shine in those situations, and it helps to have veterans who don't press harder to produce with runners on or two out.
Remember the "Two out, so what?" Mariners of 2001? That club was stacked with good veteran hitters and led the league in nearly every offensive category. But that squad didn't just magically hit with RISP or two outs. It hit all the time. Keep getting guys on base, and you'll provide more two-out opportunities to cash in on.