Tuesday's best: O'Neill shows off power for Tacoma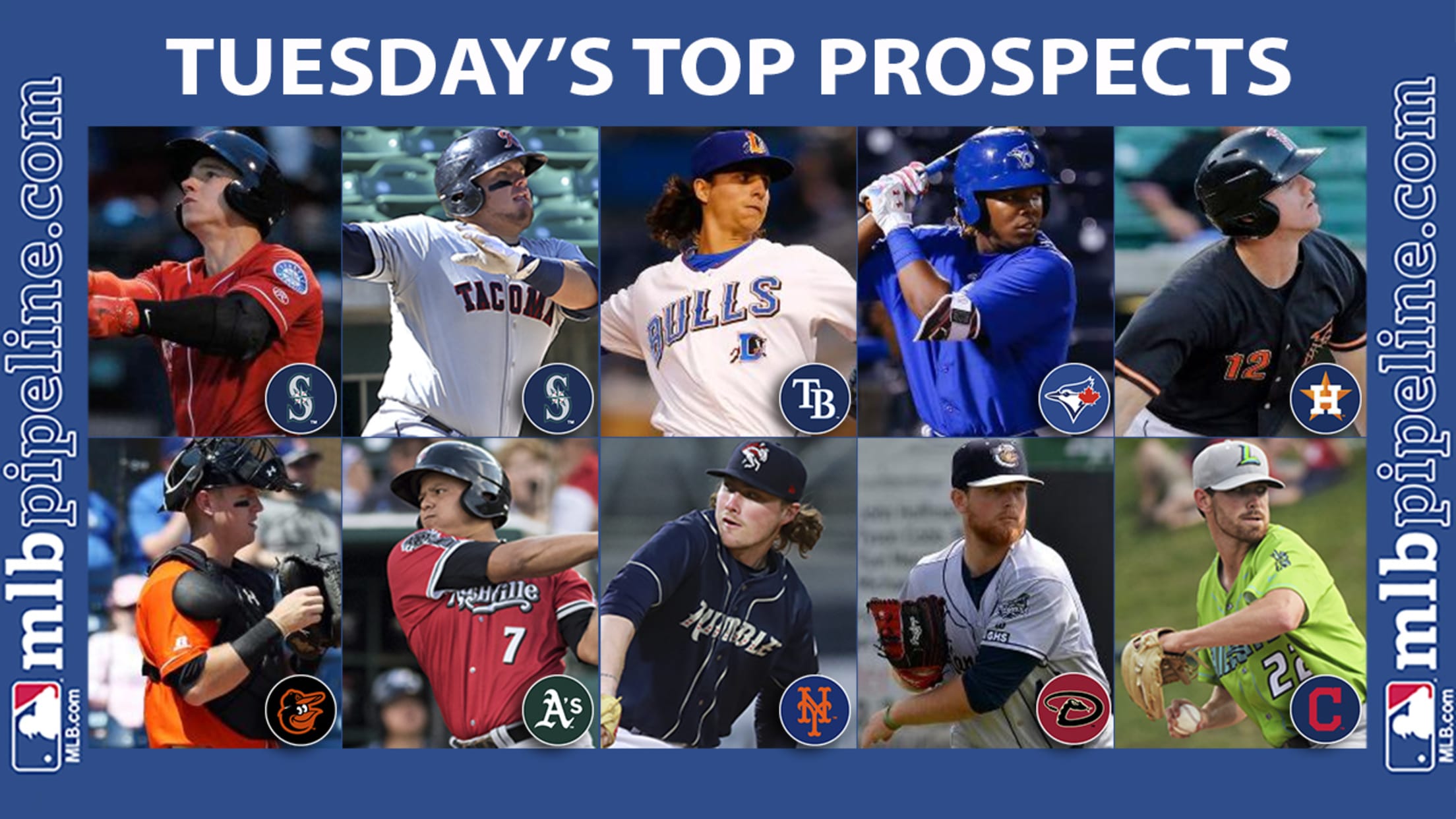 Tyler O'Neill has plenty of power and he showed it off with home runs in each game of Triple-A Tacoma's doubleheader split against Albuquerque.O'Neill, the No. 29 overall prospect (Mariners No. 2) is heating up lately, having homered in three straight games and boasting a .327 average through 14 games
Tyler O'Neill has plenty of power and he showed it off with home runs in each game of Triple-A Tacoma's doubleheader split against Albuquerque.
O'Neill, the No. 29 overall prospect (Mariners No. 2) is heating up lately, having homered in three straight games and boasting a .327 average through 14 games this month.
MILB Video - Title: O'Neill homers to left - Url: http://www.milb.com/r/video?content_id=1621455883
The 22-year-old hit a two-run homer and finished 1-for-3 in the Rainiers' 5-3 loss in the first game of the twin bill. Then in the nightcap, O'Neill hit his 17th homer of the season, a solo shot, as part of a 3-for-5 effort.
MILB Video - Title: O'Neill homers in third straight game - Url: http://www.milb.com/r/video?content_id=1622619783
While O'Neill's homers stole the show, he wasn't the only Mariners prospect to have a good day offensively. Daniel Vogelbach, the organization's No. 8 prospect, also put together a pair of good games, combining to go 4-for-7 with a double and an RBI.
Other top prospect performances from Tuesday's action:
• No. 22 overall prospect Brent Honeywell (Rays' No. 2) was lights-out in his first start of the second half for Triple-A Durham. Honeywell, who last pitched in the Futures Game and won MVP honors, struck out five across five scoreless frames. The right-hander had a rough June, but hasn't allowed a run in either of his July starts (10 innings).
• No. 26 overall prospect Vladimir Guerrero Jr. (Blue Jays No. 1) boosted his average to .348 through six games with Class A Advanced Dunedin. Guerrero went 3-for-4 at the plate, marking his third multihit effort since the promotion. The 18-year-old hit .316 through 71 games with Class A Lansing prior to being bumped up.
• No. 70 overall prospect Derek Fisher (Astros' No. 4) boosted his average to .309 as he put together his first four-hit game of the season for Triple-A Fresno. Fisher, who finished 4-for-6 with two RBIs, helped Fresno get off to a fast start with an RBI double in the first and later added to his big day with a solo homer, his 21st, in the fifth.
MILB Video - Title: Watch: Fisher launches homer - Url: http://www.milb.com/r/video?content_id=1623235583
• No. 84 overall prospect Chance Sisco (Orioles' No. 1) set a season high with three doubles and tied his season high with four RBIs in Triple-A Norfolk's win over Scranton-Wilkes/Barre. Sisco, hitting .287 this season, grounded out in his first at-bat, but was on fire from that point forward as he doubled in the fourth, fifth and sixth innings.
MILB Video - Title: Watch: Sisco doubles in a pair - Url: http://www.milb.com/r/video?content_id=1623248983
• Athletics No. 10 prospect Yairo Munoz hit his ninth homer of the season and second in four games with Triple-A Nashville. Munoz, 22, had a big day at the plate, going 3-for-5, but it wasn't enough as the Sounds fell to Iowa, 16-7. Munoz is hitting .270 through 22 games at the Triple-A level after hitting .316 through 47 games with Double-A Midland.
• Blue Jays No. 29 prospect Jonathan Davis collected two hits for the third straight game with Double-A New Hampshire. Davis was a perfect 2-for-2 with two RBIs -- both coming via his seventh-inning homer -- at the plate and reached base four times as he also drew a pair of walks.
MILB Video - Title: Davis stays hot with a homer - Url: http://www.milb.com/r/video?content_id=1622948683
• D-backs No. 17 prospect Cody Reed appears to be back on track after another solid outing with Class A Advanced Visalia. Reed gave up just one unearned run across six innings and has now given up just one earned run over his past two starts. This comes after a rough patch where he gave up 10 runs in two starts at the beginning of July.
• Indians No. 14 prospect Shane Bieber won his sixth straight decision and improved to 6-1 with Class A Advanced Lynchburg. Bieber, who has pitched to a 3.10 ERA through 14 starts, threw 63 of his 82 pitches for strikes and struck out five across six scoreless innings.
• Mets No. 20 prospect P.J. Conlon spun his third shutout of the season as Double-A Binghamton topped Akron, 13-0. Conlon threw 71 of his 106 pitches for strikes and gave up just three hits, while notching eight strikeouts in seven innings.
MILB Video - Title: Conlon completes the shutout - Url: http://www.milb.com/r/video?content_id=1621722383
"I was more aggressive with the fastball because of my arm feeling the way it did," Conlon told MiLB.com. "Early on, I noticed I was spotting it well and that gave me confidence in the middle of the game, the second time through, that I could keep throwing it as long as I commanded it like I was early. That was huge for me."
• Rays No. 30 prospect Ryan Boldt had a big day, collecting hits in both parts of Class A Advanced Charlotte's doubleheader. Boldt went 3-for-4 with a double in the first game, then added another double as part of a 1-for-3 performance in the second game. The 22-year-old also stole his 13th base of the season.
• Red Sox No. 5 prospect Roniel Raudes put together another strong outing for Class A Advanced Salem as he struck out four across six scoreless innings. The 19-year-old hasn't given up a run in either of his past two starts, a span of 11 innings, and has lowered his ERA from 4.76 to 4.15 in the process.
MILB Video - Title: Watch: Raudes goes six scoreless - Url: http://www.milb.com/r/video?content_id=1623241783
• Royals No. 7 prospect Ryan O'Hearn broke out of a 2-for-15 skid with a near perfect day for Triple-A Omaha. O'Hearn got off to a fast start with a single in the second and a double in the third before blasting a two-run homer in the fifth. The 23-year-old finished 3-for-4 with two RBIs.
MILB Video - Title: O'Hearn goes deep - Url: http://www.milb.com/r/video?content_id=1622234983
• White Sox No. 13 prospect Alec Hansen flirted with a no-hitter in what was his best start for Class A Advanced Winston-Salem. Hansen, who has made five starts with the Dash after being promoted from Kannapolis, threw 5 2/3 no-hit innings in the seven-inning contest. Hansen was lifted after the single, having given up one hit, two walks and recording eight strikeouts.
"I'm feeling pretty good about my outing, I would have liked to get out of the sixth inning, but other than that, I'm a happy person," Hansen told MiLB.com. "It wasn't like I was in cruise control the whole time, I was fighting myself with command a few times -- I had two walks. For the most part, I felt pretty in control of my fastball, they weren't getting too many good swings on it. I was throwing a pretty good changeup as well."