Paxton hopeful fingernail won't be an issue
Mariners lefty tabbed to start Sunday in Oakland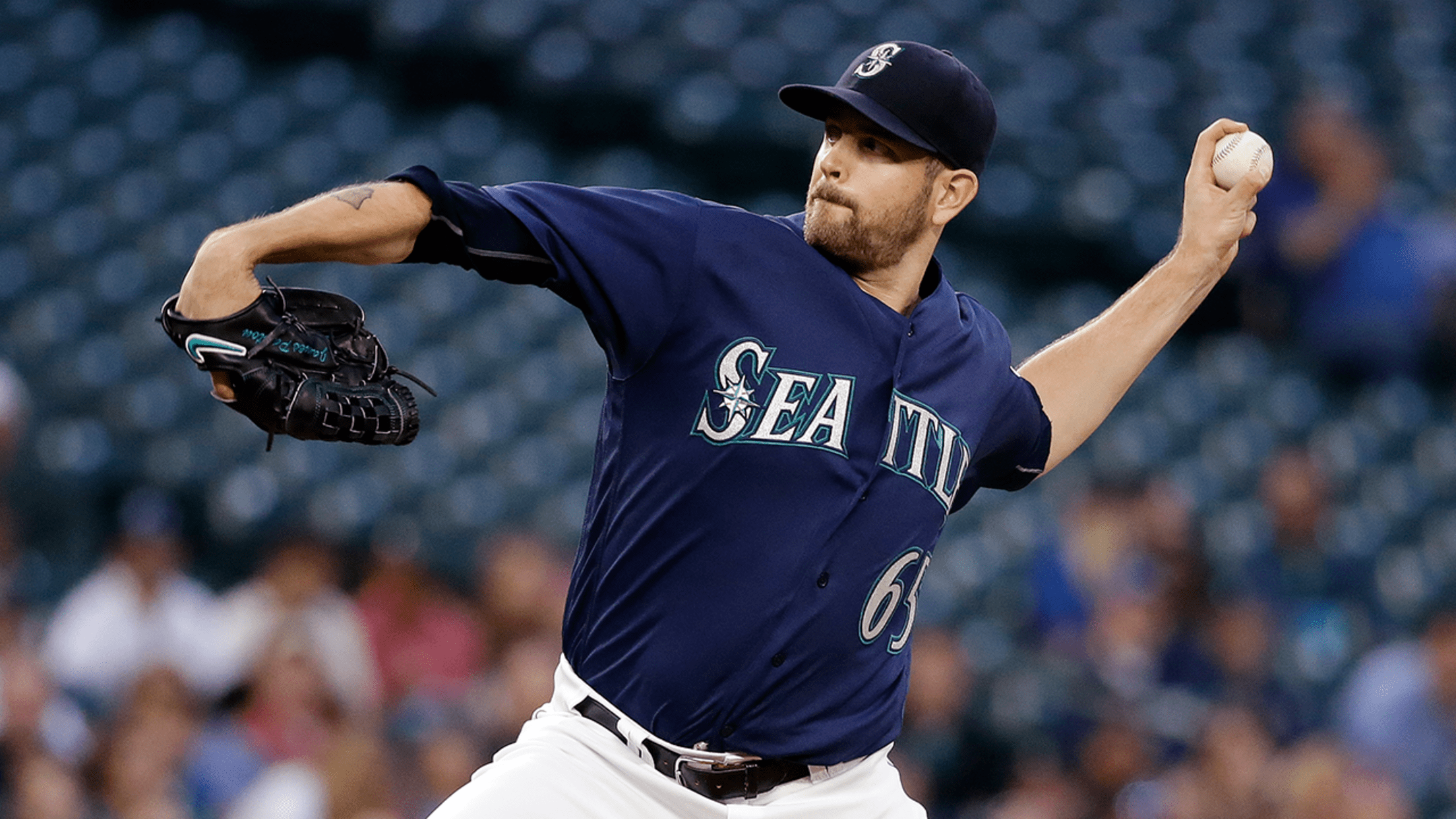 James Paxton tore his left middle fingernail on Aug. 30 and has been limited by the injury. (AP)
OAKLAND -- With Tom Wilhelmsen expected to return from the 15-day disabled list Saturday, Mariners manager Scott Servais appears to have a fully stocked bullpen in case a starting pitching performance goes awry.It is encouraging news for Servais, who admitted that the club still has concerns about the issue involving
OAKLAND -- With Tom Wilhelmsen expected to return from the 15-day disabled list Saturday, Mariners manager Scott Servais appears to have a fully stocked bullpen in case a starting pitching performance goes awry.
It is encouraging news for Servais, who admitted that the club still has concerns about the issue involving James Paxton's fingernail.
"I think we have enough bodies here that if [Paxton] does have a hiccup early in the game we can get through the game," Servais said before Seattle's series opener with the A's on Friday night.
Paxton tore the middle fingernail in his throwing hand on Aug. 30 and has been limited by the injury since. The left-hander's pitch selection has been limited to just fastball, curveball and changeup because throwing cutters puts too much pressure on his finger.
Paxton used a fake fingernail in his last start against the Rangers on Tuesday. But the outing proved to be a short one, and Paxton was pulled after allowing six runs (four earned) in 4 1/ 3 innings. Servais is now just hoping Paxton can overcome the issue in his next start in Oakland Sunday and give the club six to seven innings.
It is a task Paxton certainly thinks like he can handle.
"It's been getting better every day," Paxton said when talking about the fingernail. "We've got a new approach with how we're keeping it on. It feels really good. Each day it just gets a little less tender. So by Sunday it'll be game ready."
Paxton ditched the fake fingernail and put tape and glue over the nail while throwing from a flat surface Friday.
"We tried the fake nail and it kept coming off," said Paxton. "So we're going to try the tape and glue and it's staying on really well. This is a new experience for me, but it feels fine, doesn't affect me letting go of the ball."
The Mariners have limited the amount of pitches Paxton throws in between starts. But the four-year veteran, who is 4-6 with a 4.03 ERA, doesn't expect his altered preparation to have any negative effects on his upcoming start.
"I'm just going to go out there and pitch until he takes the ball away and as long as it doesn't start bleeding or something falls off, then I should be good to go," Paxton said.
Worth noting
• Servais said Friday that catcher Steve Clevenger will not rejoin the club before the season concludes. Clevenger, who has been on the disabled list due to a fractured right hand since June 30, ran into problems involving his elbow while on a rehab assignment.
"He's had issues with his throwing elbow," said Servais. "He's getting treatment in Seattle. Trying to get it cleaned up before the offseason."
Justin Wise is a reporter for MLB.com based in the Bay Area