Giant relief: Melancon off to spotless start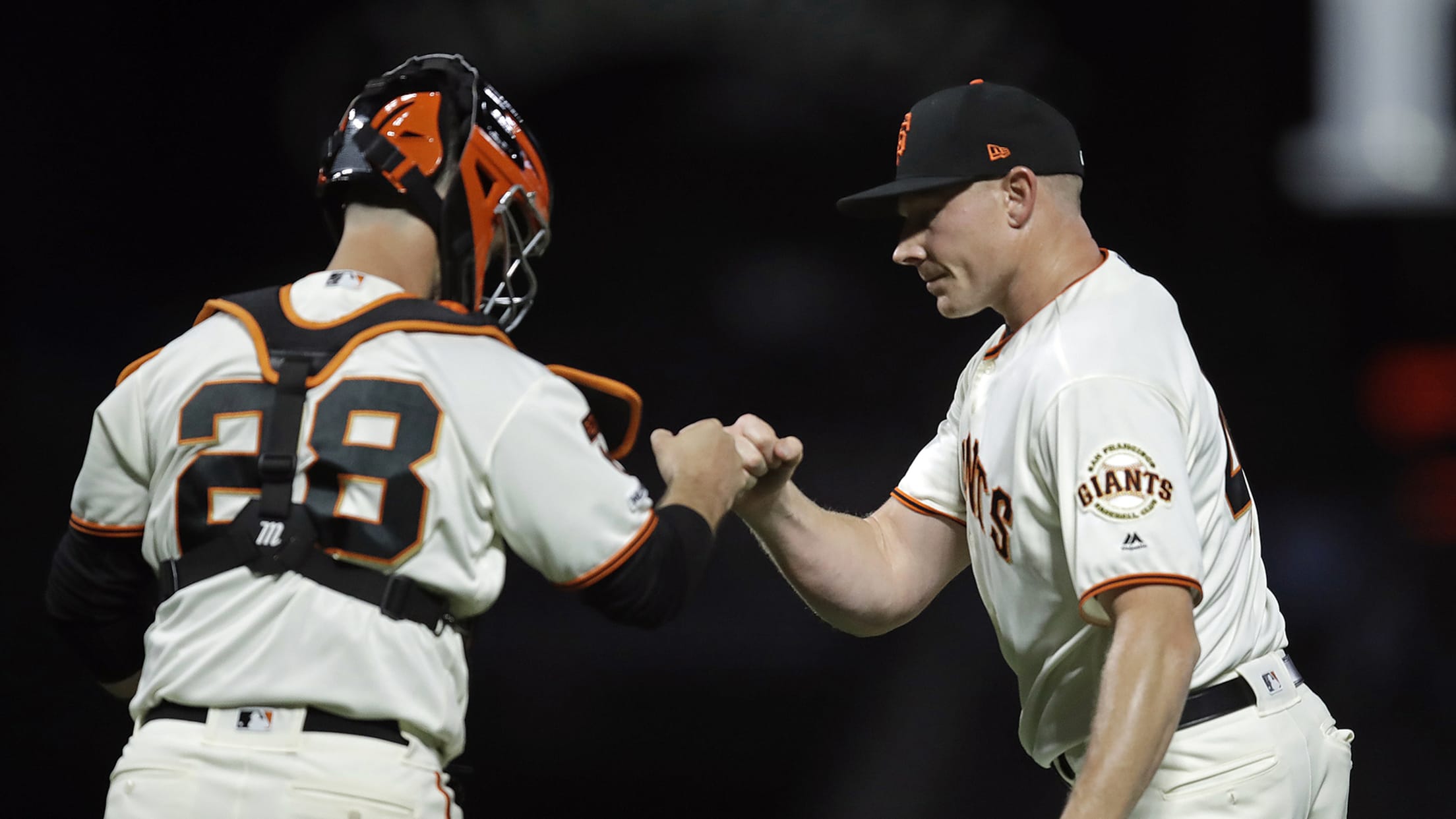 PITTSBURGH -- The Giants' bullpen boasts the lowest ERA in baseball, and no member of that group has enjoyed a stronger start to the season than Mark Melancon. Melancon entered Friday with a spotless 0.00 ERA after tossing 10 shutout innings in his first nine appearances for the Giants. That
PITTSBURGH -- The Giants' bullpen boasts the lowest ERA in baseball, and no member of that group has enjoyed a stronger start to the season than Mark Melancon.
Melancon entered Friday with a spotless 0.00 ERA after tossing 10 shutout innings in his first nine appearances for the Giants. That run of success has allowed Melancon to regain the trust of manager Bruce Bochy, who said Friday that he plans to give the 34-year-old veteran opportunities to close again soon.
"He's going to save some games for us," Bochy said ahead of the Giants' series opener against the Pirates. "We'll have him in that role sometimes. It would be great if that could work out because it could free up Will Smith. There's obviously a little concern about [Melancon's] health, what he had to go through last year. But we'll see. Right now, we're going to keep things as they are, but it's nice to have that option if you want to move a couple guys around."
Smith has converted each of his four save opportunities this season while posting a 1.35 ERA, and Bochy intends to keep him as the Giants' primary closer. But saving Melancon for the ninth inning would give Bochy the flexibility to deploy Smith in high-leverage situations earlier in games.
It seemed fitting that Bochy revealed his plans for Melancon at PNC Park, where the right-hander blossomed into one of the elite closers in baseball, posting a 1.80 ERA and racking up 130 saves over four seasons with the Pirates.
The Giants signed Melancon to a four-year, $62 million deal following the 2016 season in an attempt to install a lockdown arm at the back-end of their bullpen, but injuries and ineffectiveness marred his first two years with the club. He's saved only 14 games for the Giants to date and missed 56 games last year with a flexor strain in his right elbow.
Melancon had a chance to compete for the closer job this spring, but he endured a tough showing in Cactus League play and finished with a 9.45 ERA in seven appearances. The regular season has proved to be a completely different story. Melancon flashed his newfound form on Thursday when he was summoned to pitch against the Nationals in the eighth inning with runners on the corners and no outs. He subsequently retired the next three batters on a pair of strikeouts and a groundout, leaving the runners stranded.
"He's been great," Bochy said. "Really, what a super job he did yesterday, too. We brought him in a tough predicament there and he just pitched lights-out. So it's nice to have Mark back healthy, throwing the ball the way we know he can. He feels good. And he's gone two innings, so he's made himself even more versatile, which is invaluable for us."
Maria Guardado covers the Giants for MLB.com. She previously covered the Angels from 2017-18. Follow her on Twitter.