Teixeira, Ackley lift Yankees past Tigers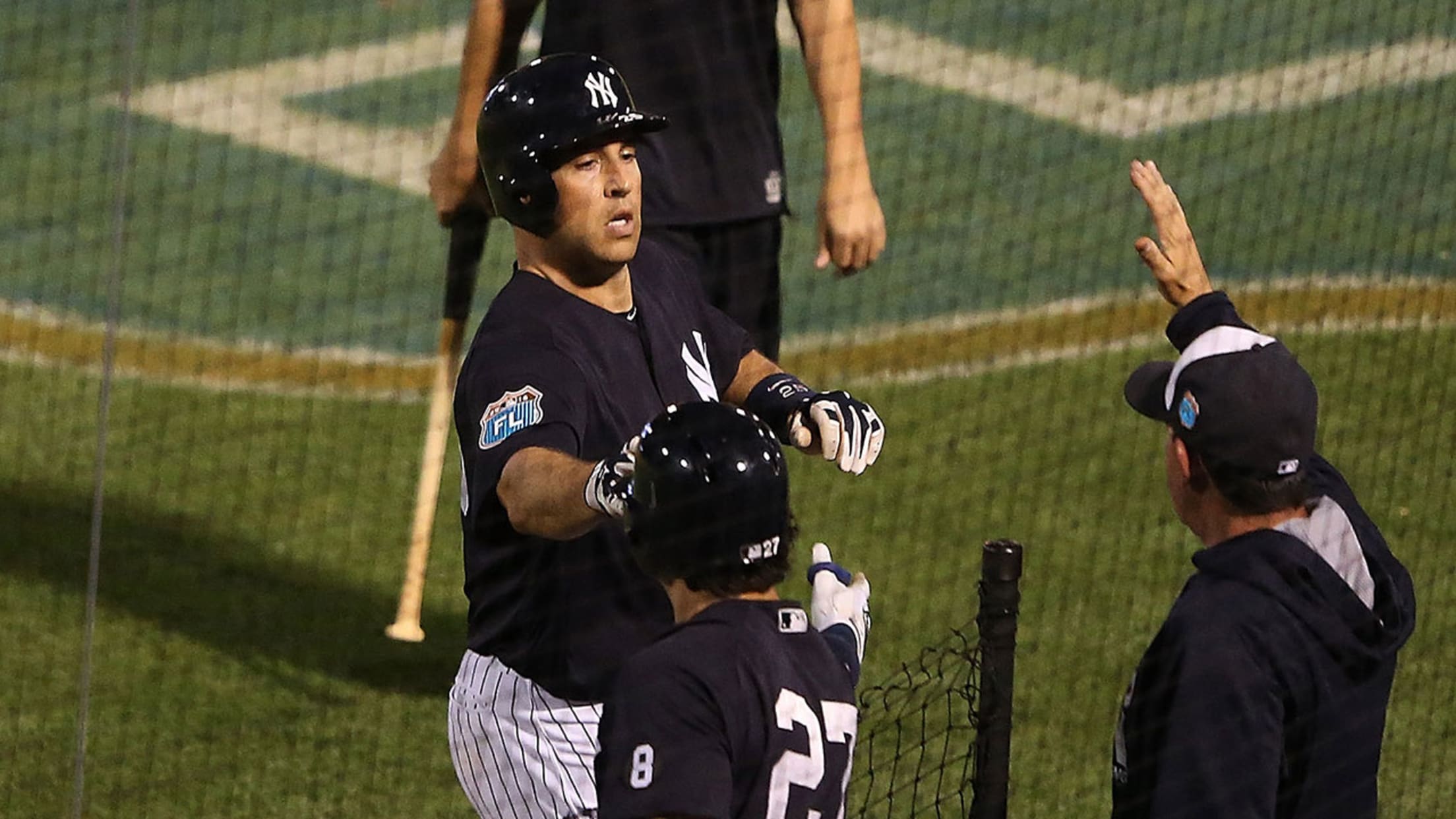 Mark Teixeira drilled a solo shot in the seventh inning Monday night, his first homer of 2016 Grapefruit League play. (Getty Images)
TAMPA, Fla. -- Mark Teixeira hit his first home run of the spring and Dustin Ackley delivered a key two-run double, lifting the Yankees to a 3-2 Grapefruit League victory over the Tigers on Monday night at George M. Steinbrenner Field.Teixeira recently identified a flaw in his timing that was
TAMPA, Fla. -- Mark Teixeira hit his first home run of the spring and Dustin Ackley delivered a key two-run double, lifting the Yankees to a 3-2 Grapefruit League victory over the Tigers on Monday night at George M. Steinbrenner Field.
Teixeira recently identified a flaw in his timing that was prompting him to hit the ball on the ground, and his corrections produced a seventh-inning homer off Logan Kensing. Ackley's go-ahead hit came in the eighth inning off Adam Ravenelle.
"He always has a plan of how to get ready in Spring Training, and I respect that plan and how he goes about it," Yankees manager Joe Girardi said of Teixeira. "We're seeing better [results]. I think he's getting close to getting ready."
Ian Kinsler and Justin Upton hit back-to-back home runs off right-hander Nick Goody in the sixth inning.
Luis Cessa, who was dealt to the Yankees by Detroit back in December, was impressive in his first start of the spring.
Cessa hurled three scoreless innings around a single and is considered to be in the mix for an Opening Day roster spot. He walked one and struck out four, throwing 33 of 56 pitches for strikes.
"We have a lot of good arms here," Cessa said. "There's not many openings in the bullpen, so the competition is very tough. But at the same time, it's good for the team. At the end, I think the manager and whoever else will make a good decision."
Detroit's Buck Farmer worked three scoreless innings in his second start (sixth appearance) of the spring. The right-hander permitted a pair of hits with a walk and a strikeout. Left-hander Kyle Ryan followed Farmer on the mound with two shutout innings, allowing only one hit.
"Really, everyone pitched pretty well," Tigers manager Brad Ausmus said. "I thought Ryan and Farmer were both sharp. I thought Kensing was good, despite the homer."
Up next for the Tigers: Left-hander Matt Boyd will take the mound against Toronto at Joker Marchant Stadium in Lakeland at 1:05 p.m. ET Tuesday (listen live on Gameday Audio). He's 2-0 in five Grapefruit League starts, allowing nine runs (eight earned), 19 hits and five walks with 16 strikeouts.
Up next for the Yankees: The Yankees will play split-squad games on Tuesday, each of which comes with important implications. Left-hander CC Sabathia will take his final crack at the club's fifth starter vacancy, facing Steven Brault and the Pirates in Tampa at 1:05 p.m. ET. Sabathia has been competing all spring with Ivan Nova.
Over in Clearwater, right-hander Masahiro Tanaka will try to respond after having been challenged by manager Joe Girardi to "dial it up" in his final spring start, taking on the Phillies in a 1:05 p.m. ET contest. Tanaka owns a 7.36 spring ERA and is trying to prove that he is ready for the Opening Day assignment. Adam Morgan starts for Philadelphia. Watch both split-squad games live on MLB.TV.