Rain has repercussions for Marlins' rotation
Miami could start Conley on Monday to give Chen extra rest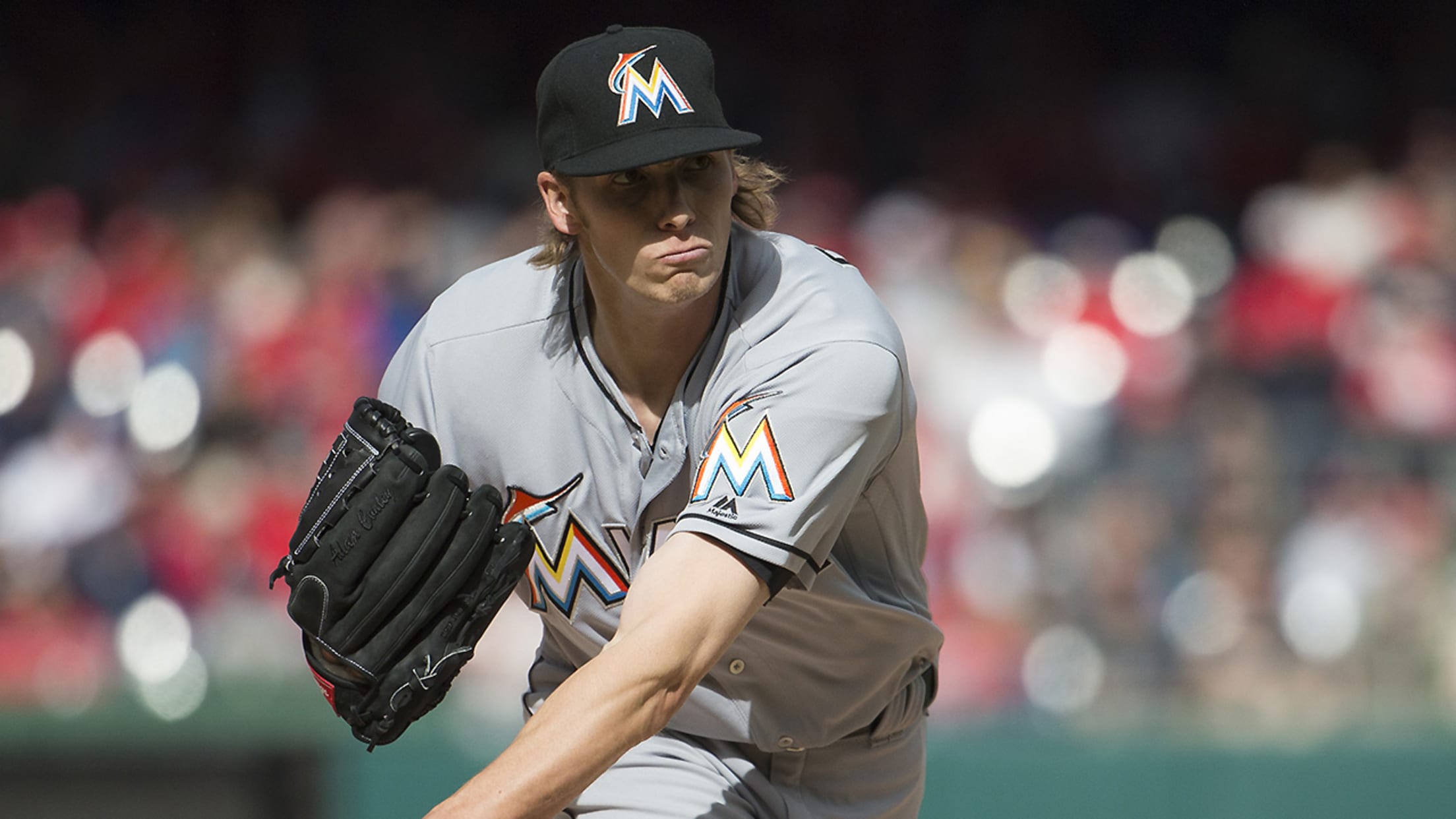 Adam Conley started against the Nationals in Thursday's 6-4 win, but he went only one inning due to a rain delay. (AP) (Evan Vucci/AP)
WASHINGTON -- The rain delay in Thursday's 6-4 win over the Nationals may factor into how the Marlins' rotation shapes up in New York next week.Due to an 85-minute stoppage at Nationals Park, Adam Conley pitched just one inning, so he could be available either in relief at Washington on
WASHINGTON -- The rain delay in Thursday's 6-4 win over the Nationals may factor into how the Marlins' rotation shapes up in New York next week.
Due to an 85-minute stoppage at Nationals Park, Adam Conley pitched just one inning, so he could be available either in relief at Washington on Sunday or perhaps to start on Monday in the series opener with the Mets at Citi Field.
Right now, Wei-Yin Chen is scheduled to start the first game in New York. However, Chen is still nursing the sore left elbow he suffered when he was struck by a line drive on Opening Day.
"If Wei-Yin wouldn't be good for some reason, then we would switch it," manager Don Mattingly said.
One possibility could be starting Conley on Monday, and pushing Chen to Wednesday, with Jose Fernandez going on Tuesday.
If Chen is ready Monday, then Conley could see action in the middle of Sunday's series finale with Washington, and then make his scheduled start on Wednesday.
"Other than that, we would probably be willing to use Adam in the middle there for maybe an inning or 30 pitches to get him back in competition, and then have him for a start and keep him on turn," Mattingly said.
Worth noting
• Conley's line on Thursday wasn't what he wanted -- three runs allowed on a triple to Daniel Murphy, with two walks and two strikeouts. The lefty threw 31 pitches before being removed because of the rain. Had the delay been an hour or less, he would have continued.
"The frustrating thing is I felt I wasn't far away from being very good," Conley said. "It was all just small stuff. Falling behind guys, and obviously the pitch to Murphy hurt. I know the line is not good. I'm not really too concerned about that. It's the first inning of a long season."
• A couple of scheduled days off means the entire rotation is going every sixth day, at least for another week. Barring a change, Chen and Fernandez, for example, would be getting an extra day until the next road trip, which starts at San Francisco on April 22. Then, all five starters would fall into an every-fifth-day routine, with Chen and Fernandez pitching the first two games at AT&T Park.
"I haven't had one pitcher complain about getting an extra day, ever," Mattingly said. "They start complaining if they get two or three extra days. Nobody ever complains about getting that extra day. I think it's good for them over the course of the year."