Locke better, still not at full strength
Left-hander, dealing with biceps tendinitis, makes 15-20 light tosses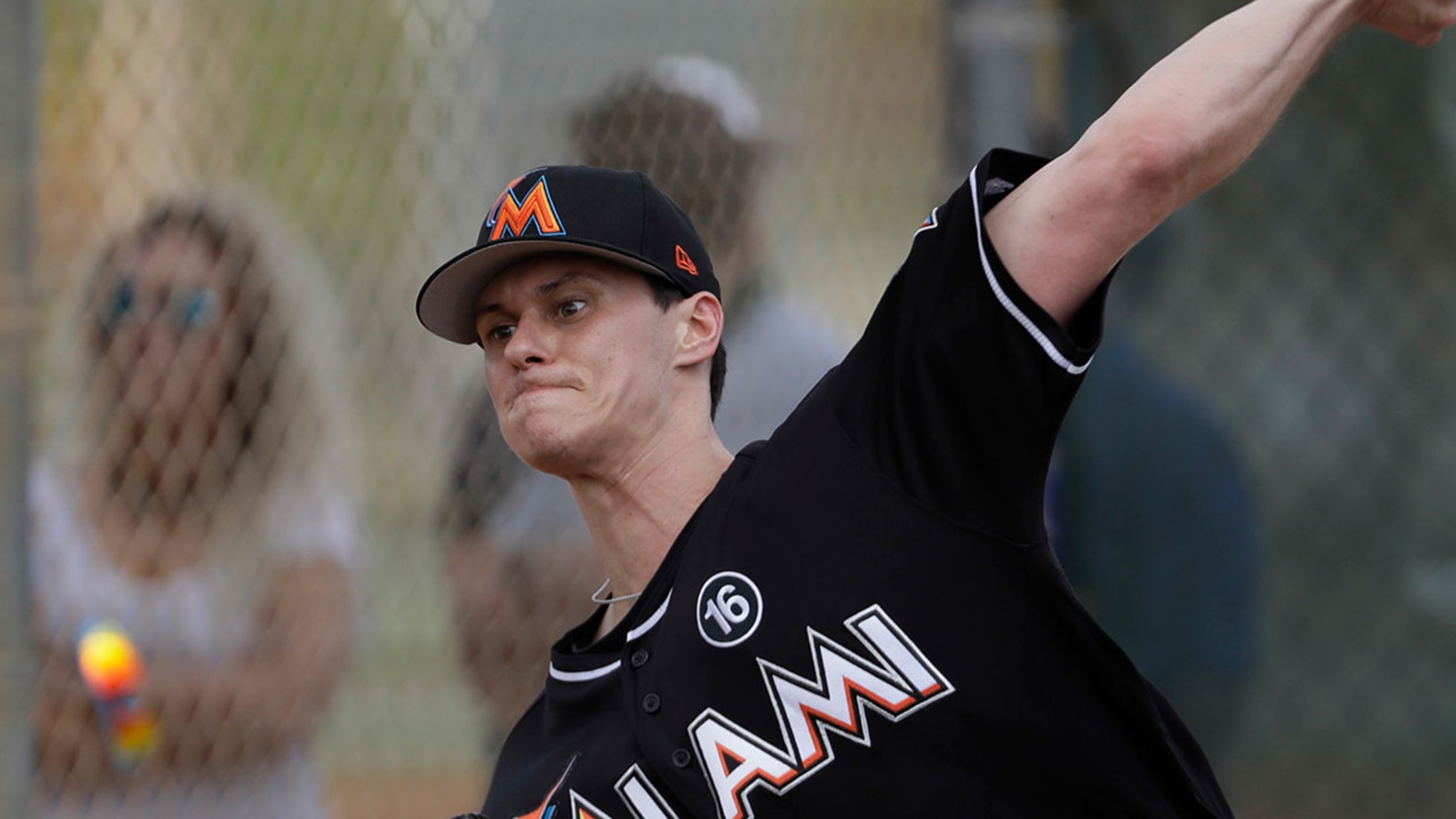 Jeff Locke, who is battling for a spot in either the rotation or bullpen, doesn't know when he will return to the mound. (AP)
JUPITER, Fla. -- Jeff Locke on Thursday played catch for the first time since the weekend, but the Marlins' left-hander isn't sure when he will be back on the mound.Dealing with left biceps tendinitis, Locke made 15-20 light tosses from 60 feet, but noted he isn't yet at full strength."It's
JUPITER, Fla. -- Jeff Locke on Thursday played catch for the first time since the weekend, but the Marlins' left-hander isn't sure when he will be back on the mound.
Dealing with left biceps tendinitis, Locke made 15-20 light tosses from 60 feet, but noted he isn't yet at full strength.
"It's a lot better," Locke said, "but we're not going to say, 'Live BP tomorrow.' We're going to take the next step, whatever that is."
The discomfort Locke is feeling is more towards the shoulder than the elbow. The club doesn't believe the ailment is serious.
"It doesn't feel bad," Locke said. "It just isn't 100 percent yet, that's for sure."
A free-agent signing in December, Locke is in the mix for either a rotation or bullpen spot.
"There's still some irritation in there," Locke said.
Worth noting
• Ichiro Suzuki's status remains the same. The 43-year-old outfielder is being kept out of workouts due to a sore right quadriceps muscle and sore back.
Ichiro was shaken up on Tuesday after colliding with Brandon Barnes during outfield drills.
"He's good," manager Don Mattingly said. "We're going to be careful with him, making sure he's getting back to full-go before he gets back out here. Just take our time with him."
Ichiro is receiving treatment and doing mild exercises. The team anticipates it will be a few more days before he resumes baseball activities.
• The Marlins on Thursday had representation at the Honda Classic golf tournament.
Once again, several players and team officials met with military veterans in a designated area at the 17th green.
Christian Yelich, Tom Koehler, Dee Gordon, J.T. Realmuto, Justin Bour, Justin Nicolino, Nick Wittgren, Kyle Barraclough and former Marlins manager Jack McKeon, now a special assistant, attended the first round of the tournament in Palm Beach County.