Dunn pitches in at Pitch, Hit & Run event
Local youth competing for trip to All-Star Game in San Diego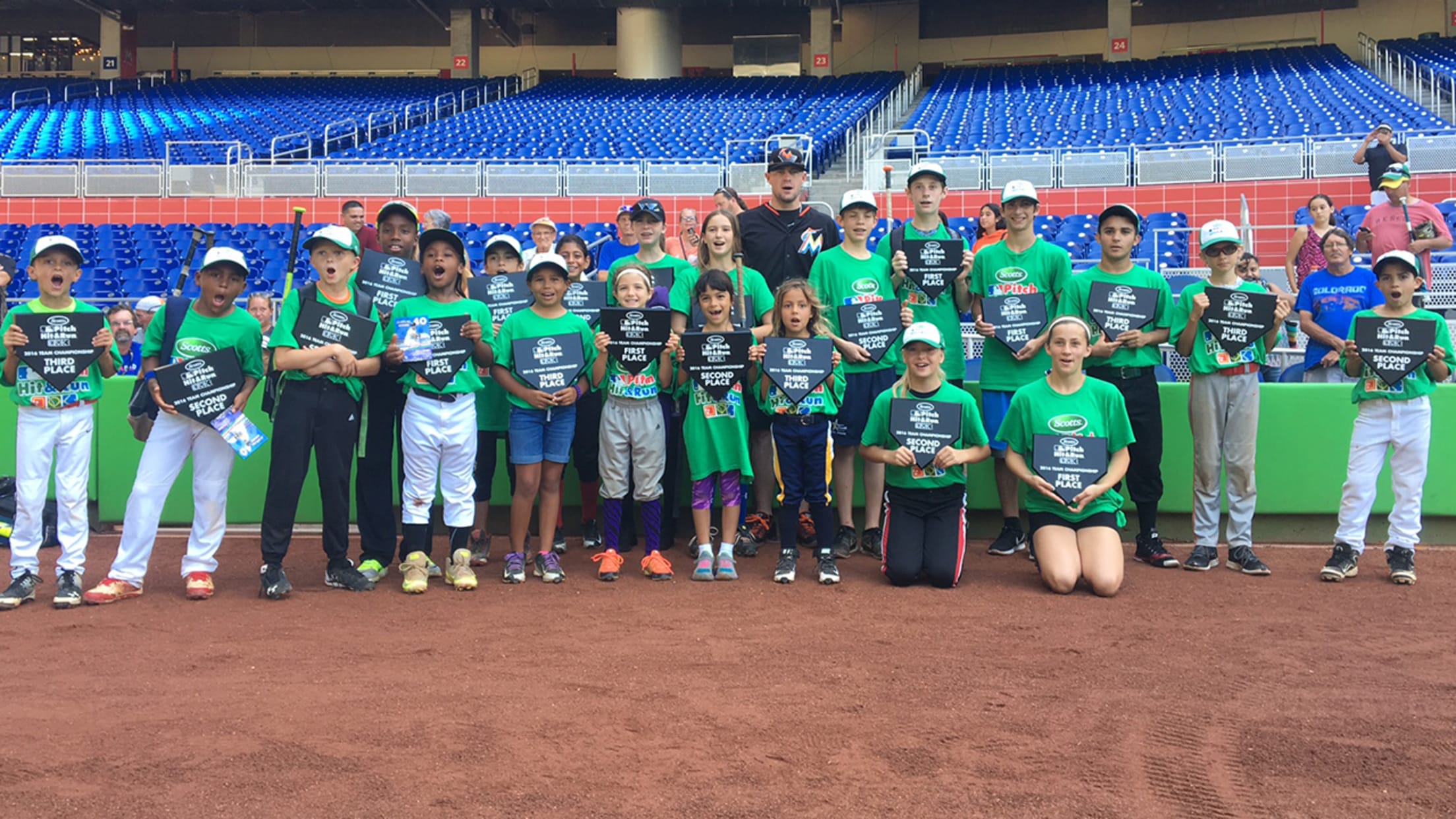 Mike Dunn poses with local ballplayers competing in the Scotts Major League Pitch, Hit & Run program. (MLB.com)
MIAMI -- Mike Dunn stood in front of the visitor's dugout at Marlins Park, filled by about 20 youth baseball players, and reminisced on Saturday morning.The lefty reliever recalled attending his hometown's biggest baseball event, the Connie Mack World Series, while growing up in Farmington, N.M. He mentioned how stars
MIAMI -- Mike Dunn stood in front of the visitor's dugout at Marlins Park, filled by about 20 youth baseball players, and reminisced on Saturday morning.
The lefty reliever recalled attending his hometown's biggest baseball event, the Connie Mack World Series, while growing up in Farmington, N.M. He mentioned how stars like Ken Griffey Jr. played in it.
Dunn, who wants to give young local ballplayers a similar experience, helped out at the Marlins' team competition installment of the Scotts Major League Pitch, Hit & Run program, which invites youth to demonstrate their pitching, hitting and running abilities in baseball or softball. The program, now in its 20th year, is the official youth skills competition of Major League Baseball.
"When you have time to just kind of give back, it's awesome," Dunn said. "To bring a smile to a kid's face, it's a good feeling."
Boys and girls of four different age groups ranging from 7-14 faced a series of skill challenges to test their abilities, one of which was throwing six pitches at a strike zone.
Drake, 12, darted all six of his pitches for strikes. He locked in first place in the 11-12 age group, but he knows it will be tough to reach the ultimate goal: San Diego.
Participants advance through four levels of competition, including local, sectional and team competitions. Each Major League club is hosting team championships at its ballpark on weekends through June 26.
The top competitors nationwide from each age group will then advance to the Scotts MLB Pitch, Hit & Run National Finals during MLB All-Star Week in San Diego. Finalists will earn an all-expense-paid trip to the 2016 All-Star Game presented by MasterCard and will compete on the field prior to shagging fly balls during the Home Run Derby.
"It'd be hard, you have to be in the top three in the United States," Drake said.
But Drake knows what's at stake. His eyes lit up at the prospect of possibly shagging baseballs from someone like his favorite player, Bryce Harper, in the Derby.
"That would be crazy," Drake said. "Just for him to shake my hand or anything. Crazy."
Drake's father, Tom, said he isn't sure of his son's chances to compete out west, but he's excited for Drake.
"For a kid that lives, eats and breathes baseball to get to go there," Tom said, "that would be the trip of a lifetime."
Patrick Pinak is a reporter for MLB.com based in Miami.