Marlins pitchers combine to one-hit Red Sox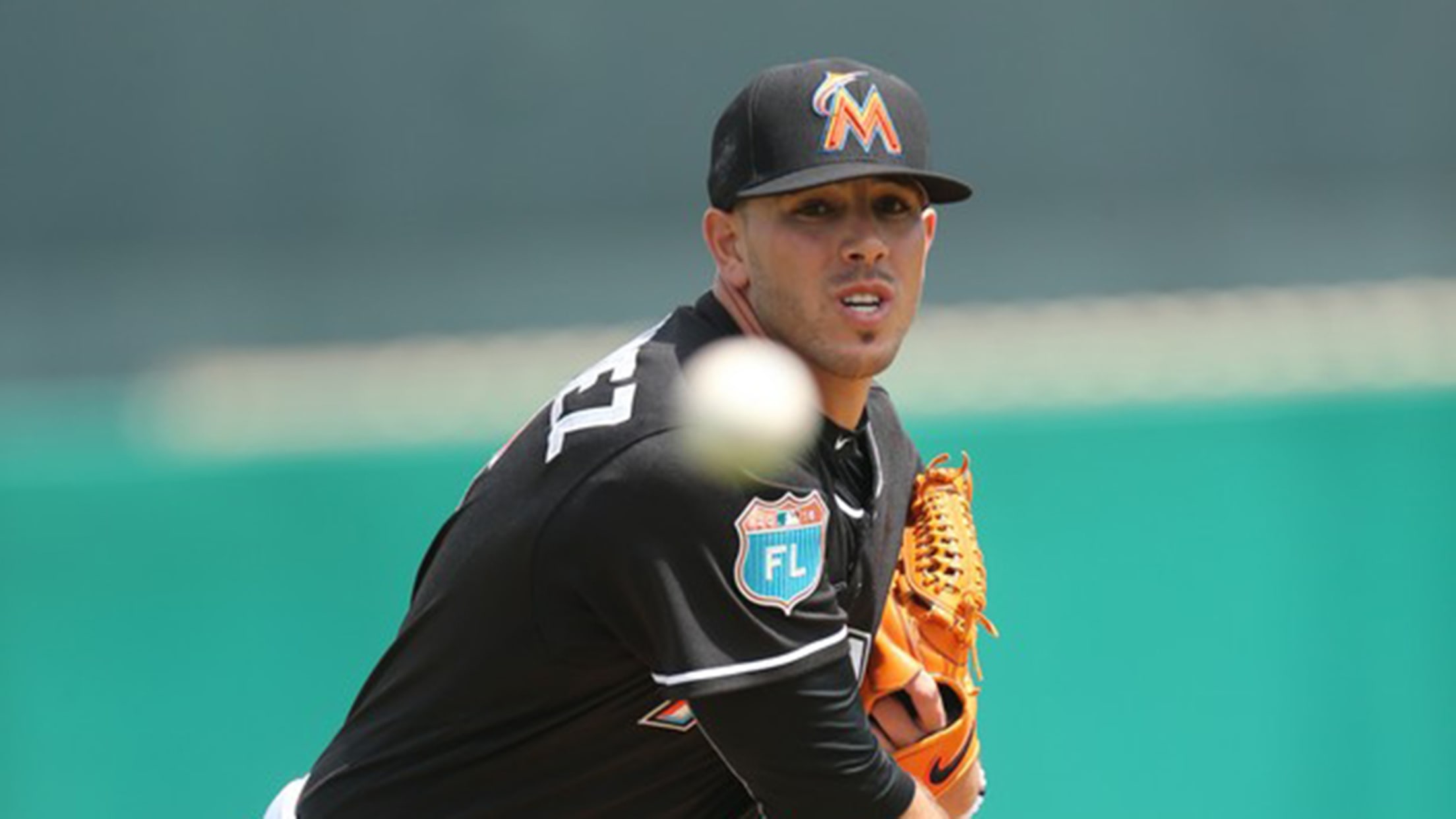 Jose Fernandez struck out four and limited Boston hitters to one walk over five innings on Tuesday. (Marlins)
JUPITER, Fla. -- Jose Fernandez set an early tone with no-hit stuff on Tuesday afternoon at Roger Dean Stadium, and his Marlins teammates continued the trend during a 3-0 win over the Red Sox in which Boston didn't record a hit until Blake Swihart singled with two outs in the
JUPITER, Fla. -- Jose Fernandez set an early tone with no-hit stuff on Tuesday afternoon at Roger Dean Stadium, and his Marlins teammates continued the trend during a 3-0 win over the Red Sox in which Boston didn't record a hit until Blake Swihart singled with two outs in the eighth inning.
Fernandez made the most of his 60 pitches, striking out four and allowing nothing more than a first-inning walk in an outing that was limited to five innings because of a pitch limit.
Hitless Fernandez in prime form vs. Boston
"I've been feeling good," Fernandez said. "There are always things you've got to work on and things you've got to get better at. In my last start, the result wasn't there, but I felt like the location was good and the pitches were good. Today, I was trying to keep the same thing."
Dee Gordon, Marcell Ozuna and Christian Yelich singled in succession to open Miami's two-run first inning. Yelich plated the Marlins' first run with one of the club's four singles in the frame, and Giancarlo Stanton lifted a sacrifice fly one batter later to complete the scoring and secure his first RBI in seven games this Grapefruit League season. The only hit of the inning to come on a pitch that wasn't a knuckleball was Ozuna's single on a fastball.
Fernandez has mixed emotions about Cuba game
The game featured a contrast in starting pitchers, the hard-throwing Fernandez against Steven Wright, the knuckleballer competing for a rotation spot with the Red Sox. Wright completed five innings, giving up three runs (two earned) on seven hits with four strikeouts.
"I thought his knuckleball was better as the game went along, particularly from the third to the fifth [innings]," Red Sox manager John Farrell said of Wright. "They were extremely aggressive early in the count; they bunched a couple of hits together. But I thought he managed some innings where he had some men on base to minimize the damage. Five innings, what could have been a couple of runs allowed -- good effort on his part today."
"I think you go face it," Marlins manager Don Mattingly said of batting against a knuckleballer. "You never know when you're going to face it. There are different styles. It's like facing a soft tosser a little bit. It's something you may have to face at some point during the year, so you know you've at least been through it."
Amid his nearly perfect start, Fernandez even hit a single in the fourth inning off Wright.
"I know he's a good hitter; for a pitcher, he can swing it," Wright said of giving up a hit to Fernandez. "I figured, the first one, he didn't swing. I knew he was probably going to be aggressive. I was just trying to throw a strike there. He's not Giancarlo; he's not going to be able to get it out with this wind. I was just like, 'Hey, if he puts it in play, maybe if he rolls it over. That saves me four or five pitches.' But I'm not going to sit there and try to fall behind to any pitcher."
It didn't take long for the disparity in velocity to take shape. In the first inning, Fernandez's fastball topped out at 97 mph, and he struck out Hanley Ramirez on an 83-mph curveball during the frame. Wright went mostly with his bread-and-butter knuckler in the first, registering pitches between 73 and 77 mph. But he did open with an 83-mph fastball to Gordon.
The Marlins made it a three-run game in the third inning as Ozuna, who led off with a double, scored when second baseman Josh Rutledge made a fielding error on a Yelich grounder.
As a precaution, the Marlins replaced Ozuna after three innings because the center fielder twice slid hard into a base and mildly tweaked his left ankle. Ozuna is expected to play on Wednesday.
"Get him iced and make sure the swelling stays out of there," Mattingly said. "I plan on him playing. He wanted to stay in the game. I was just being cautious."
Up next for the Red Sox: After enjoying Wednesday's off-day, their only one of the Grapefruit League season, the Red Sox will host the Mets on Thursday at 1:05 p.m. ET, with righty Joe Kelly getting the ball in a game that can be followed on Gameday. Lefty Roenis Elias, competing for the fifth spot in Boston's rotation, will pitch in relief. On Wednesday, right-hander Rick Porcello will start a Minor League game as he continues to stretch out. Christian Vazquez, whose status for Opening Day is still uncertain, will catch.
Up next for the Marlins: The Marlins will be the visiting club against the Cardinals at Roger Dean Stadium on Wednesday at 1:05 p.m. in a game airing on MLB.TV. Taking the hill against hard-throwing St. Louis right-hander Carlos Martinez will be Tom Koehler, who is lined up as Miami's No. 3 starter.