Perez confident about first start of the year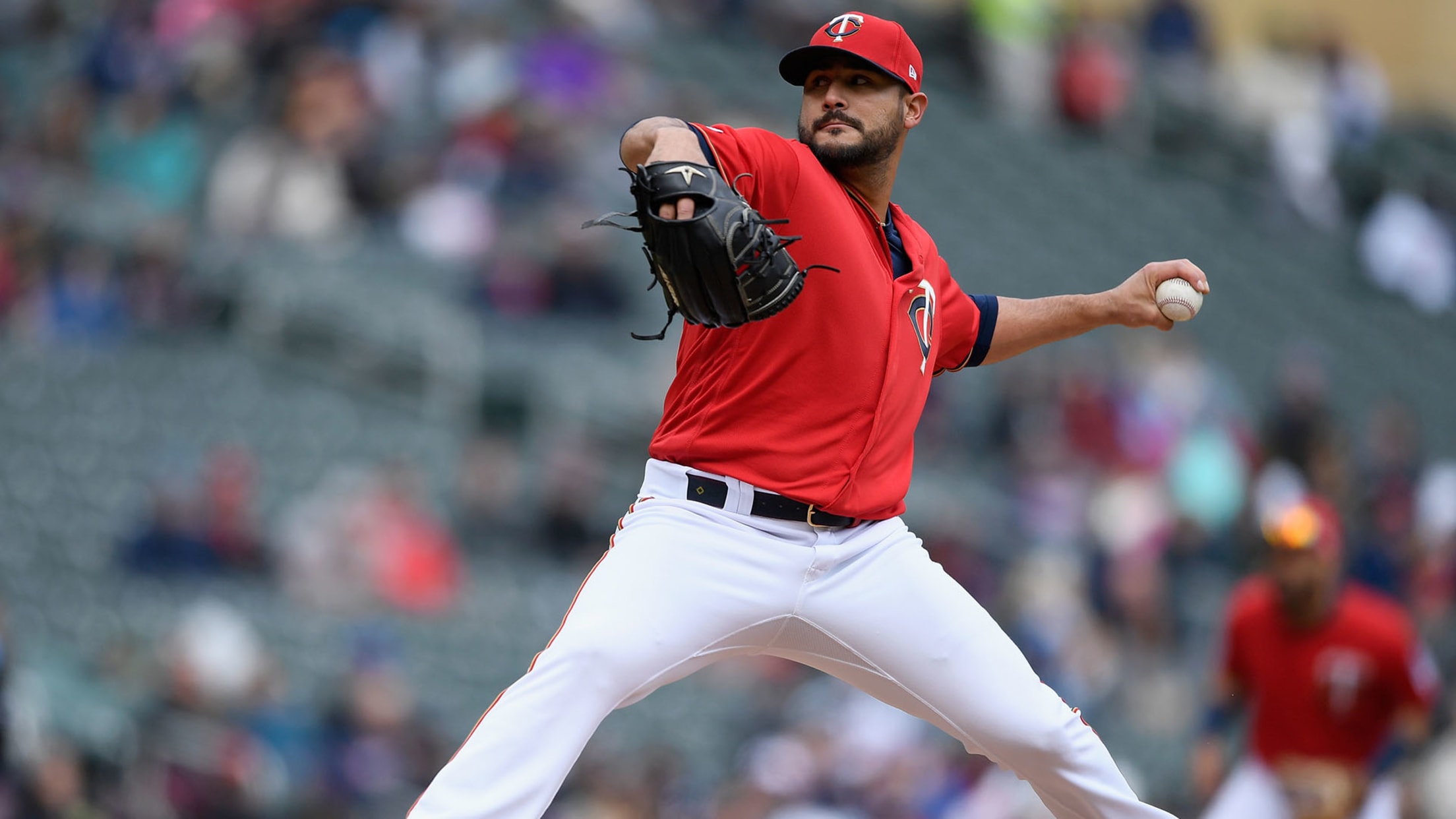 MINNEAPOLIS -- Martin Pérez was nothing if not confident as he prepared to finally make his first start of the season in Monday's series opener against the Blue Jays on Jackie Robinson Day. "I think tomorrow's going to be a big day for me," Perez said. "I'm going to get
MINNEAPOLIS -- Martin Pérez was nothing if not confident as he prepared to finally make his first start of the season in Monday's series opener against the Blue Jays on Jackie Robinson Day.
"I think tomorrow's going to be a big day for me," Perez said. "I'm going to get the win tomorrow."
The 28-year-old left-hander didn't post the best numbers pitching out of the bullpen for the season's first two weeks due to the Twins' unusual schedule, with eight runs (seven earned) and nine walks allowed in 8 1/3 innings. But after a successful bullpen session on Saturday in which he addressed a mechanical problem with his hips and worked on his changeup, Perez was clearly confident in his ability to be a different pitcher come Monday.
Perez said several times during Spring Training that he worked with the coaching staff to address the usage of his hips and his lower half in his throwing mechanics, and he felt that some of those changes had reverted early in the season.
He also expects additional usage of his changeup and breaking pitches to be more of a factor when he starts.
"I think if I start using those two pitches, I'm going to be different, because I've been missing those in the times that I've been facing those hitters," Perez said.
In three relief appearances this season, Perez largely relied on his hard pitches -- his fastball and his cutter -- which he threw a combined 81.3 percent of the time, because he felt he needed to be more aggressive when facing lineups later in games or when he was only slated to see hitters once or twice.
In comparison, Perez threw fastballs 58.7 percent of the time in 2017, the last season in which he was used primarily as a starter.
"It's not the same thing when you come from the bullpen and you face only three innings of the lineup," Perez said. "You just come, and it's, 'Boom, boom, boom.' Trying to attack because they're going to be ready for everything because they've already seen a lot of pitches."
He's champing at the bit to finally get back to figuring hitters out after multiple times through the order, and controlling his own fate deeper into ballgames.
"It's not the same when you've got a pitch count and they say, 'Let's go, we want to give you a chance to pitch,'" Perez said. "You're going to have a chance to get in trouble and then figure out how you're going to get out of that problem. That's how I like to pitch."
Though Perez threw 82 pitches in his first relief appearance and 71 in his following outing, he only threw 44 pitches in two innings against the Mets on Wednesday and said he hasn't done any extra throwing on the side. Twins manager Rocco Baldelli said that he would feel things out as the game progressed on Monday to see how deep Perez will go.
Perez was firm in his belief that he'll have the freedom to empty the tank.
"Oh, yeah. I talked to these guys, and I'm going to go long," Perez said. "I'm not a young guy. I'm a veteran guy, and I need a chance to pitch to show to my teammates and to show the other team that I'm ready for this. I'm ready to win. I don't want a pitch count. I don't like that. They believe in me, and I'm going to do my job."
"We'll watch and see where he's throwing the ball and if he's throwing the ball well and he looks strong and we have reason to believe that everything is fine and he's feeling great, I'm sure we'll have a little bit of a longer leash," Baldelli said. "I don't have expectations as far as pitches or innings or anything like that."