Garza, Knebel ready for Minors games
Two pitchers among several injured Brewers who could return in early June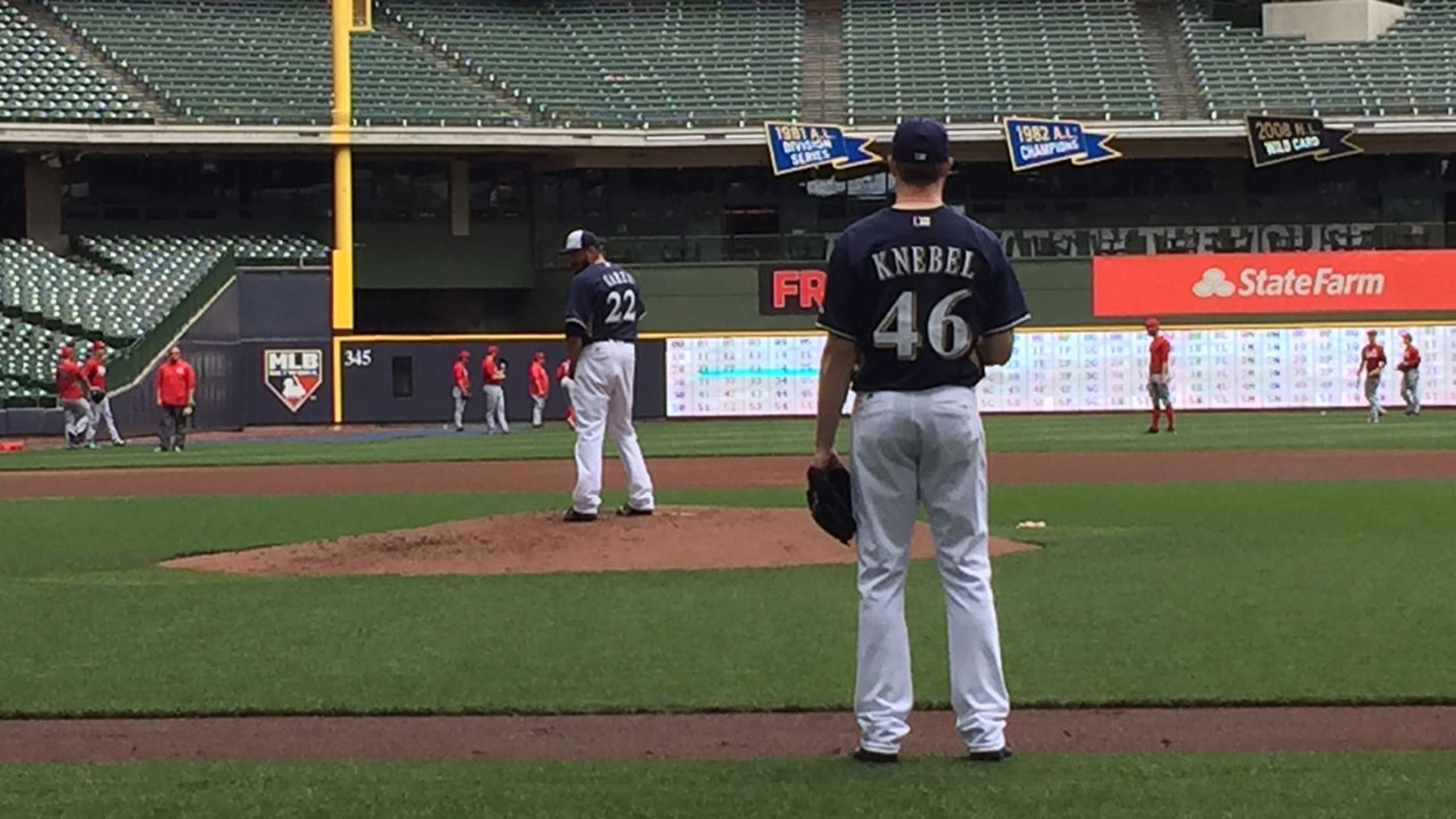 Matt Garza and Corey Knebel faced hitters for the first time on Saturday. (Adam McCalvy)
MILWAUKEE -- The Brewers moved two steps closer to some difficult decisions on Saturday, as rehabbing pitchers Matt Garza and Corey Knebel faced hitters for the first time and pronounced themselves ready for Minor League rehabilitation assignments.Both assignments are scheduled to begin Tuesday. Garza said he expects to start for
MILWAUKEE -- The Brewers moved two steps closer to some difficult decisions on Saturday, as rehabbing pitchers Matt Garza and Corey Knebel faced hitters for the first time and pronounced themselves ready for Minor League rehabilitation assignments.
Both assignments are scheduled to begin Tuesday. Garza said he expects to start for Class A Wisconsin at Peoria, Ill., beginning a path he hopes leads back to the Brewers' rotation during a June 13-15 series in San Francisco. Knebel, meanwhile, said he would pitch an inning for Class A Advanced Brevard County on Tuesday, and he hopes to be back in the Brewers' bullpen by June 7.
Those timelines could be altered by the team's medical staff. Garza has been on the disabled list all season with a right "lat" strain, and Knebel with a left oblique strain.
Both pitched two simulated innings early Saturday afternoon against teammates Martin Maldonado, Domingo Santana and Colin Walsh.
"I was anxious to go back up there again and face hitters," Garza said. "The second inning, everything came back to normal. I was back to trusting myself and pitching with no pain. I was pumped to be back out there again. I'm looking forward to the next step."
If Garza follows the path he said he is "pushing for," he would make only three Minor League starts before rejoining the big league club.
Corey Knebel awaits his turn while Matt Garza finishes second simulated inning. pic.twitter.com/t3hmmEzh96

— Adam McCalvy (@AdamMcCalvy) May 28, 2016
Knebel, meanwhile, will follow a plan similar to fellow reliever Will Smith, who is halfway through his own rehab assignment. Knebel is likely to pitch twice for Brevard County, with a day off between outings, before a promotion to a higher level for back-to-back games on June 4-5. Knebel expects that higher level to be Triple-A Colorado Springs, which plays at New Orleans on those dates.
"We were talking about it [before Saturday's sim game] and I told them, 'Hey, I'm going to be in there throwing as hard as I can. I want to give you all I've got and I want to see you swing,'" Knebel said. "They did. It was good to have some challenges in there.
"Everything feels good. I was 100 percent out there."
Smith remains scheduled for back-to-back mound sessions on Sunday and Monday with Double-A Biloxi. Since the Shuckers are off Monday, Smith will pitch a simulated game.
"We're within two weeks of having three guys back, so obviously that presents some decisions," manager Craig Counsell said. "But those are competitive decisions that you want to make, when you're choosing between good players."
Last call
• Santana, on the DL with a strained right shoulder, has made progress over the past week and should be back in right field for the Brewers on or soon after June 3, the first day he's eligible for reinstatement. Santana will depart for a brief rehab assignment before rejoining the Brewers' lineup, Counsell said.
• No. 2 prospect Brett Phillips was reinstated from the Double-A DL on Saturday. He'd been sidelined since May 18 by a strained left hamstring.