Mets go off course under Milwaukee heat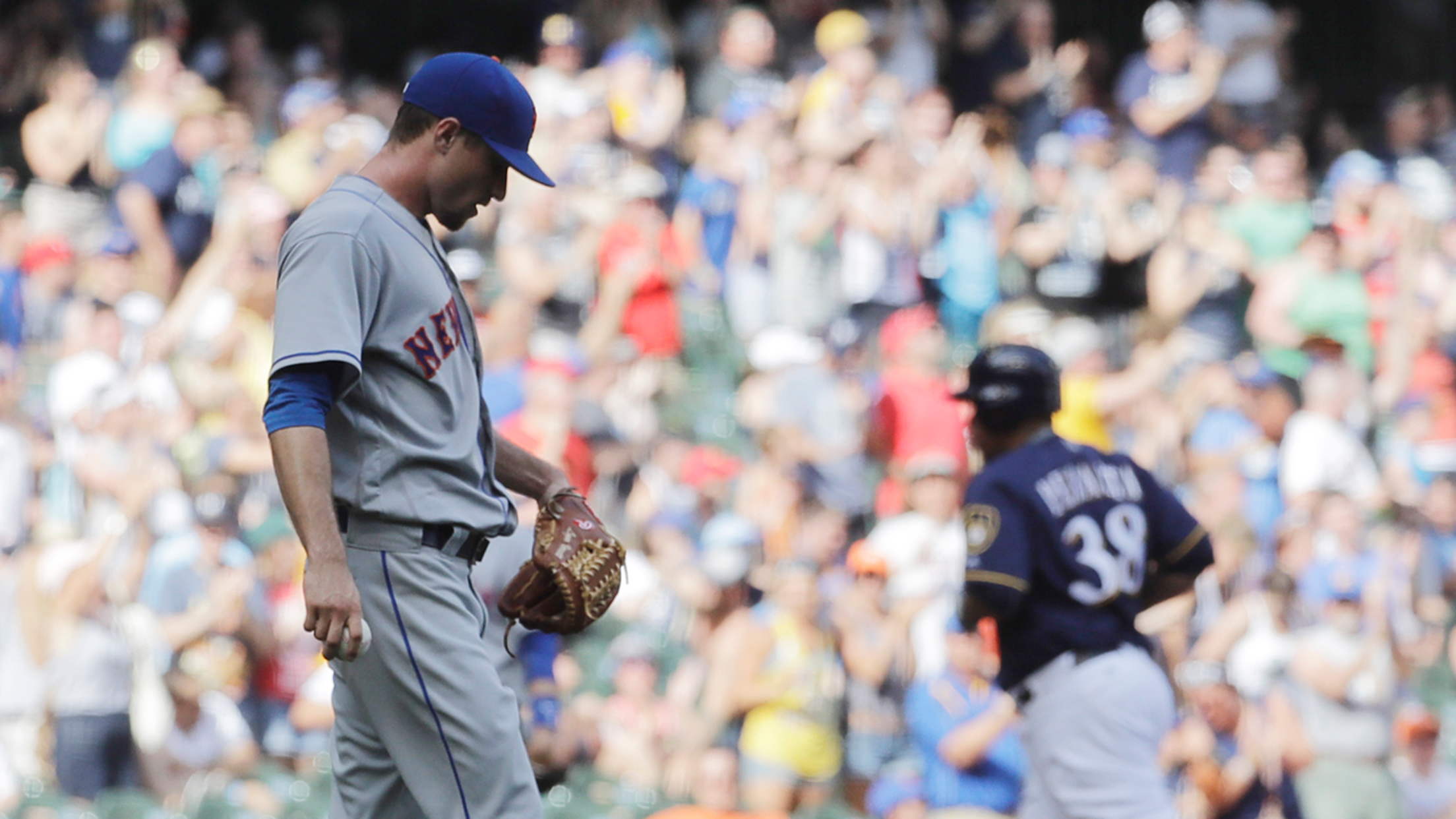 The Mets' Logan Verrett reacts after giving up a two-run home run to the Brewers' Wily Peralta in the fourth inning. (AP)
MILWAUKEE -- Before Saturday, In their five games against the Milwaukee Brewers this season, the New York Mets had given up a total of 10 runs.The Mets, of course, had won all five of those games. Going into Saturday's game at Miller Park, there was every reason to believe that
MILWAUKEE -- Before Saturday, In their five games against the Milwaukee Brewers this season, the New York Mets had given up a total of 10 runs.
The Mets, of course, had won all five of those games. Going into Saturday's game at Miller Park, there was every reason to believe that the Mets would once again hold Milwaukee's modest offense in check.
The Mets, after 60 games, had the second-best team ERA in the Majors, an impressive 3.05. The Brewers are in full rebuilding mode, trading veterans for hopes of a better future since the middle of last season.
This being baseball, on any given day, strange occurrences can interfere with the normal course of events. None of the reasonable expectations were fulfilled. The Brewers put on a display of power that was, in some cases, flatly unprecedented.
They hit five home runs on their way to a 7-4 victory over the Mets. Milwaukee's starting pitcher Wily Peralta, who came into this contest with a 6.79 ERA, was in very real danger of being sent to the Minors.
Peralta's pitching Saturday was unremarkable, as he gave up three earned runs over five innings. What was equal parts remarkable and unexpected was the 429-foot, two-run home run to left that he hit off Mets starter Logan Verrett. It was the first home run of Peralta's Major League career, coming on his 168th at-bat. It gave the Brewers a 5-2 lead.
"[Peralta] put a good swing on his first at-bat, popped up to left," Verrett said. "And then I just left one right down the middle for him. He put a good swing on it again and it was a no-doubter. Tip your cap to him. It wasn't where I wanted that pitch to be."
Verrett, making a spot start after the Mets had a rainout and a subsequent doubleheader in Pittsburgh earlier in the week, had given up only three home runs in 36 1/3 innings before Saturday. In this game, he gave up three home runs in four innings. His usual command was missing.
"He's the kind of pitcher that [87] pitches in four innings, that's a lot," Mets manager Terry Collins said. "He's too much of a strike-thrower to throw that many pitches. He's got to throw strikes. He's got to throw all his pitches for strikes."
"I wasn't commanding the zone as well as I can," Verrett said. "All three of those home runs were right down the middle. It was tough for them not to barrel it up."
Another Milwaukee home run came on second baseman Scooter Gennett's seventh-inning solo shot off Mets reliever Antonio Bastardo. It was a lefty-on-lefty matchup and the home run was just the second of Gennett's career off a left-hander.
Brewers first baseman Chris Carter hit his 17th home run of the season. Nothing particularly odd there. But there was a different Miller Park backdrop for Ryan Braun's two home runs; one off Verrett and the other off Bastardo.
Nearly the entire loge level of the left field bleachers had been filled by orange-clad Mets fans. They filled the air with "Let's Go Mets!" and other assorted chants.
When Braun came to the plate they chanted: "Steroids! Steroids!" Braun was suspended for the last 65 games of the 2013 season for use of performance-enhancing substances. When he returned in '14 in a road opener in Philadelphia, he was loudly and repeatedly heckled. He responded with three home runs.
Braun probably hadn't received much PED-related heckling at Miller Park, until Saturday. But here he hit two home runs, his first since May. He obviously responds well to jeering.
"I don't think we've ever had a full left-field bleachers of the opposing team's fans," Braun said. "I'm sure it's cool for them to have that support when they travel and they deserve it. They're obviously a phenomenal team. But for me personally, I don't really get too caught up in that stuff."
Even the climate was unusual. Two days removed from overnight lows in the 40s, this was the hottest day of the year in Milwaukee, 88 degrees at game time and extremely humid.
"One of the biggest things today was just getting a grip on the ball," Verrett said. "The balls were slick. I was sweating like crazy. It was probably the hottest game we've played this year."
One word could sum up this afternoon for the Mets: Defeat. But if you look at all the other factors that went into this result, the operative word for the day might better be: Unusual.
Mike Bauman is a national columnist for MLB.com.