deGrom K's six to continue impressive spring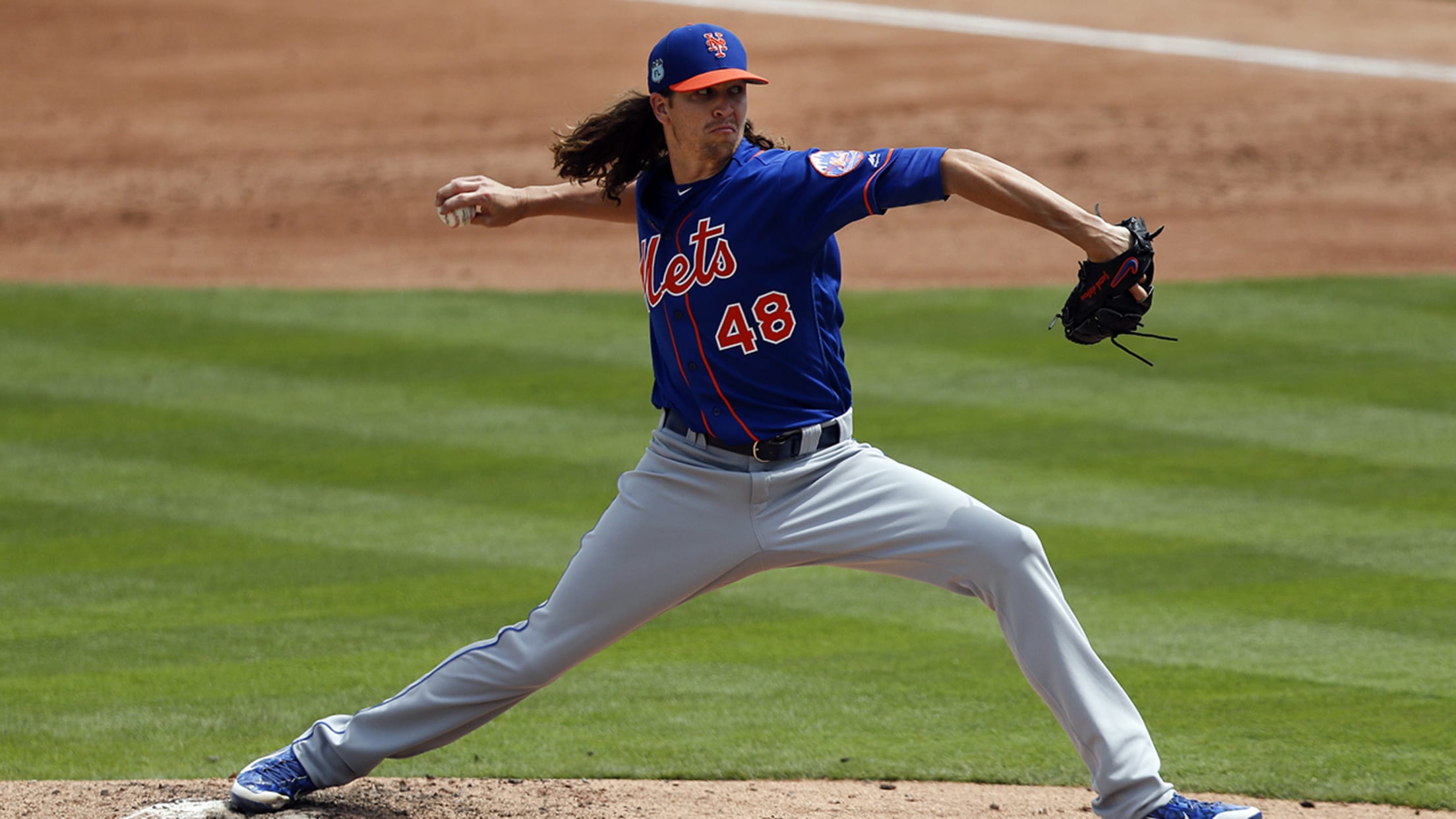 Jacob deGrom's 5 1/3 innings Sunday represent his longest outing yet in Spring Training. (AP) (John Bazemore/AP)
WEST PALM BEACH, Fla. -- Continuing with a smooth and successful Spring Training, Jacob deGrom made his third Grapefruit League start on Tuesday in a 2-1 win against the Astros at The Ballpark of the Palm Beaches.Although he did yield his first run of the spring, deGrom was impressive in
WEST PALM BEACH, Fla. -- Continuing with a smooth and successful Spring Training, Jacob deGrom made his third Grapefruit League start on Tuesday in a 2-1 win against the Astros at The Ballpark of the Palm Beaches.
Although he did yield his first run of the spring, deGrom was impressive in his four innings. He gave up one run on three hits, walked one and struck out six. He threw 52 pitches (37 for strikes).
For the spring, deGrom has allowed just one run in 10 innings with 13 strikeouts. He struggled a bit out of the gate, walking the first batter he faced and giving up a one-out single to Josh Reddick. But deGrom rallied to strike out the side, overpowering Colin Moran and Yulieski Gurriel with 96 and 97 mph fastballs respectively.
"The main thing is mechanics," deGrom said. "The ball is coming out better than it did last year and I feel like there's less effort. So the big thing for me is to try to stay smooth and repeat my delivery."
While the fastball was working, deGrom said he wasn't especially pleased with the changeup.
"Today wasn't as good, but you'll have those days in spring and throughout the season," he said. "So you have to find other ways to get outs. My slider was good today and I mixed in a few curveballs."
He grooved a fastball in the fourth inning, clocked at 95 mph, to Astros catcher Brian McCann, who belted his first Grapefruit League home run. It was a solo blast from the left-handed batter over the right-field fence.
"It was a fastball, right down the middle," deGrom said. "That's a situation you probably approach differently during [the regular season]. If you take that same score, 2-1, nobody on, maybe you throw something else there because no one really cares if you walk him, and then try to get a ground ball on the next guy."
Surgery to reposition the ulnar nerve in his right elbow on Sept. 21 shut down deGrom last season. He did not pitch after Sept. 2.
"After surgery, you're curious of what you're going to be able to do," he said. "You like being able to throw hard. I think that helps. I'm happy with how things are going. "The main thing is to stay healthy. I'm just happy that I feel good and I'm looking forward to starting the season."
Glenn Sattell is a contributor to MLB.com and covered the Mets on Tuesday.