Inbox: Should Mets put Yo on the DL?
Beat reporter Anthony DiComo answers questions from fans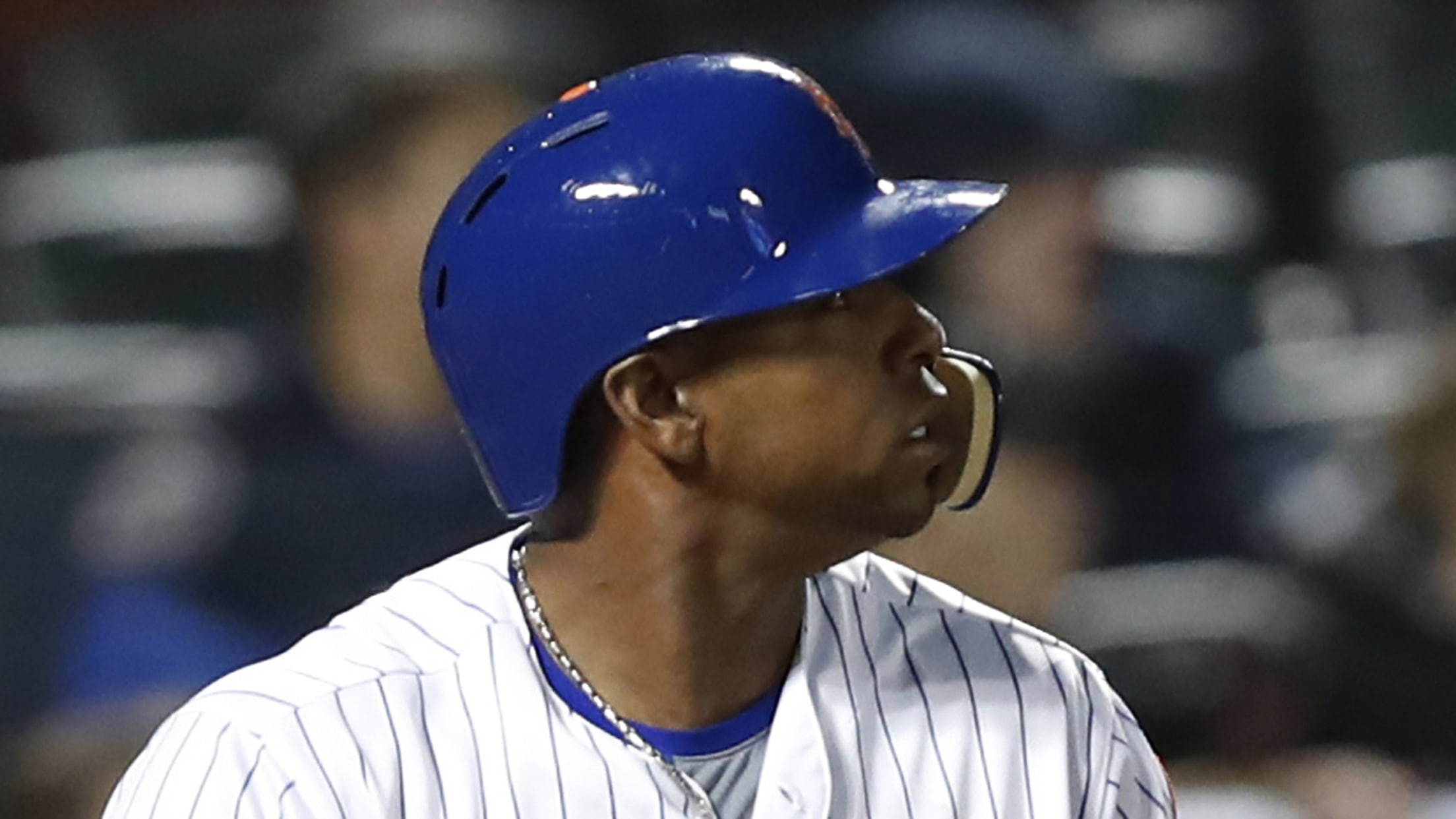 New York Mets' Yoenis Cespedes watches his eighth-inning grand slam in a baseball game against the Washington Nationals, Wednesday, April 18, 2018, in New York. (AP Photo/Kathy Willens) (Kathy Willens/AP)
Are the Mets going to consider a disabled-list stint for Yoenis Cespedes to get him healthy? It's admirable that he's playing hurt, and Cespedes at 80 percent is better than their alternatives. But we've seen this show before -- playing through a minor injury which leads to a major injury.
Are the Mets going to consider a disabled-list stint for Yoenis Cespedes to get him healthy? It's admirable that he's playing hurt, and Cespedes at 80 percent is better than their alternatives. But we've seen this show before -- playing through a minor injury which leads to a major injury.
-- @ChrisComando via Twitter
Here's what assistant general manager John Ricco said when asked about Cespedes, who is playing through a sore right quadriceps, the other day:
"We've had constant communication with the performance staff on this issue, and the whole entire team. As you saw, we put Todd [Frazier] on the DL the other day. We put Jacob [deGrom] on a few days before that. In the case of Yo, we've had a lot of conversations with them. They feel like we just gave him a day off [May 9] into the off-day. We're managing it. They don't feel like it's an issue that warrants a DL [stint].
"I pointed out two examples of where we're not throwing caution to the wind here. We're examining that, talking through it, and we feel we have confidence in that performance staff that we're going to make rational decisions. Are we going to be right 100 percent of the time? No. But we have to make decisions based on the information we have, and that's what we're doing."
:: Submit a question to the Mets Inbox ::
In other words, even though manager Mickey Callaway has estimated Cespedes' health at 85 percent, and even though anecdotal evidence -- he just doesn't look quite right in left field -- supports that, the Mets feel putting him in their lineup is a risk worth taking. And it is a risk, both from the standpoint of Cespedes' health (muscle strains need rest to get better) and the Mets' integrity (if he suffers a long-term injury while playing hurt, the team loses much of the goodwill it engendered by revamping its training staff in the first place).
Between three team off-days, last week's scheduled day of rest and Saturday's rainout, Cespedes will wind up sitting five times in a nine-day stretch, which the Mets hope will allow him to heal on the fly. They could have placed him on the DL last week and had him miss only five games total. Time will tell if this decision is the right one, but to answer your question, Chris, it does not appear the Mets are considering a DL stint for Cespedes at this time.
Realistically, can the Mets put Jason Vargas in the bullpen and start Seth Lugo?
-- @FranTaylor117 via Twitter
Realistically, sure. For as long as Vargas is under contract, the Mets can use him in any role they please. The question is more, what's in the best long-term interest of this team? The Mets signed Vargas in February because they felt they lacked rotation depth, and they believed Vargas could be one of their top five starters. Given the success of Lugo and Robert Gsellman out of the bullpen, there's a compelling argument that one of those two would now be better options.
But the Mets don't particularly want to move Lugo or Gsellman from roles in which they've found significant success. They also believe Vargas' injury may have affected his earlier performances this season -- not necessarily the broken right hand itself, which is now healed, but the weeks-long rehab process of throwing behind an L screen, which could have altered Vargas' delivery.
The team decided to skip Vargas' next start in an effort to get him right. He'll receive more opportunities in the rotation, and the internal expectation is that he'll be much improved. If not, the Mets could shift Vargas more permanently out of his starting role, but I wouldn't anticipate them going down that road until at least June.
Has Brandon Nimmo and his .426 on-base percentage earned him the right to play every day, even with Jay Bruce coming back?
-- @Jacob_817 via Twitter
Yes, Nimmo has earned it, but it doesn't mean he will. Cespedes, Bruce and Michael Conforto have also earned the right to play every day based on much longer track records than the one Nimmo possesses. As much as Nimmo deserves a starting job, the Mets simply aren't going to give one to him, knowing there will be ample chances to use him in the outfield throughout this season. Look at just the past week, for example: Cespedes missed a game to nurse his sore quad and Bruce skipped three while on paternity leave. Things like that will continue cropping up over the course of the season, providing Nimmo with ample time to produce. And when everyone is healthy, the Mets have shown a willingness to shift Bruce to first base, manufacturing even more time for Nimmo.
Right now, Nimmo is on pace for a not-insignificant 320 plate appearances. I suspect he'll wind up with even more than that.
Should we be concerned by how much difficulty Conforto has had seeing the ball during his slump?
-- @HypocriCJ via Twitter
Conforto says it's timing, not plate vision, that's his problem, and that makes sense for a player who essentially missed all of Spring Training rehabbing from shoulder surgery. The numbers back that up: his walk rate is actually up from last season, and his chase rate -- the percentage of balls he swings at outside the strike zone -- is down.
Conforto hit .300 with a .983 OPS on the Mets' road trip, and could be due for even more of a breakout this week at Citi Field.
When is David Wright set to resume baseball activities?
-- @wcrickards via Twitter
It has now been almost nine weeks since the Mets' last announcement regarding Wright, who was supposed to rest for a period of eight weeks. When I asked Ricco over the weekend, he indicated that a restart of baseball activities is not imminent for Wright. Consider him in a holding pattern until otherwise noted.
Do you believe the Mets are prepared to spend the rest of the season with Devin Mesoraco and Kevin Plawecki behind the plate?
-- @EdMatthews16 via Twitter
In canvassing the market, general manager Sandy Alderson said he did not get the sense any significant upgrades at catcher were available for trade -- let alone at a cost the Mets, with their weak farm system, could afford. It's certainly possible that changes midseason, and if the Mets are unhappy with their in-house catchers at the time, they could make a move. But I'd be surprised if it's not Mesoraco and Plawecki behind the plate for the bulk of the season.